Senior British Open
This former major champion is out to prove a little something more to himself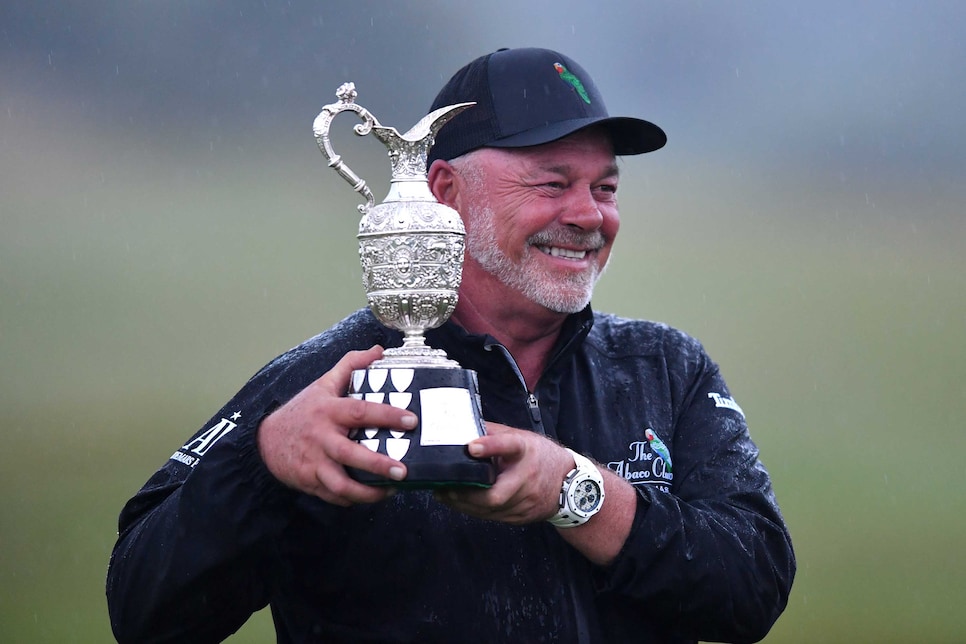 Walk into the clubhouse at Royal Portrush in Northern Ireland and just about the first things you see are two trophies on proud display. One is instantly recognizable; the other is similar but distinct. Sitting alongside a replica of the Open Championship claret jug Darren Clarke won at Royal St. George's in 2011 is another not quite the same, this time commemorating the native son's victory in the Senior Open at Gleneagles a year ago.
"Winning the Senior Open last year ranks pretty high on my list of achievements," says Clarke, who this week will defend his title at Royal Porthcawl in Wales. "I really wanted to complete the pair if you like. And when you set a goal then actually achieve it, it's a pretty nice feeling. I'm not sure where the Senior Open ranks exactly, maybe just behind my two World Golf Championships. All I can say is it meant a lot to me."
One thing not working in Clarke's favor at Porthcawl will be local knowledge. Although rightly renowned for his prowess on courses adjacent to oceans, the 54-year-old has not seen what's universally acclaimed as Wales best links since 1989. Back then, Clarke was a member of the six-man Irish team that failed to defend its title in the European Amateur Team Championship. Although Clarke and his compatriots finished second in the stroke-play section of the competition, Scotland proved too good for them in the match-play semifinal. In the end, Ireland had to settle for third place.
"That's a long time ago, but I remember it well," says Clarke, whose best finish since beating fellow Irishman Padraig Harrington by a shot at Gleneagles a year ago is a tie for second in the PGA Tour Champions' Mitsubishi Electric Championship at Hualalai back in January. "And I've heard nothing but good reports about how the course is looking now. It's just a really good venue and a proper test of every aspect of the game."
Clarke appreciates the fact he's often considered a favorite when he's playing in a big event on a links course. "That's my favorite form of the game," he said. "But I'm going through a spell at the moment where I go to the range and flush every shot. Then I go to the putting green and make just about everything. Then I go on the course and it's just not happening, which is frustrating. And it's golf. And I know it's a stage that usually leads to playing well. I'd be more worried if I wasn't hitting good shots on the range and not making putts in practice."
Clarke will arrive at Porthcawl on the back of a missed cut in the Open Championship at Royal Liverpool. Rounds of 73 and 77 added up to five shots too many for the former champion to make the cut. All in all, the two days he spent in the company off Thomas Pieters and Victor Perez was a frustrating experience, much as Clarke enjoyed the company and chat of the younger men. The passing years, however, are no friends of any golfer.
"I'm shorter off the tee than I was at the top of my game," Clarke says. "But not a lot shorter. I seem to struggle mentally more than I did. I'm still winning on the Champions Tour, so I can still play. But my mind wanders sometimes. And I still try too hard. I still beat myself up too much. I can't help myself. I so want to play well I get in my own way sometimes. I hit a couple of shots I shouldn't hit, and I struggle to put those behind me. And the putter is cold at the minute, too. If I short-side myself, chip to six-feet and miss the putt, it's like 'here we go again.'"
All of which sounds more than familiar to long-time Clarke watchers. As well as he has done throughout his career, the recurring thought is that, with a little more tolerance of his own shortcomings, he could, would and should have won more often.
"I haven't changed," he admits. "Although I am a little more understanding and a little bit calmer than I was. It's the old story: I love the game and I hate the game. But I still know how to get it done when I get a chance. Coming down the stretch last year was so much fun. Padraig put in a very strong finish, and I knew what I had to do. There was no coasting in. I had to birdie the last hole and I did, which was the most satisfying part of it."
Still, the differences between Royal Liverpool and Royal Porthcawl are, at least where Clarke is concerned, more than marked. Both mentally and physically, it is a contrast he is well aware of.
"What was interesting last week was the location of the bunkers," he says. "On the Champions Tour, I find I can carry most of the fairway bunkers, bunkers others struggle to reach. That situation was reversed at Hoylake. Victor and Thomas were flying bunkers I was struggling to reach. I still found a few of them though. I have no ego problems when I go to the Open now though. The only disappointment was what I shot, especially on the second day. If I thought I was going to do that, I wouldn't have gone."
That's not to say Clarke lacks ambition. Given his state of play, he's not so much over the hill as still having a bit to go before reaching the top.
"I'm going to Porthcawl to win," he says. "Yes, I'll have to hit the ball better than I did at Hoylake. Yes, I'll need to putt better. But if I do those things I'll be right there in contention. A decent week on the greens will give me a chance."
Fighting talk. Let's hope Royal Portrush has room for one more trophy.