Sanford International
Darren Clarke rallies to win for the third time in this PGA Tour Champions season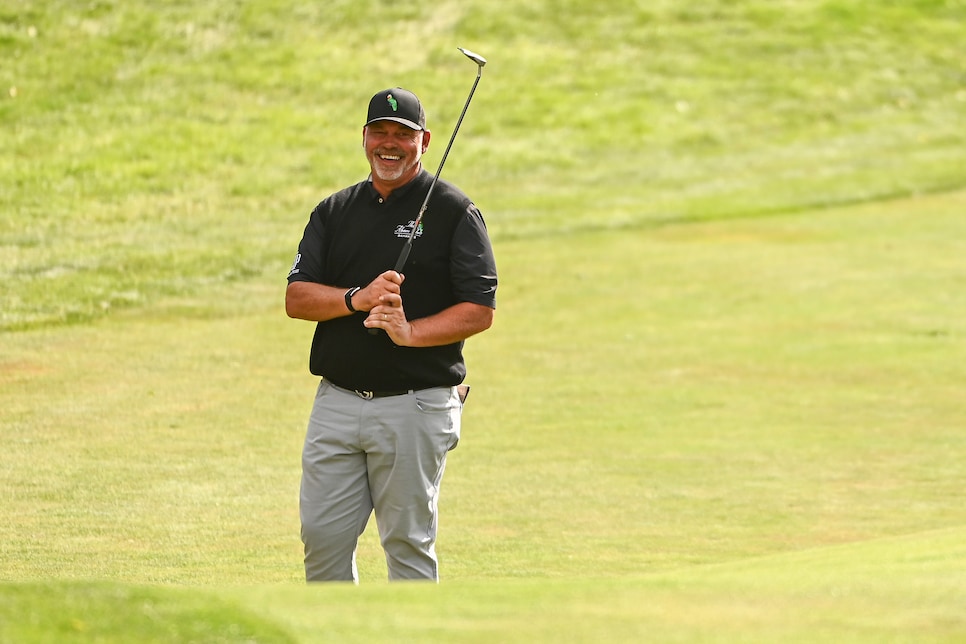 PGA Tour Champions events are only 54 holes, often resulting in dramatic finishes, and Darren Clarke provided one in the Sanford International at Minnehaha Country Club in Sioux Falls, S.D., on Sunday.
Clarke holed a birdie putt of more than 60 feet on the 18th green that enabled him to join Steve Flesch and K.J. Choi in a playoff that he won on the second extra hole with another birdie. The victory was the first for the Northern Irishman since he won the Mitsubishi Electric Championship in January and the third of the extended senior tour season that includes 2020 tournaments.
Clarke shot a five-under par 65 in the final round that allowed him to overcome a four-stroke deficit to the leader Choi, who had a 69. They, along with Flesch, completed 54 holes in 12-under par 198.
"It's nice to win again," Clarke said. "I won at the end of last year in Boca and then the first tournament this year in Hawaii, so it's been a little bit of time since then. It's nice to get back in the winner's circle again. In the playoff you never know what's going to happen, anybody can make birdie and luckily it was my day today."
Flesch was eliminated on the first playoff hole, the 18th, by making a bogey five. Clarke and Choi returned to the 18th hole, the second of the playoff, and Clarke won with a birdie, while Choi hit a tree left of the fairway with his tee shot, taking birdie out of play.
"I've been working so hard," Clarke said. "I had a chance at the one that I really, really wanted in the middle of the summer there, the British Senior Open, and didn't quite get it done. It's nice then to come along to win again. I have two weeks off down in Abaco [the Bahamas], down home. Sit in front of my TV, I'll watch every shot of the Ryder Cup, I'll really enjoy it, and I may have a beer or two to go along with it."