News
Darren Clarke, Chris DiMarco to make their PGA Tour Champions debuts in the Boeing Classic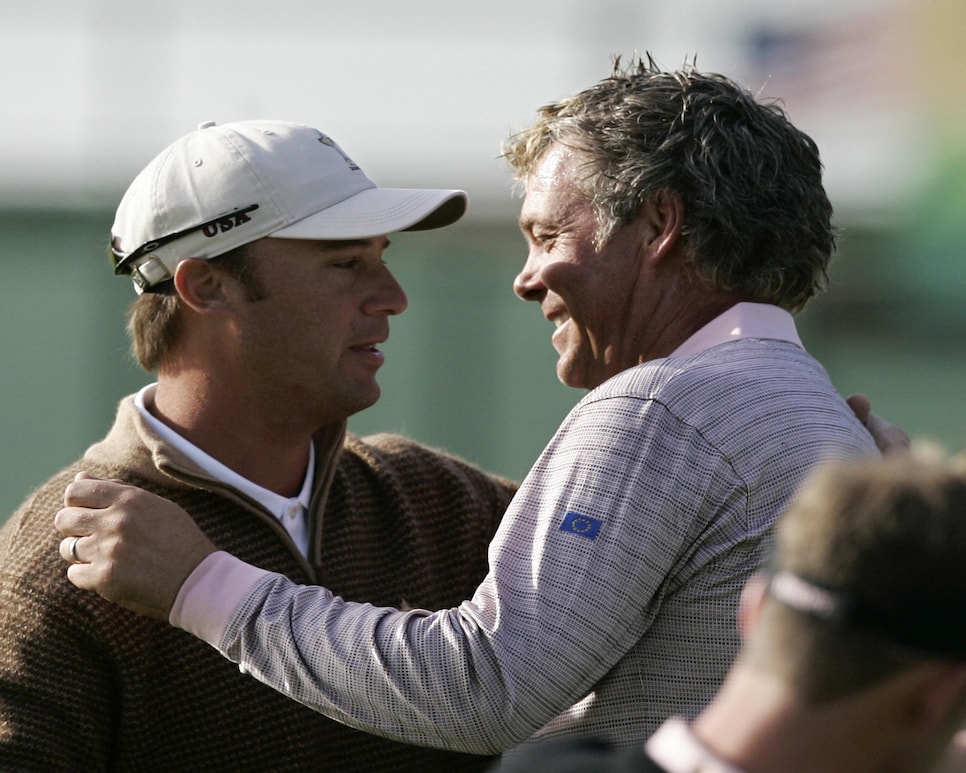 Two newly-minted 50-year-olds will enter the PGA Tour Champions fray at the Boeing Classic this weekend, each with an impressive resume that includes having tangled with Tiger Woods.
Darren Clarke, who turned 50 on Aug. 14, is a former British Open champion with three PGA Tour and 14 European Tour victories, and is a former European Ryder Cup captain.
He also took down Tiger Woods, 4 and 3, in the final of the WGC-Anderson Consulting Match Play Championship in 2000.
Chris DiMarco, meanwhile, won three PGA Tour events, was ranked as high as No. 7 in the world, and played on two U.S. Ryder Cup teams and two Presidents Cup teams.
DiMarco, who turned 50 on Thursday, also was the unfortunate victim of Woods holing the famous pitch shot from behind the 16th green at the 2005 Masters. DiMarco lost to Woods on the first hole of a playoff.
Neither of them are going to be tournament sharp in the Boeing Classic that begins Friday at the TPC Snoqualmie Ridge east of Seattle.
Clarke, at least, has played six European Tour events this year, though missing the cut in four of them and finishing T-61 and 63rd in the other two.
"I think I've got to find my feet," he said when asked whether he has any expectations at the outset of his senior career. "I've got to come out and figure out where my game's at. I'm not really sure because I haven't been that competitive for that long.
"So figure that out maybe the next couple of weeks and see what I really need to work hard on, work on those areas and then try and improve from there. So I'm not putting any expectation on myself. I just hope that I play reasonably well and see how it goes."
Clarke could have made his senior debut at the Dick's Sporting Goods Open last week, but opted instead to remain at his home in Bahamas.
"When I had my choice of being on the golf course for my 50th birthday or being on the beach in the Bahamas for my 50th birthday, the beach sort of won that battle," he said.
"But I've been down there again with the family the past three weeks and spent a lot of time on the range working really hard, and I'm trying to get ready."
DiMarco has played one tournament since he missed the cut in the Zurich Classic of New Orleans in May 2016. He played the KC Golf Classic on the Web.com Tour earlier this month, shot 68-75 and missed the cut.