News
Here's how Danny Willett is turning his European Tour return into a getaway with his wife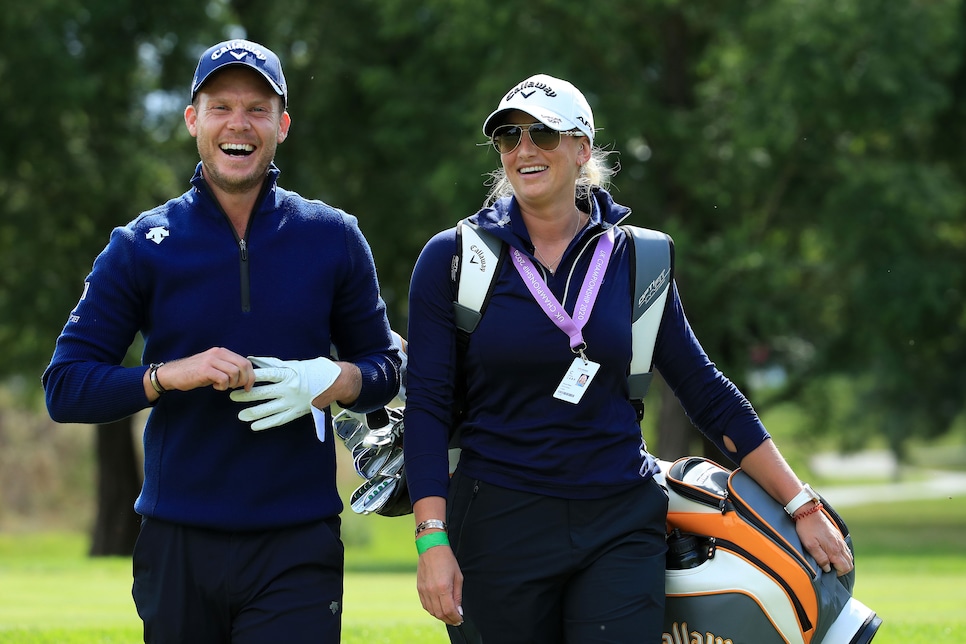 Danny Willett is using his wife, Nicole, as his caddie this week at the ISPS HANDA U.K. Championship at The Belfry.
Andrew Redington
On paper at least, the sixth and last event on the European Tour's U.K. Swing, the U.K. Championship at The Belfry, looks to be the best of the bunch. Five of the world's top-50 players are in attendance at the four-time Ryder Cup venue in the English Midlands—Bernd Wiesberger, Lee Westwood, Danny Willett, Matt Wallace and Victor Perez—easily the most since the Old World circuit made its return from the COVID-19 shutdown.
So things are looking up all round, with Willett epitomizing the air of positivity after enduring 11 days of quarantine and three (negative) tests for coronavirus. Despite an 11-tournament run on the PGA Tour that featured six missed cuts, only one top-10 finish and saw him drop from 31st to 42nd on the World Rankings—a season he cheerfully describes as "higgledey-piggledy"—the former Masters champion was all smiles during his pre-tournament press conference.
"I just didn't quite have my best stuff going," he explained. "It's one of those ones where if you don't play good golf you're going to miss cuts. The guys [on the PGA Tour] are great golfers and you've got to be on your game. I wasn't. I stuck in one really nice finish in the middle of it all [T-4 at the Rocket Mortgage Classic], but I've never really played more than two or three events in a row. With the restart, I was trying to play catch-up because I wasn't sure how the exemptions are going to work next year. Really, I was just trying to play a few instead of just staying at home."
Still, the 32-year-old has much to look forward to in what is his first visit to The Belfry since a far-off day spent watching practice for the 2002 Ryder Cup ("I wasn't that big, so I didn't see a lot"). Having made it through the requisite period of quarantine, Willett has wife, Nicole, on the bag for the first time this week.
"We're in our own little bubble so it should be good fun," said the current BMW PGA champion, a father of two. "My wife and I haven't had more than two hours alone in seven months. So we are using this week to have a bit of time together on our own. She has never caddied for me, and she's a bit nervous. She doesn't want to get anything wrong. Luckily we've got a nice draw with Bernd and Laney [Wiesberger's caddie, Jamie Lane], who is a good pal of ours. So hopefully he'll be raking bunkers for me and making sure she's looked after."
Willett was less concerned about his lack of experience on a course that was once a regular feature of life on the European Tour. Between 1978 and 2008, The Belfry hosted nine English Opens, four Benson & Hedges International Opens, one Hennessey Cognac Cup match between Great Britain & Ireland and the Continent of Europe and three British Masters.
Already, in fact, Willett's mind is drifting forward to November and the prospect of a spectator-free Masters he describes as "strange."
"I've played Augusta with nobody there in December last year and again in early February," he said. "I'm not sure if many guys will have done that. It will be a few degrees colder and a little windier and obviously a different course to what we see in April. It will be interesting to see if they can get it fast enough and firm enough, weather-permitting. Plus, maybe more than any other golf tournament in the world, no fans at the Masters will make a hell of a difference. But you've got a world-class golf course and you'll have a world-class champion. Hopefully everything can go well."
This week too. For both Mr. and Mrs. Willett.