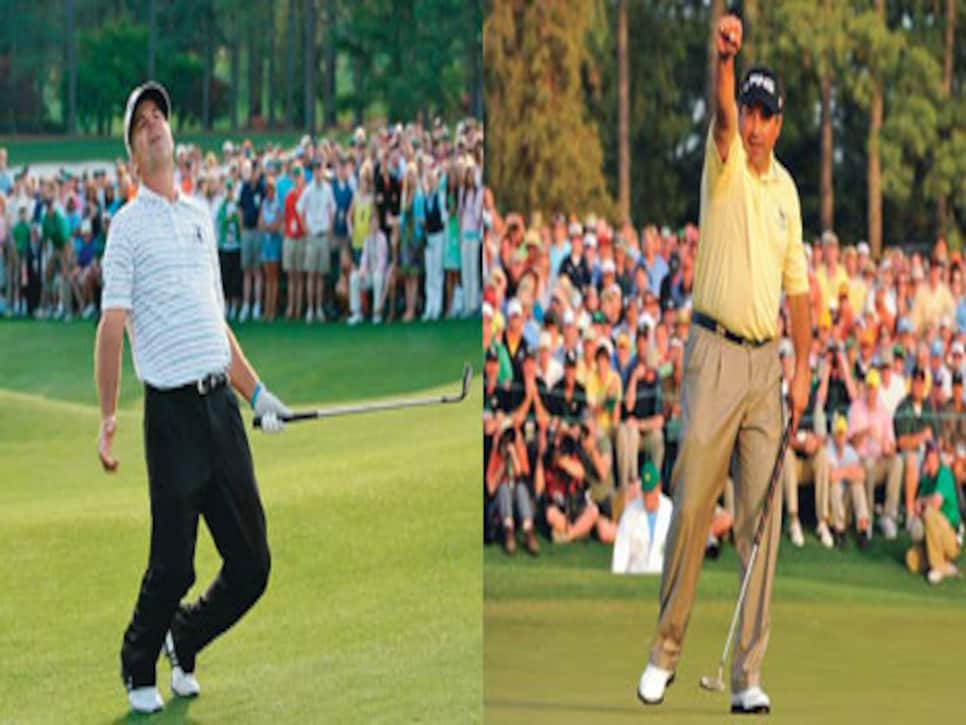 Kenny Perry (left) almost holes out on the first playoff hole; Angel Cabrera forces the playoff with a par putt at the 72nd.
The greatly anticipated 2009 Masters was like going to a Broadway hit and finding out that the star, Sir Tiger Woods, was off that night, and his replacement was the cab driver who dropped you off at the theater.
No offense to Angel Cabrera, the Wild Duck of the Pampas, a waddling man who apparently can only win majors.
Even the second lead in the show was missing until Sunday. But Phil Mickelson had an excuse: He was trapped inside one of those silly-looking, too-tight shirts with the shorty sleeves that he keeps wearing. Fashion victim.
Tiger wound up being particularly disappointing to this bureau because his adoring media had pronounced him back, better and stronger than ever. This begs for a comparison between the comebacks of one of his historical adversaries, Ben Hogan. Speaking for Hogan, I'm urged to say, "I'll see your knee, Tiger, and raise you a double-fractured pelvis, broken collarbone, broken ankle, cracked rib, blood clots tied off in both legs, and a Greyhound bus."
Tiger's tie with three others for sixth at this Masters left him fuming on and off the range and saying he fought his swing all week. Hogan topped his comeback in 1950 by winning the U.S. Open at Merion, so we're all eager to see what Tiger does in the Open at Bethpage.
What was wrong with him at Augusta? Maybe he should have played another tournament in his preparation. He thought too much about his shots. Played tentatively. Misread too many putts in the early rounds. A person close to him said, "He's playing afraid, like he's trying to keep from making mistakes."
If that was true, it might have been because he's trying too hard to save the game from certain idiots who have blamed golf for the poor economy.
None of this mattered to the fans. Woods still had 30,000 scurrying after him while the leaders looked rather lonely.
The weather was perfect in Thursday's first round, the day half of Western Civilization shot in the 60s, but Tiger looked less like a man trying to save the sport of golf than he did a corporate CEO who'd just learned that he'd been fired by the White House.
He started his trend of bogeying the 18th hole, which he would do three out of the four rounds, and turned a 67 into a 70. Friday he turned a 70 into a 72. And then came Saturday: After hitting drivers on the range till dark the night before, he stepped up on No. 1 and looped a tee shot into the wilderness for a double bogey.
All of the above helped introduce the '09 Masters to the strange set of characters who would dominate it, leader-board-wise. First there was Chad Campbell, a native of Andrews, Tex., a place where you either have oil and cattle or high school football and chicken-fried steaks.
Campbell led the first round and tied for the second-round lead, and that's when we remembered that his wife is a singer who goes by Amy Lepard. Before things were all over, he might have given her the inspiration for a song: "If the Putt Don't Drop, You'll Know It's Me."
Kenny Perry's song would be "My Old Kentucky Three-Piece Swing." He was tied at the top after 36, 54 and 72. There were those who rooted for a good guy like Perry to become the oldest winner of a major (he's four months shy of 49) but found it hard to root for someone who skips majors. Perry has played only five British Opens in 20-plus years on tour, and last year he ducked out on the U.S. Open and the British while trying to make the Ryder Cup team. He should ask Bruce Lietzke out to dinner sometime.
The biggest excitement on Friday was provided by Anthony Kim, the brash young talent and Ryder Cup hero who made 11 birdies in a round of 65. It was a good thing Kim also made two bogeys and a double bogey, or his score might have encouraged the Augusta National to buy up more residential property surrounding the course and add another 1,000 yards, giving Sergio Garcia something else to whine about.
A sense of drama started building for Sunday's final round when it became known that Tiger and Phil would be paired together and would go out an hour ahead of the leaders. Those two might put up a number, but how many Kenny Perrys, Chad Campbells, Angel Cabreras, and Jim Furyks could Tiger or Phil count on to faint? For that matter, would they even speak to each other?
The situation left us with two tournaments on Sunday. It was Tiger and Phil over here with the crowds, and the lurkers over there.
Tiger and Phil certainly put on a show when they went off with the entire population of a small nation in their entourage. Mickelson's front-side 30, six under, tied a record. Tiger's eagle putt on No. 8 kept him close. But what began with roars was too good to be true.
The one thing Phil had to do on the tee at the treacherous 12th was take the water out of play, no matter what. But he hit a sorry 9-iron that trickled back into Rae's Creek for a double bogey, then gunched two short putts, one for an eagle at 15 and one for a birdie at 17.
He'd made everything on the front, so it must have been destiny's payback. Couldn't have been choking on a green jacket, right?
All of Phil's mistakes should have quickened Tiger's step, but as soon as he got to 10 under he bogeyed 17 and 18 after poor drives. His 68 lost the individual duel to Mickelson's 67.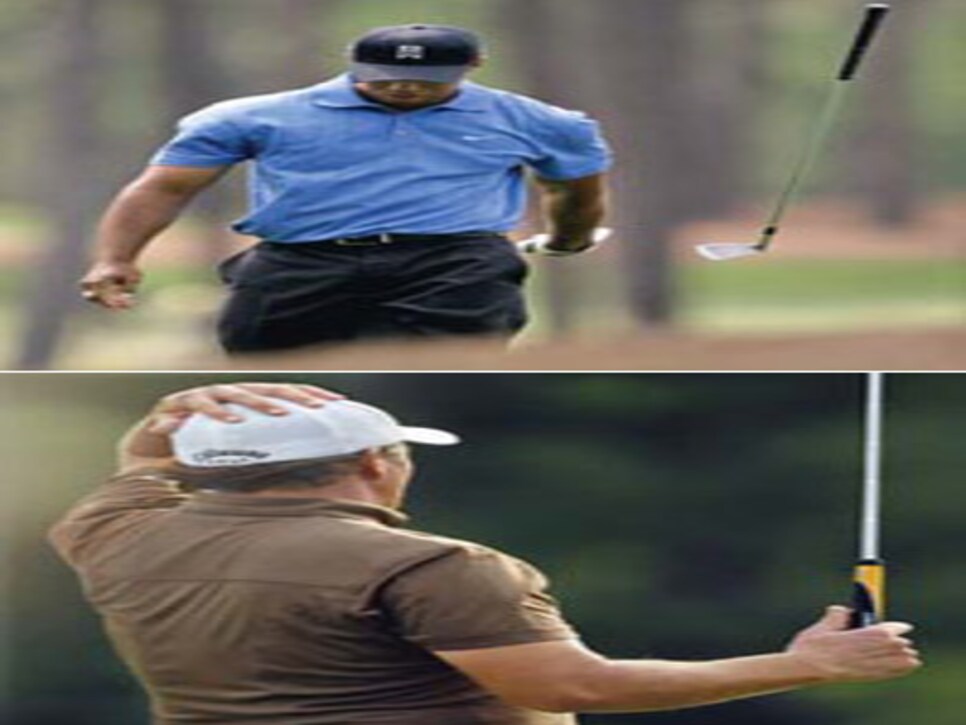 The thing about the other tournament on Sunday is that it brought to mind the '79 playoff for some of us. It was the playoff where Fuzzy Zoeller beat Ed Sneed and Tom Watson in sudden death, although Fuzzy had been the last guy on anyone's mind, nobody you'd seen on the telecast. And you won't be seeing him in the Masters again: Fuzzy made this his last, and Gary Player did the same after playing his 52nd. Fuzzy bowing out must have come as a disappointment to blogger Condi Rice, who was in attendance and called him "another favorite of mine." Who knew?
Cabrera wouldn't go away, even though all you saw him do was chew gum and give Perry a thumbs up for Kenny's solid play. Meanwhile, Cabrera was primarily remembered as the chunky guy who chain-smoked cigarettes and won the 2007 U.S. Open at Oakmont.
But after he survived the Roberto De Vicenzo scorecard-signing thing -- the first for an Argentine who tied for the low 72 -- Cabrera won the playoff over Perry and Campbell. Cabrera flailed around in the trees like an 18-handicapper on 18, the first playoff hole, before making a par. Then came a knockdown 4-iron to No. 10, the second playoff hole, that made Kenny Perry even older. It also made Cabrera, 39, the seventh player during the Tiger era to win more than one major, joining Phil, Vijay Singh, Ernie Els, Retief Goosen, Mark O'Meara and Padraig Harrington, who picked up two of his three during Tiger's absence.
So yet again Tiger hasn't come from behind in the last round to win a major. In the end at Augusta, he just didn't play well enough over the four days to deserve a fifth green jacket -- and Mickelson's shirt, by the way, didn't deserve it either.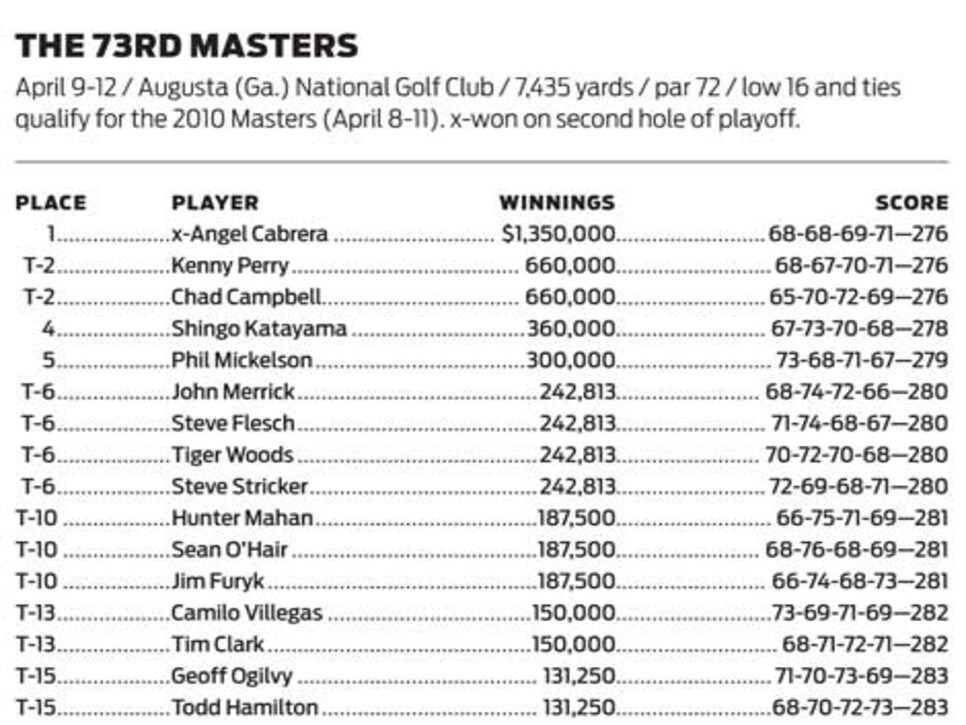 FIRST IMPRESSIONS OF AUGUSTA NATIONAL
Have you been lucky enough to attend the Masters? We're looking for your first impressions of that initial visit, whether it was this year or as far back as the inaugural tournament in 1934. Write to us at editor@golfdigest.com, and we'll include selected comments as part of our 2010 Masters preview.