Dan Jenkins: Tweets from the Ancient Twitterer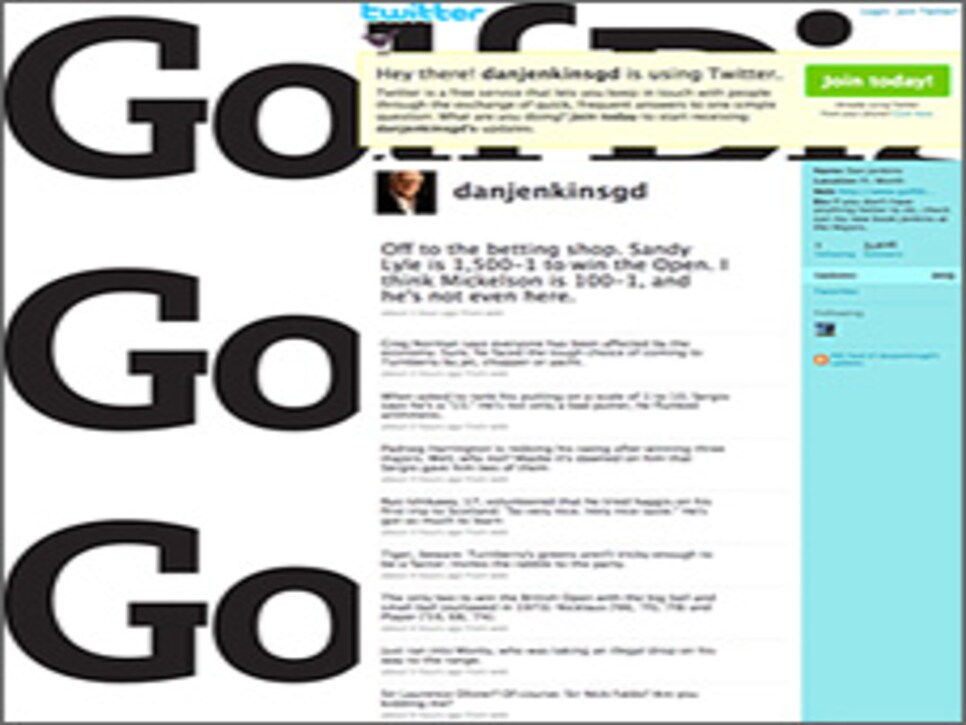 TURNBERRY, Scotland--Golf Digest Writer-at-Large Dan Jenkins is back on Twitter (twitter.com/danjenkinsgd) for his 201st major championship. Some highlights from Jenkins, 79, dubbed The Ancient Twitterer for his tweets (limited to 140 characters) in the third round:
Ross Fisher, two strokes off the lead, says he'll do the Phil Mickelson thing and leave the tournament if his wife goes into labor. OK by me
I was Watson's age 20 years ago -- still drinking a lot, practically buying Elaine's. I thought I was immortal. What's the big deal about 59?
If Watson were to hang on to win his sixth British Open, it'd tie Vardon's record. And Watson never wore a tweed coat.
Sudden thought: Everyone gets to wear a red shirt on Sunday. Tiger won't be here.
What is destiny doing to me, Sergio? Tiger's gone, and I miss another five-footer, and make two bogeys. But it's only Saturday, yes? No?
Is that Mark Calcavecchia or the Ailsa Craig? I can't tell from here.
Routine start for Steve Marino, playing in the final group of a major for the first time. He's gone par-bogey-bogey-bogey-double-par-eagle.
A 76 for me, Sergio! And 35 putts! After I said my putting was a 15 on a scale of 1-10. Maybe better tomorrow, which is Sunday, no? Yes?
A Goggin has tied Watson for the lead. How many goggins on the dollar at the latest exchange rate?
A leader board that includes Goggin, Fisher, Marino and Jaidee. I miss Tiger and Phil.
10 years ago: Open co-leader Matt Goggin's birthday hangover curtailed a round at Muirfield Village after an invitation from Gary Nicklaus.
If it comes down to the par-5 17th on Sunday: The top 25 players played it in 21 under Saturday: 18 birdies, 2 eagles, 4 pars and 1 bogey.
The good news Saturday for old guys: Tom Watson leads the Open at 59. The bad news: The world's oldest man, Henry Allingham, dies at 113.
The Ross Fisher baby watch: Child #1 for both Phil and Tiger arrived the day after a U.S. Open ('99, '07). This is called managing your game