Dan Jenkins: Tweets from the Ancient Twitterer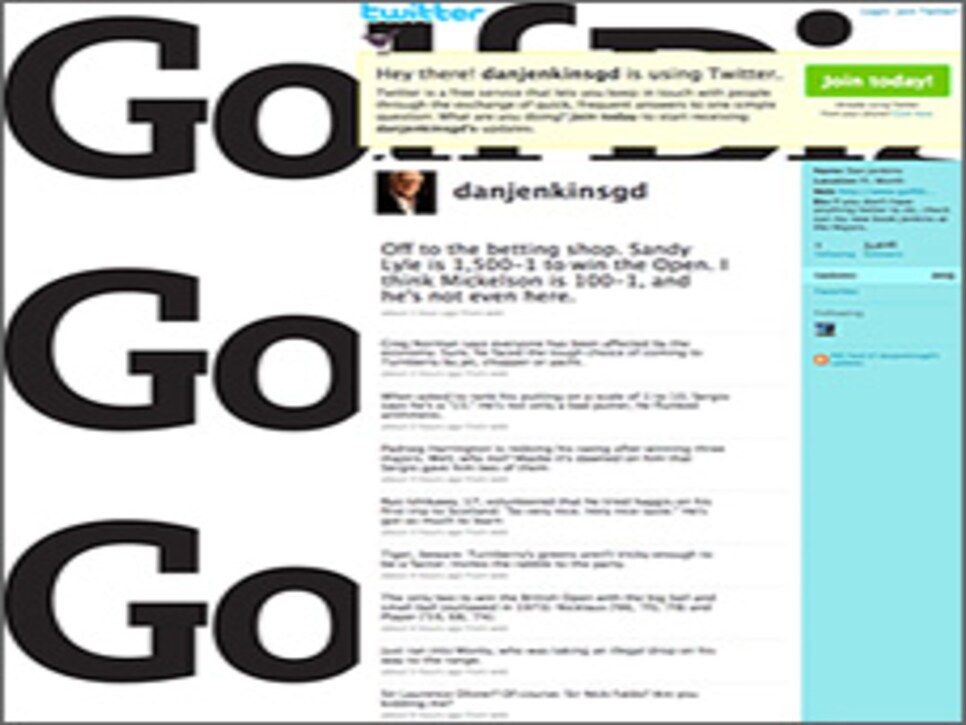 TURNBERRY, Scotland--Golf Digest Writer-at-Large Dan Jenkins is back on Twitter (twitter.com/danjenkinsgd) for his 201st major championship. Some highlights from Jenkins, 79, dubbed The Ancient Twitterer for his tweets (limited to 140 characters) in the first round:
What's so bad about Sandy Lyle calling Monty a drama queen? My wife's been calling me that for years.
Today's forecast: Cloudy with possibility of rain, with more occasional outbursts from Sandy Lyle.
If Jimenez keeps his stride, he could be the best ponytail to win a major since Secretariat.
John Daly, the trailer park called after seeing your pants. They want their shower curtains back.
If you ordered the Kuboya for dinner last night, you'll be happy to know that your entree birdied the first and now leads the tournament.
More from the Sandy Chronicles: Sandy Lyle says his comments about Monty were taken way out of context. Then he asked what a context is.
Steve Marino shot a 68 today. Which is remarkable, because he looks like he broke out of prison earlier this morning.
Sir Nick Faldo shot a 73 and will miss the cut, but he promises to do all he can for the little people. As long as they call him "Sir."
Ben Curtis and Mike Weir played together and were 8 under Thursday (65-67) but 18 over (80-78) Friday. Blame the weather, or each other?
For those of you keeping track of Michael Campbell's WDs, add another. That's 4 this year (and 8 MCs). Same guy who won the '05 U.S. Open?
Tiger's 7 over on his last six holes and looks like he's going to have some free time this weekend. So much for No. 1s winning at Turnberry.
Hey, Tiger: I, Sergio, just shot 69 and will play on the weekend, yes? You? No?
Just a par for Tiger at 18, and that means unless a few guys on the course quit breathing, he's done for the week.
Shout if you had Kubaya, Kingston, Andersson, Manassero, Gaunt and Aiken all finishing ahead of Tiger this week.