The Loop
Daly's bottom-line health is better, too
LA JOLLA, Calif. - John Daly attributes his fine play through two rounds of the Farmers Insurance Open at Torrey Pines mainly to an almost full recovery from the rib injury that has hampered his golf swing the last three years.
But a gambling man -- which Daly is not ashamed to admit he is -- would believe there's more to it than that. And there is.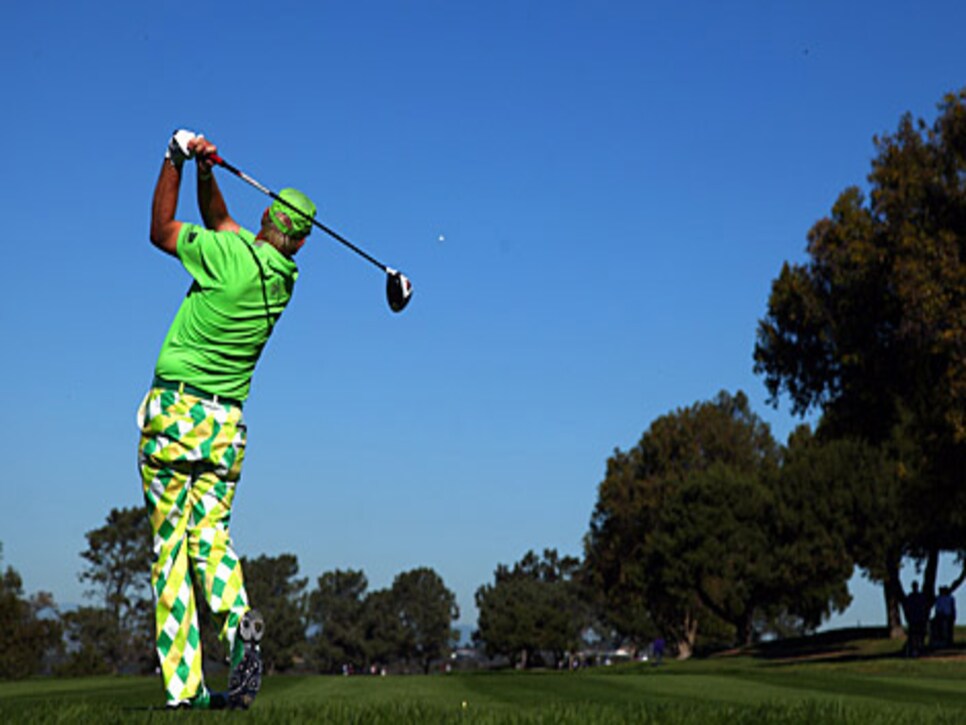 The importance of improved health can never be minimized, and Daly said he is better managing the problems associated with shoulder and rib injuries he traces back to an incident at the 2007 Honda Classic. Daly injured his rib cage, he said, while trying to stop his backswing after a fan jumped in front of him to take his picture. Last June he filed a $100 million lawsuit against the tournament.
In the meantime, physical therapy has helped him regain motion, strength and confidence.
"Ever since Honda, it's all been three-quarter shots and nothing more; I'm not a three-quarter-shot player," Daly said Friday after his 3-under 69 on the North Course at Torrey Pines lifted him into a T-3 logjam at 8-under 136. "You can ask anyone who has had a rib injury or a shoulder problem how hard it is to play. You are just so scared to hit it. This the first time I really feel like I can get through the golf ball again. I'm not flinching; I'm not throttling back on any of my shots. I'm getting more confidence in what I'm doing. It feels great. I feel like my natural ability is back."
Equally important is the weight he's lost, and, no, we're not referring to his Lap-Band surgery prior to 2010, though that hasn't hurt. We're referring to a de-leveraging of his financial assets and improved personal balance sheet that's a weight off his mind. With the help of his girlfriend, Anna Cladakis, Daly said his financial position, "is doing better, and it's been a tough road."
The hard part has been selling a lot of the toys he'd accumulated, including a Mercedes Maybach that carried a price tag of $464,000.
"Anna has helped me a bunch. She's running my company, and I am getting back to where I should be," said Daly, 44, who recently started a new apparel company, Blue Collar Golf, with Hooters co-founder Ed Droste. "I've sold a lot of the toys that I've had. She drives a Yukon. I had another Yukon I gave to [daughter] Shynah for college. All I have is my bus. I gave up the Maybach, two Hummers, and a bunch of other stuff that I really liked. That Maybach was the greatest car I ever had. I had the second one ever sold in the United States.
"You know, I came from nothing growing up. So it's no big deal to go back to nothing - though, obviously, I'd prefer not to. We're working everything out. It's painful, but I'm better off."