News
Cristie Kerr pulls into a share of the lead
PITTSFORD, N.Y. -- Calling her T-20 finish in last week's Shoprite LPGA Classic a "golf hangover" after winning the rain-delayed, never-ending LPGA State Farm Classic the week before, Cristie Kerr is pleased with her performance on day 1 of the LPGA Championship. She got off to a hot start, scored four birdies in her first seven holes and shot a three-under 34 on her front nine (the golf course's back nine). She followed that up with a 1-under 34 on the back, despite heavy winds and having to stop for a rain delay.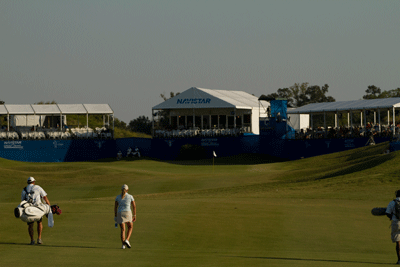 *Kerr's total score of 68 puts her in a three-way tie for the first-round lead with Stacy Lewis and Seon Hwa Lee. "I'm definitely where I want to be," she said after her round. "I like being in the lead, especially in a major. It kind of motivates you, and I look forward to getting out and playing tomorrow."
Kerr is currently ranked fifth in the Rolex World Rankings, a list that is so crowded at the top that no fewer than six players have a shot at taking over the lead with a couple of good weeks, especially during majors, which are worth double points. Kerr, for one, likes her chances of reaching all the way this season. "I won a couple of weeks ago and I feel like I'm playing great. I feel like my mental game is there. I just have to keep doing what I'm doing. I have to keep working hard on the mental stuff and believe in myself. There's a lot of golf this year, it's a very long year. And I've started off the right way."