News
Creamer's flight adds to memorable year
When you grew up with a father who went to the U.S. Naval Academy and then landed fighter jets on an aircraft carrier bobbing in the middle of the ocean, there is probably a little loving of flying imbedded in your DNA. Still, when Paula Creamer was learning how to deploy her parachute in case she would need it, it dawned on her that while going up in an F-16 might be fun, it was also serious business.
"I pulled 9.1 Gs," an excited but drained Creamer said by phone Thursday after 65 minutes in a fighter jet piloted by Capt. Kristin Hubbard, one of the first women to be a member of The Thunderbirds, the crack flying team of the U.S. Air Force. "It feels like you have three sumo wrestlers sitting on you. It was awesome. We flew upside down, did barrel rolls and inverted loops. I was starving when we finished"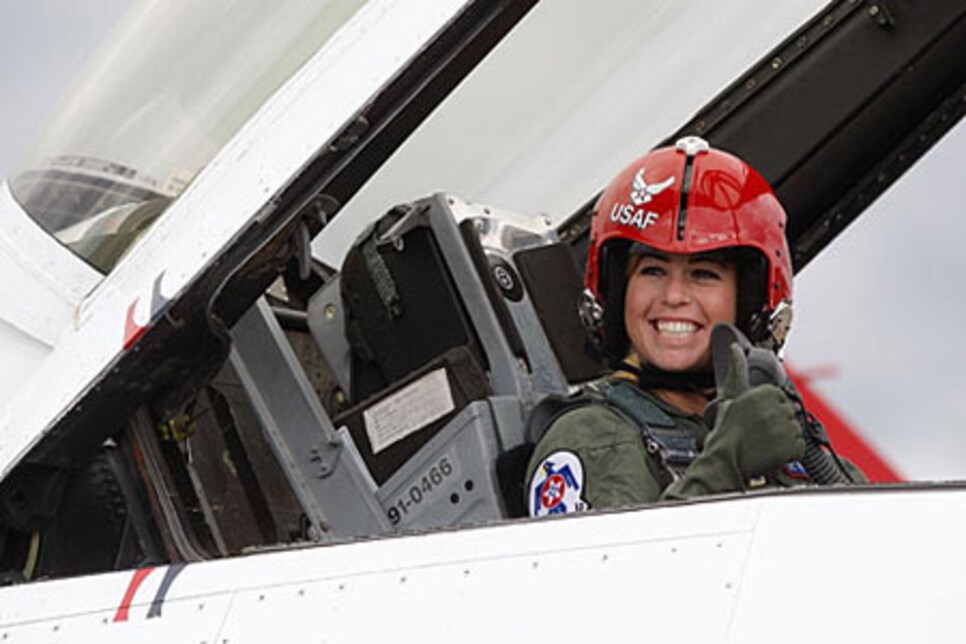 Creamer's father, Paul Creamer, flew jets for the Navy and then American Airlines before a job-related disability forced him to the sidelines. Paula's flight, which took off near Pittsburgh, also came with a bit of nostalgia. "Kristin said to me, 'Look over your left shoulder, I have a surprise for you,'" Creamer said. "It was Oakmont (CC where Creamer won the U.S. Women's Open in July]."
Asked which was scarier, doing stunts in an F-16 or putting the greens at Oakmont, Creamer said: "The approach [shot] to No. 1 or 10 was scarier. There it was just me. I knew I had a expert at the controls in the F-16."
Creamer, who withdrew from this week's P&G NW Arkansas Championship because of soreness in the left thumb operated on in March, had set a modest objective for herself going into the flight. "I just didn't want to puke everywhere," she said with a laugh. "I didn't want to get sick. That was my No. 1 goal."
That mission accomplished, Creamer was able to look back and laugh at the experience -- as well as appreciate the skill of Capt. Hubbard, affectionately nicknamed Mother after Old Mother Hubbard of nursery rhyme fame. "I would definitely do it again," Creamer said, "but I don't need to do it tomorrow."
Perhaps next time Paula can take to the air with a Navy pilot to make her father happy. As Paul Creamer likes to point out, the difference between an Air Force pilot and a Navy pilot is that the runway is not bouncing around for the Air Force pilot.
It's been a pretty cool year for Paula, all-in-all. She wins her first major championship and gets her first flight in a fighter jet. The enthusiasm with which she embraced both experiences reflected a more mature perspective with which she emerged from the thumb injury. "It was scary when you think you might never play golf again," Creamer said. "You appreciate things much more." On Thursday she added another memory to that lifetime scrapbook.
(Photo: Jared Wickerham/Getty Images)