The Loop
Couples Says Tiger's On My Team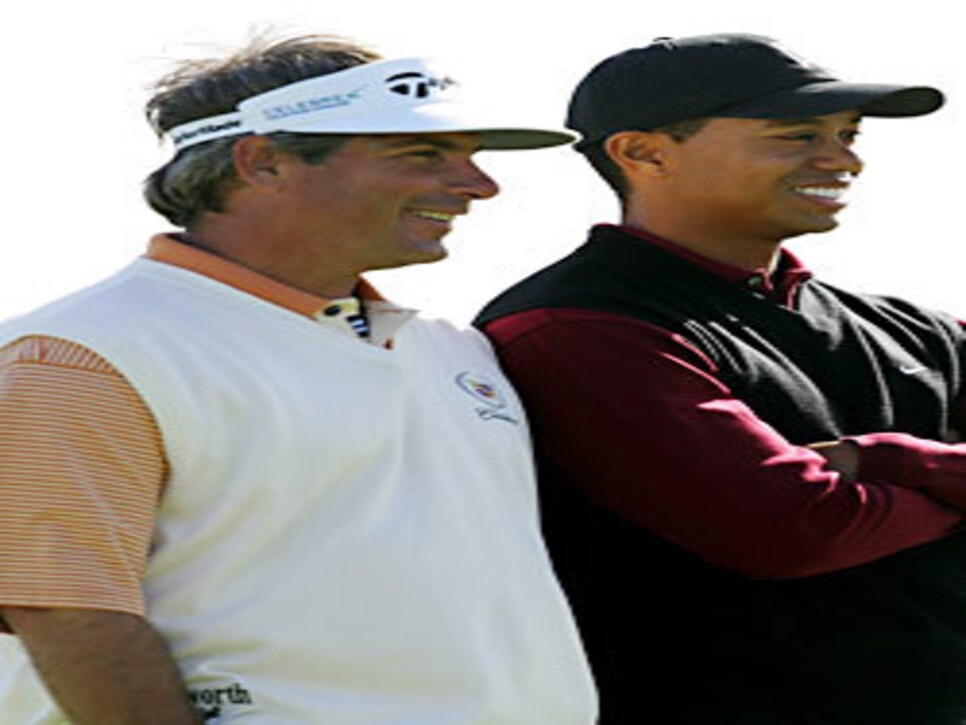 SAN FRANCISCO -- U.S. captain Fred Couples can't wait for the 2009 Presidents Cup at Harding Park Golf Course, and is especially excited about having the world's No. 1 player, Tiger Woods on his side.
"He'll be ready," Couples said Wednesday. "He'll lead our team."
Woods is recovering from major knee surgery and is not expected to swing a club until next year. Assuming his rehabilitation goes smoothly, that should give him plenty of time to rebound for the Presidents Cup, Oct. 8-11. On his last visit to Harding Park, he won the 2005 American Express Championship, beating John Daly in a playoff.
Couples and Woods have communicated a lot lately.
"I texted Tiger before he hurt himself, after he hurt himself, all the time, and I texted him during the Ryder Cup just to see what he thought, probably six, seven times," said Couples. "I don't want to harass him.  But if there was a shot I would text and say, 'Did you see that?' And he would text back, 'Of course I saw that.  I'm watching it.' ''
For some, being paired with Woods in a Ryder Cup or Presidents Cup is an eye-opening experience.
"I played on the same team with him and had him as my partner," Couples said. "I will say that as a partner, it's harder. Greg Norman was No. 1 in the world forever. He would be for me easier to play with, because we were a little bit closer because we played together more often.
"Tiger is a lot younger.  Not that Tiger is hard to play with.  It's just you have to play with him a lot. So a lot of these guys, the Hunter Mahan or Boo Weekley or Ben Curtis, they have never been in the last group with Tiger. It's okay to play with a guy like that Thursday and Friday. But when you're trying to beat him, it's a whole different thing.
"And so again, when he's on your team, he's a leader.  He has fun with the next guy in line or the 12th guy in line or the captain or the wives.  When you go play here next year, for instance, at Harding Park, obviously the foursome I have playing with Tiger, there will be more groups following his group than the other three groups the Americans have out there, that's a given.  He's not looking for that attention.  As a matter of fact, he's looking to hang with the boys."
Some have suggested the U.S. would not have won the recent Ryder Cup if Woods had played. Couples doesn't buy it.
"I think we would have," he said. "But the fact of the matter is, he's a team player and he's fun to be around and he's the best player in the world and I can't wait to have him on our team."