News
Birdie Festival At Corning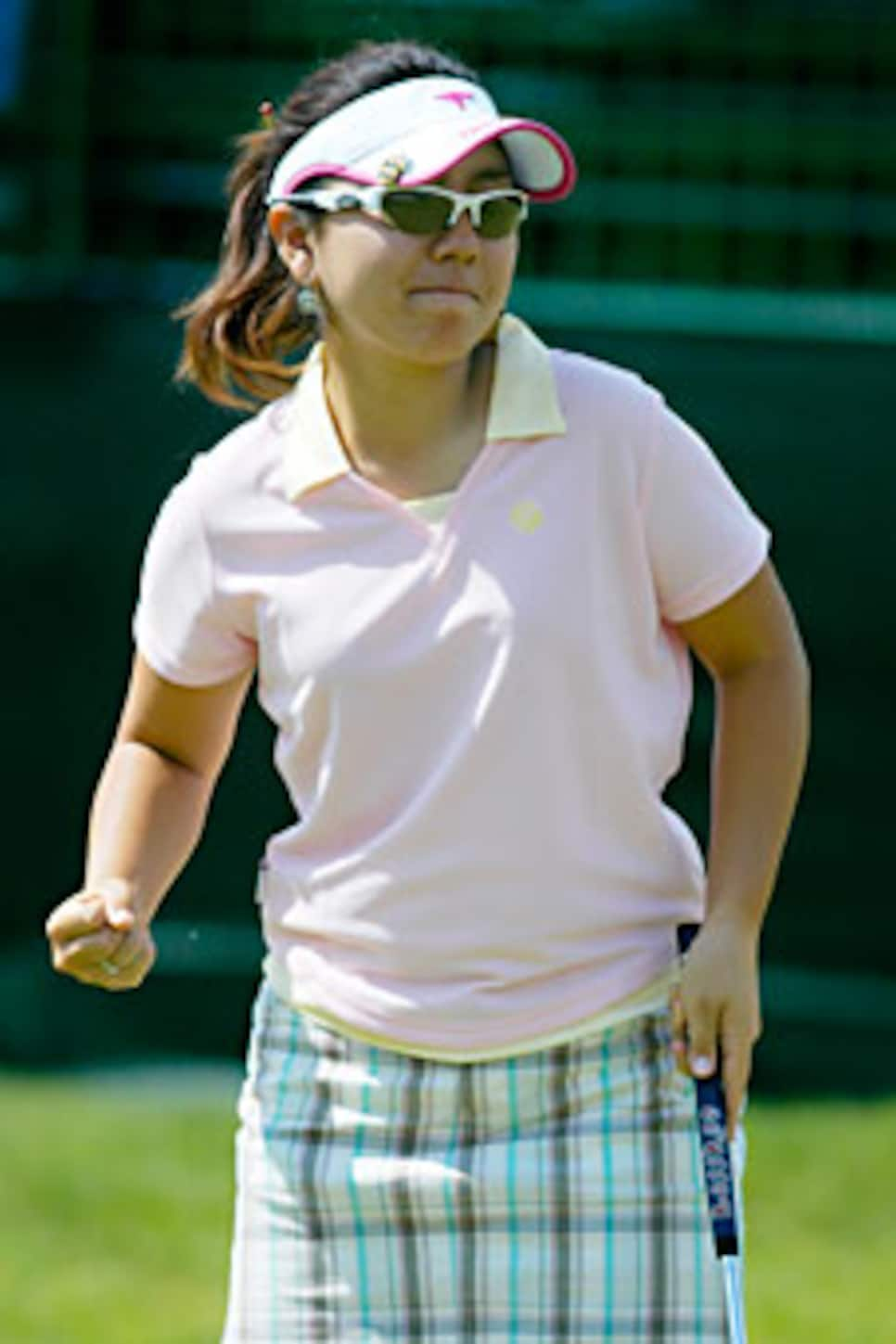 Miyazato is currently ranked second in the race for the 2009 Rolex Rookie of the Year.
CORNING, N.Y. (AP) -- Hee-Won Han proved a prophet.
Four years ago, Han shot 10 under on the third round of the LPGA Corning Classic and figured that feat was likely to be duplicated Saturday given the near-ideal condition of the Corning Country Club course.
On an amazing day of scoring, 19-year-old Japanese rookie Mika Miyazato shot a 10-under-par 62 to tie Soo-Yun Kang of South Korea at 17-under 199. They were one shot ahead of 20-year-old Yani Tseng of South Korea, who also shot 10 under.
Minea Blomqvist (66) of Finland was alone at 15 under. Mikaela Parmlid (68) of Sweden, rookie Vicky Hurst (63), Katherine Hull (65) of Australia, Sandra Gal (68) of Germany, and South Koreans Na Yeon Choi (68) and Seon Hwa Lee (68) were at 14 under.
Karine Icher of France, who began the day with a four-shot lead, stumbled to a 74 and finished the day in a tie for 17th, five shots off the lead.
Eunjung Yi of South Korea started shortly after 9 a.m. and quickly gave a strong inkling of what was about to unfold. She made three eagles in her first five holes to become just the fifth player in LPGA history to accomplish the feat on a round.
Tseng was even better, making two eagles and four birdies on the front nine for a 28. That was just one stroke better than playing partner Natalie Gulbis (66), but it broke the tournament record of 29 set two years ago by Wendy Ward. It also made Tseng just the ninth player in LPGA history to shoot 8 under for nine holes.
"It's unbelievable. I had two eagles on the front nine and a lot of circles on my scorecard," said the 20-year-old Tseng, 2008 LPGA rookie of the year. "And it feels like I'm playing a pro-am scramble. It's birdie and eagle. It was so much fun."
Until the 17th hole. Tseng drove the deep right rough, punched out nicely and hit her third shot to 15 feet, then shook her head in dismay when her putt for par stopped short of the hole for bogey.
That wasn't about to affect the elation she was feeling after signing her scorecard.
"I think I'm just going to still have fun and enjoy tomorrow and don't try too hard," Tseng said. "Maybe I shoot 59 tomorrow. Hopefully."
Miyazato said she was unaware of Tseng's score, but the first eagle of her career came on a 30-foot putt at the par-5 fifth hole and started an impressive run. She finished with eight birdies for the second straight day, three on the final four holes.
"It's not easy," said Miyazato, who nevertheless made it look that way with six birdie putts from 6 feet or closer. "I think a little bit nervous tomorrow."
Kang (65) made it to 18 under with an eagle at No. 14, made bogey on two of the next three holes, and then rallied with a 15-foot birdie putt at 18.
"I just kept playing, I forget the holes," said Kang, whose 50-degree wedge from 85 yards on her third shot at the par-5 14th hole found the cup. "I just thinking the next hole and not making bogey."
Hurst had five birdies on the front and five on the back and would have matched Miyazato and Tseng if not for a mistake at the par-4 18th. She pulled her second shot into the rough and two-putted from 8 feet for bogey.
"Coming into today, it was just like anything else," said Hurst, who needed just one putt on eight of her birdies. "I wasn't thinking about shooting a certain score. I wasn't even thinking about making my way up on top of the leaderboard. I kind of just focused on my game and the shots I was hitting, and whatever happens happens."
Yi eagled the par-4 first hole with a 7-iron from 160 yards after driving the left rough and followed with two more eagles on the generous par-5s. The rush moved Yi to 10 under, just four shots off the lead, but she faded on the back nine and finished with a 69 that placed her at 7 under.
So solid the first two rounds but unaccustomed to carrying a lead into the weekend, Icher's four-shot lead was already gone when she teed off as 11 players shot 7 under or better. After setting a tournament record for low 36-hole score at 14 under, Icher started well with a birdie at No. 2, then faltered with three bogeys before the turn.
Divots: South Korea's Amy Yang aced the par-3 third hole with a 4-iron from 182 yards for her first hole-in-one on tour. ... Juli Inkster shot 10 under on the final round when she won Corning in 2003. ... Yi is only the 17th LPGA player to post consecutive eagles and the third to do so at Corning, joining Suzy Green (1999) and Kelli Kuehne (2004).