News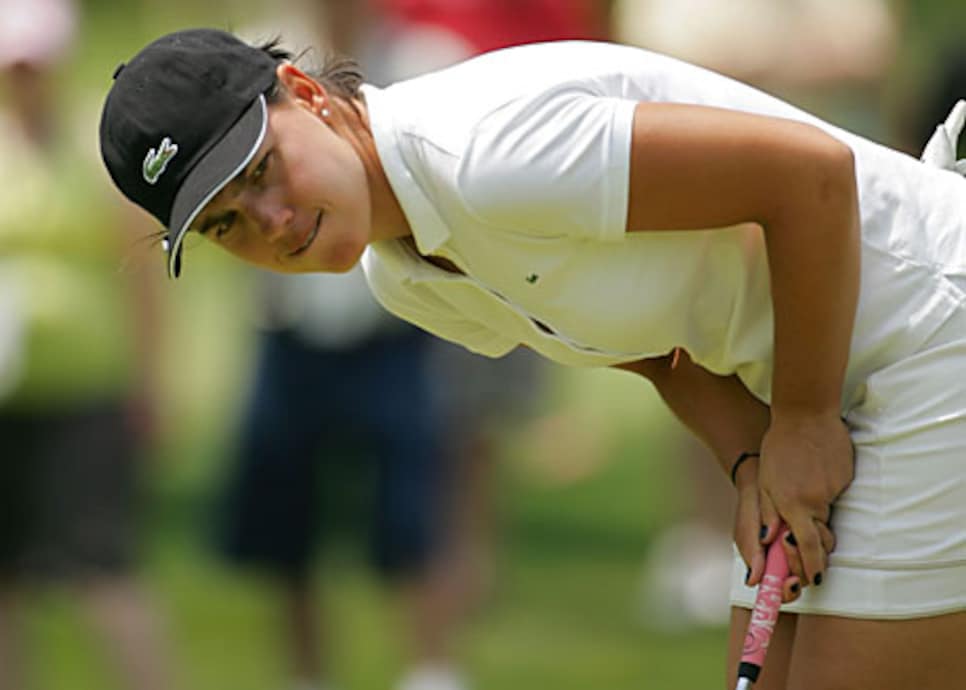 France's Karine Icher will carry a two-shot lead into the weekend
CORNING, N.Y. (AP) -- Karine Icher isn't used to this. She would be happy to make it a habit.
The 30-year-old native of Châteauroux, France shot a 6-under 66 on Friday to gain a two-shot lead over Hee-Won Han of South Korea after two rounds at the LPGA Corning Classic.
Icher, the first-round co-leader at 8 under with Hee Young Park of South Korea, was at 14-under 130. That broke the 36-hole record for the tournament by one shot and equaled the best back-to-back rounds in Corning history.
Seon Hwa Lee (67), Soo-Yun Kang (69) and Na Yeon Choi (68) of South Korea were tied for third at 10 under with Mikaela Parmlid of Sweden (67), Sandra Gal (69) of Germany, and Sarah Kemp (68) of Australia.
Park (73) was seven shots back and the cut was projected at 3 under (the tournament record was 1 under in both 2003 and 2007) as the players again took advantage of the near-ideal scoring conditions.
"You can go low 60s out here," said Parmlid, who has never finished higher than 10th in five-plus years on tour. "If you have a good iron day - Oh my gosh! - you can light it up."
Icher certainly did. She eclipsed the 36-hole record of 131 held by Michelle Estill (2004) and Beth Bader (2007) and matched the lowest back-to-back rounds set by Juli Inkster on the final two rounds of her 2003 Corning triumph.
"If the other players can make birdies, I can do it, too," said Icher, whose best career finish was a second in 2005 at the Corona Morelia Championship. "I know you learn more from your mistakes. I did a lot in the past. I was short to win some tournaments in '05 and '06. I hope right now it's going to help me go forward and I don't make the same mistakes."
Icher had only one slip-up Friday, at the par-4 first hole, statistically one of the most difficult on the 6,223-yard Corning Country Club course. She drove the right rough, then hit into a greenside bunker and two-putted for her lone bogey of the tournament.
Icher averaged nearly 260 yards off the tee and continued to excel with her short game on the narrow, tree-lined layout. Of her seven birdies, four came on putts inside 10 feet, and she also displayed a deft stroke from a tough lie. Her final birdie putt was uphill on the undulating green at the par-3 seventh hole, and she smiled broadly when the ball curled into the hole on its final rotation.
Over the two rounds, Icher hit 32 of 36 greens and 19 of 28 fairways, did not have a three-putt green, and needed just 56 putts.
"My driving was not so good as yesterday, I missed some fairways," said Icher, who hit 8 of 14 on Friday. "But I had good putts. Right now what is working is my driving and my putting. If you drive in the middle and you putt well, you're going to make some birdies. This is the key. But this course still demands a lot of thinking. You can be five feet from the hole and be dead."
Han (67), who won at Corning three years ago, continued to take advantage of the four generous par-5s. Over the first two rounds, she had six birdies and two pars on those holes and briefly tied Icher at 14 under with a birdie at the par-4 sixth hole before dropping back with a pair of bogeys on her final three holes.
"It was pretty important," Han said of her scoring on the par-5s. "But there are lots of good players out there. Someone tomorrow can come out and go 10 or 11 under."
This is the final Corning Classic, and Lee is accustomed to playing in this atmosphere. She won the final Shoprite LPGA Classic in 2006, the final HSBC Women's World Match Play Championship in 2007, and the final Ginn Tribute last year.
"I didn't think about that," Lee said. "If I win, it's another."
The summerlike weather continued, with partly cloudy skies and temperatures in the mid-80s, and attendance swelled. Parking lots adjacent to the course were full by 10 a.m. and another downtown at the Corning Museum of Glass also was full as fans were being encouraged to park at a nearby mall and take shuttle buses.
The Corning Classic, the smallest event on the LPGA Tour and the only one that's had the same title sponsor and been staged at the same venue every year since its inception (1979), will not be staged next year. Tournament officials announced in April that they could not afford to renew their contract with the LPGA because of financial problems after title sponsor Corning Inc. pulled out.