The Loop
Working on his game never gets old for Pavin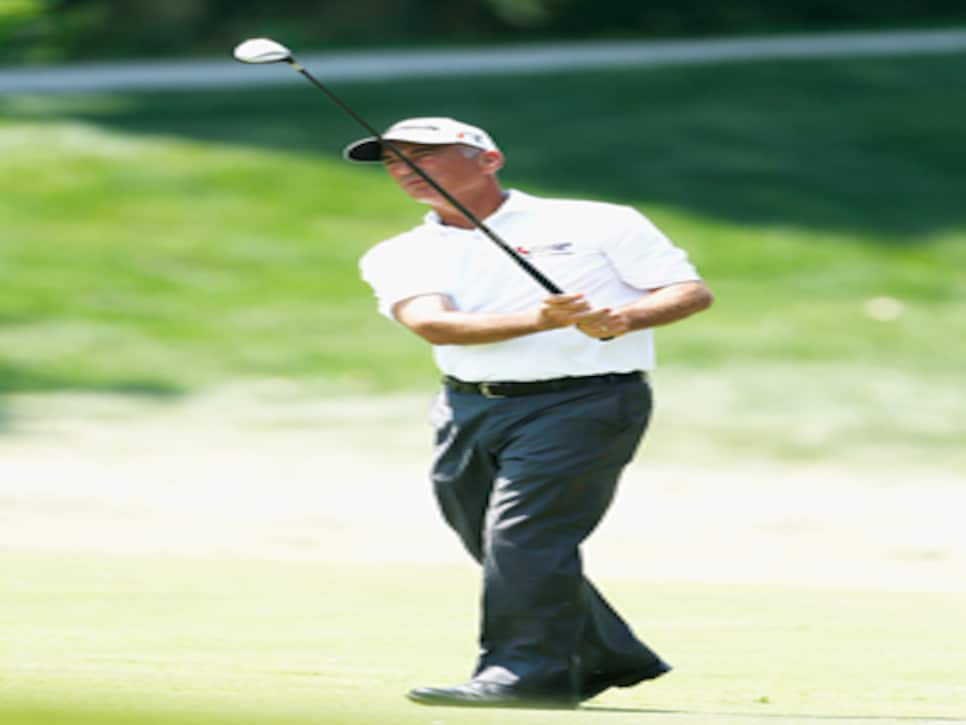 After signing his scorecard after the third round of the U.S. Senior Open at Omaha CC, where he shot a three-under 67, David Frost stood outside the clubhouse, swinging an imaginary club while watching his reflection in a window behind him.
A swing. Another. A pause.
He went to his bag. With driver in hand, he did a slow-motion takeaway, checking his positions. He did it again. Once more. Now, he could eat lunch.
Frost is 53 years old. How many times do you think he has self-diagnosed his swing in a window or a mirror or a shiny car door?
Minutes earlier Corey Pavin had stood 50 feet away, on a riser with a microphone next to a country club pool that looked very inviting on a hot afternoon. He talked about his third-round 64 that had put him very much in contention at four-under 206 after 54 holes.
Following a disappointing 73 in the second round, Pavin had gone to the range. He found something.
"It was a very different day from yesterday. I really struggled yesterday," Pavin said. "I went out on the range and worked on it. Found a little key to help me with my swing."
What he worked on wasn't much different from what he has worked on during a lifetime in golf.
We learn. We forget. We learn something else. Or the same-old, a different way. Even the best.
"I've been working on trying to get the club more inside [on the backswing]," Pavin said. "I've been doing that for 40 years and I'm still working on it. I was getting a little bit outside. I wasn't turning as well as I should have.
"So I was just basically trying to make my initial move a little bit more inside with the clubhead. There's different ways for me to do it, and I always try different types of ideas. Yesterday was a little bit different type of one, and it seemed to work today."
Decades ago, before Pavin was even born, Gary Player was concerned his swing was too flat. He had a chance to talk to Ben Hogan. "You can't be too flat," the legend told the future legend. The young South African believed the experienced American.
Player is one of only seven golfers to have won a U.S. Open and a U.S. Senior Open, the others being Arnold Palmer, Billy Casper, Orville Moody, Lee Trevino, Jack Nicklaus and Hale Irwin.
Pavin, who won the U.S. Open at Shinnecock Hills in 1995, has himself in position to become the eighth in some fast company. He had no bogeys and six birdies Saturday, including one on the 477-yard eighth hole, where he hit driver, 3-wood to eight feet and sank the putt. "That was the first day I could reach it in two," he said, "so that was nice." Pavin has never overpowered a course, and never will, but has made a career making more out less.
"The thing that's hard about here on the Champions Tour is that most of the guys have won a lot of tournaments," Pavin said. "So you don't see a lot of backing up on Sunday, at least not in the regular tournaments. The competition is tough. We're all friends. We've known each other a long time. Once we all get out there on the golf course, we all know what we're trying to do, and that's to win."
Pavin will need another fine day in the final round to have a chance of catching Michael Allen. Kenny Perry, who also followed up a 73 with a 64, stands with Fred Funk between Pavin and the leader. The long-hitting Kentuckian credited a pre-round fix of his own for his fine play, a self-tip -- to stay more centered over the ball rather than overshifting on the backswing -- that keeps his patented draw from becoming a poisoning hook.
"Today, I tried to post up more on my left side, keep my head on the golf ball and eliminate the bigger hook," a pleased Perry said. "It still draws, but I don't pull hook. And I drove it beautifully. I was just on the range trying to find something to get me through the round after I hit it so poorly yesterday."
"Keep my fingers crossed and hopefully it will work tomorrow," Pavin said.
That's golf, even for the best.