News
Corey Conners holds one-shot lead over Tiger Woods, Justin Rose and Brandt Snedeker at the Valspar Championship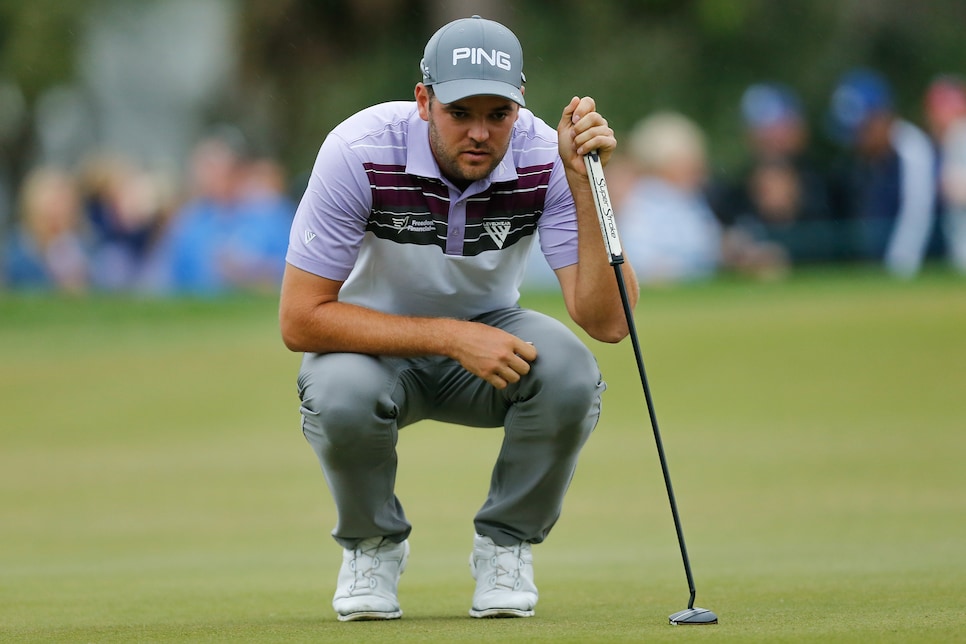 In just his 21st start on the PGA Tour, Corey Conners has a chance to earn his first win in impressive wire-to-wire fashion after posting a third-round three-under 68 at the Valspar Championship, putting him at nine-under 204. To do so, however, the 26-year-old Canadian needs to fend off the likes of tour veterans Justin Rose, Brandt Snedeker and, of course, Tiger Woods, who continues to impress in the midst of his 2018 comeback. All three sit one stroke back at eight-under 205.
It was a wild day at Innisbrook Resort, but Conners stayed strong throughout, collecting three birdies on his first four holes. Even after back-to-back bogeys at the sixth and seventh, the PGA Tour rookie, playing this week after getting into the tournament as the third alternate, showed resolve, grabbing birdies at the ninth, 11th and 12th to take back his solo lead. He dropped one more shot at the 16th, but remains alone at the top with one round to go.
"It was really cool. Came out and tried to have as much fun as possible. I kind of knew what to expect out there with a lot of people and lot of people watching, but I felt comfortable," Conners said. "I tried to get relaxed as early as possible and fortunately got off to a good start and kind of settled me down nicely. Kept things pretty solid throughout the round."
Conners, who has finished no higher than T-29 this season, is looking for his first professional victory on Sunday. The closest Conners ever come to accomplishing that came in 2016 on PGA Tour Latinoamerica, where he tied for second twice.
"Fun position to be in. Kind of what I work for and everybody works for out here," said the Kent State grad, whose most notable golf accomplishment arguably could be his runner-up to Gunn Yang at the 2014 U.S. Amateur. "Really exciting. Felt pretty relaxed out there. I think tomorrow will be another fun day. Looking forward it."
Woods' four-under 67, the lowest score of his comeback so far, was as electrifying as his second-round 68, featuring five birdies and just one bogey. The momentum began to build at the par-4 third, where he drained a 20-footer for birdie and sent a jolt of energy into the Tampa crowd. He made another two holes later at the par-5 fifth, but the loudest moment came at the ninth, where Woods holed a difficult chip from just off the back of the green to turn in three-under 33 and hold briefly a share of the lead.
"Nine was a good one, it was quick, I hit it with some speed and I was able to hit a nice little dyer in there and it rolled in just like a putt, which was nice," said Woods.
When he drained another long one at the 10th for back-to-back birdies, things got really loud at Innisbrook, but he finally cooled off down the stretch, dropping his only shot at the 13th before making his last birdie at the 14th. Still though, the atmosphere was as good as it gets on tour.
"Very, very loud," he said. "The people in Tampa are really into it, and it's been incredible, they've been so nice and just been into it, really into this event. And I've played myself right there into contention, so, it'll be a fun Sunday."
This marks the 85th time of Woods' career that he's been T-2 or better after 54 holes, and he's won on 64 of those occasions. A 65th tomorrow would be his first victory since the 2013 WGC-Bridgestone Invitational.
Snedeker, who played alongside Woods and will again on Sunday, also shot a four-under 67, matching his low round of the season as he tries to figure out a way to qualify for the Masters next month, either via a win or a high finish that can push him inside the top 50 on the World Ranking. The energy of playing with Woods seemed to have lifted his game.
"It was great. I can confirm he's back, the roars are back. It's fun to hear the crowd going crazy again and realize how excited we are in having him back out here and playing the way he is. He's playing great," Snedeker said. "I was able to feed off a lot of energy today. That's probably why I played so good. Get me to focus real hard on every shot and did a good job of that today. Do it again tomorrow, probably be crazier tomorrow."
Like Woods, Snedeker is also looking to end a winless drought, his being much shorter. Snedeker last raised a trophy at the 2016 Farmers Insurance Open, coming from behind in difficult conditions to win by one. He'll have to come from behind again on Sunday in order to claim his ninth PGA Tour victory.
With all the focus on Conners and the Woods-Snedeker pairing, Rose's five-under 66 flew under the radar, and it might have featured the shot of the week. From 120 yards out at the par-5 11th, the Englishman dunked his third shot for eagle, giving him the extra boost needed to come home in four-under 31 and post early.
"This ignited it for me. I was kind of getting a little frustrated, seeing the scores were decent. I needed something to happen. I made that one. I putted really, really well on the back nine. Every putt I had I thought would go in. Fun day," Rose said.
Rose is also gunning for his ninth career PGA Tour win, and the second of the season, having already won at the WGC-HSBC Champions in October.
Three back at six-under 207 are Sam Burns and Patrick Reed, who each carded four-under 67s.