Place Your Bets
First F-Bomb? First Arrest? These prop bets for the Conor McGregor-Dustin Poirier press conference are incredible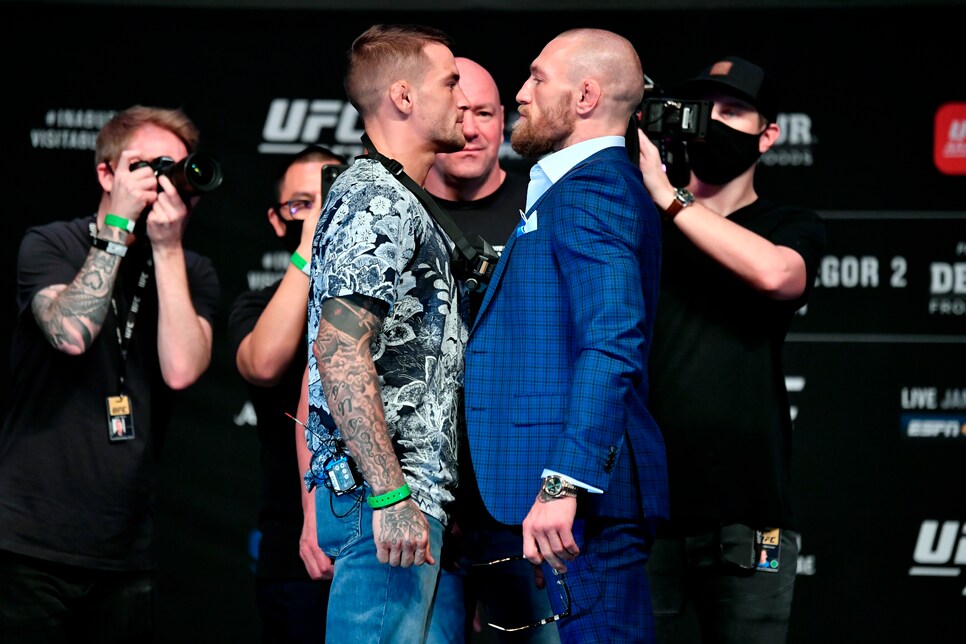 These days, there's no shortages of sports things to bet on, no matter how absurd. Hot dog eating contests, cornhole, ping pong, the color of Tiger Woods' shirt on a Friday, it's all right there at your fingertips. You can even bet on a ... press conference?
Oh yes, and not just any press conference, the Dustin Poirier-Conor McGregor 3 press conference, which will commence at 8 p.m. ET on Thursday evening. To watch, you can stream it on YouTube, and the link is already live, the countdown is on, and people are already talking sh-t in the little chat box thing.
To bet on it, you're going to want to head on over to Betonline.ag, which has a number of incredible—and incredibly hilarious—prop bets for tonight's action. They are as follows:
First curse word by Conor McGregor
Will Conor McGregor be Chewing Gum
Will Either Fighter Predict a KO or TKO Decision
Will Either McGregor or Poirier Throw Something
Will McGregor and Poirier have to be Separated
Will Someone at Press Conference be Arrested
At first glance, F-Bomb/fook from McGregor at -150 would appear to be the lock of the century, though sh-t at +425 presents the most value since it's such a common curse. Will someone be arrested is one of the great prop bets these eyes have ever seen. Imagine you bet that and it hit? Exhilirating doesn't begin to describe the feeling you'd experience watching somebody get cuffed and you getting paid out for it. As for the rest, it's a lot of pipedream longshots, but ones that you can sprinkle a few bucks on just for added interest in what should be a highly entertaining press conference, which could be better than the fight if the McGregor that showed up last time shows up again Saturday night.