The Loop
For a preview of the final three men's conference championships, see below. Check back next week to see a preview of each of the women's Division I regionals as well as a review of the teams picked to play in the men's D-I regionals.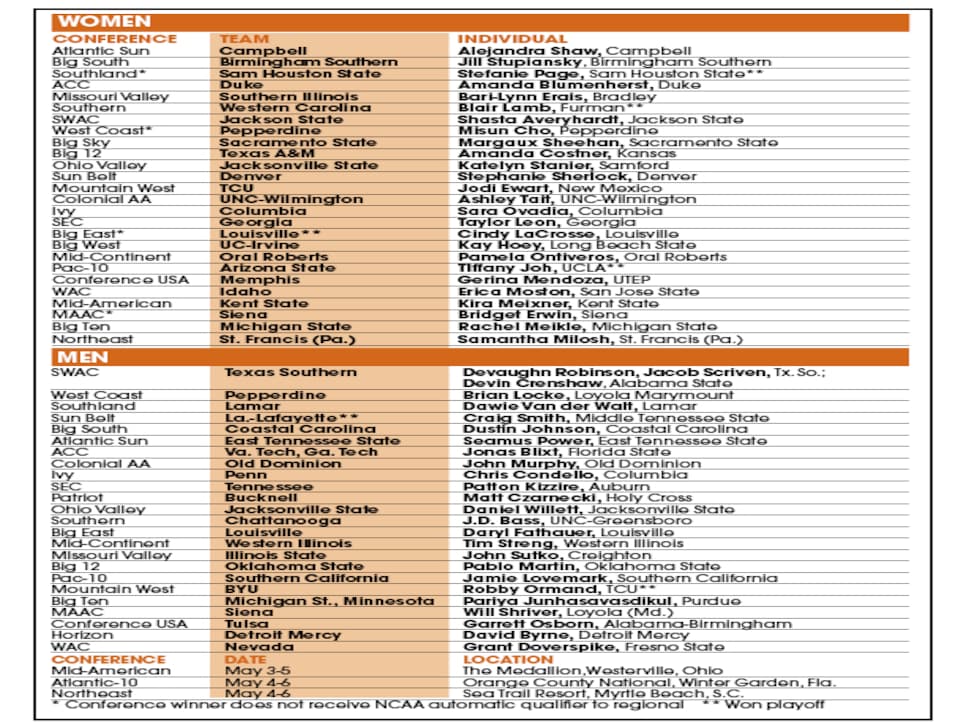 Field: __Akron, Ball State, Bowling Green State, Eastern Michigan, Kent State, Miami (Ohio), Northern Illinois, Ohio, Toledo
](http://atlantic10.cstv.com/sports/m-golf/atl10-m-golf-body.html)
__Field:__Charlotte, Dayton, Dayton, Duquesne, Fordham, George Washington, La Salle, Rhode Island, Richmond, St. Bonaventure, Saint Joseph's, Temple, Xavier
Skinny: Jamie Green's Charlotte squad held off a strong final-day charge from Xavier to claim its first A-10 title in 2006 in its first year in the conference. This year, the 49ers are again the favorite and shouldn't have to sweat things out. The interesting drama might come in the race for medalist honors; Kokrak, a senior from Warren, Ohio,  has a shot a becoming the first player to win the A-10 individual title three times.
](http://www.northeastconference.org/sidebar.asp?id=839&path=mgolf)
__Field:__Central Connecticut State, Fairleigh Dickinson, LIU-Brooklyn, Monmouth, Mount St. Mary's, Quinnipiac, Robert Morris, Sacred Heart, St. Francis (N.Y.), St. Francis (Pa.), Wagner