The Loop
Comparing Lists of Great Golf
The only thing better than a list is comparing lists.
For the purpose of this blog entry, I'm going to show you their top 10 (which are public), Golf Digest's Top 10 on the America's 100 Greatest Public list and then the top 10 public courses that I've played so far as the Travel Editor (it has almost been a year).
According to the editors at Celebrated Living:
No. 10: Whistling Straits (Straits Course) in Haven, Wis. It's going to host the 2010 and 2015 PGA Championships as well as the 2020 Ryder Cup.
No. 9: Cog Hill No. 4 in Lemont, Ill. It's being re-done by Rees Jones and Greg Muirhead.
No. 8: Kapalua G.C. (Plantation) __on Maui. It's the home of the Mercedes Championship, the season opener of the PGA Tour.
No. 7: Blackwolf Run (River Course)__ in Kohler, Wis. This makes two in their top 10 for "Destination Kohler."
No. 6: Spyglass Hill G.C. in Pebble Beach, Calif. Celebrated Living says, "One tough cookie from Robert Trent Jones, Sr."
No. 5: Harbour Town Golf Links on Hilton Head Island, S.C. "Almost 40 years after his famed Harbour Town opened, Pete Dye returned to the Sea Pines Resort to create the new Heron Point."
No. 4: Mauna Kea G.C. in Kohala Coast, Hawaii. Rees Jones is renovating his father's work and will be re-opened next spring.
No. 3: Pinehurst Resort & C.C. (No. 2) in Pinehurst, N.C. Most recently, this was where 18-year-old Danny Lee of New Zealand became the youngest winner in U.S. Amateur history in August. He made 13 birdies in 32 holes.
No. 2: Torrey Pines (South) in La Jolla, Calif. Hosted a tour event, The Buick Invitational, and the Golf Digest Challenge. Oh, and the U.S. Open. Obviously a good golf course but seems in way over its' head on a list of best 10 public courses in the U.S.
No. 1: Pebble Beach Golf Links in Calif. Pebble, on the other hand, is comfortable with the lead on any list. The U.S. Open will be back there in 2010.
According to Golf Digest:
No. 10: Arcadia Bluffs G.C. in Arcadia, Mich. The Digest raters put seven Michigan courses in the top 40. They say Arcadia Bluffs is the best of the bunch.
No. 9: The Prince Course in Princeville on Kauai, Hawaii. Another state loaded with good golf but this Robert Trent Jones, Jr. is the best of the public options.
__No. 8: The Ocean Course__on Kiawah Island, S.C. Mark McCumber rebuilt this course in 1995. I haven't played it yet but it's on my priority list (see below).
No. 7: Bandon Dunes in Bandon, Ore. The first of what will be four good golf courses within three minutes of each other. The new fourth course, Old Macdonald, is on its way.
No. 6: Shadow Creek in North Las Vegas, Nev. Home of high rollers and big spenders. I'm not either one.
No. 5: Bethpage State Park (Black) in Farmingdale, N.Y.  The Black hosted the U.S. Open in 2002 and gets it again in 2009. This is more my speed. It's very public, good and inexpensive.
No. 4: Whistling Straits (Straits Course) in Haven, Wis. Just like Spyglass and Bethpage Black, they kick your ego in the crotch and they'll make you want to quit the game--for a day or two.
No. 3: Pinehurst Resort & C.C. (No. 2) in Pinehurst, N.C. Finishes third on both lists.
No. 2: Pacific Dunes in Bandon, Ore. This makes two courses from Bandon Dunes in Digest's top 10, none in CL's top 10. American Airlines needs to fly more golfers to Oregon.
No. 1: Pebble Beach Golf Links in Calif. Not bad to be the best on both lists. The tee shot at the 7th hole is good, but I like the approach shot at No. 8 better.
My Top 10 that I've played in the last 10 months: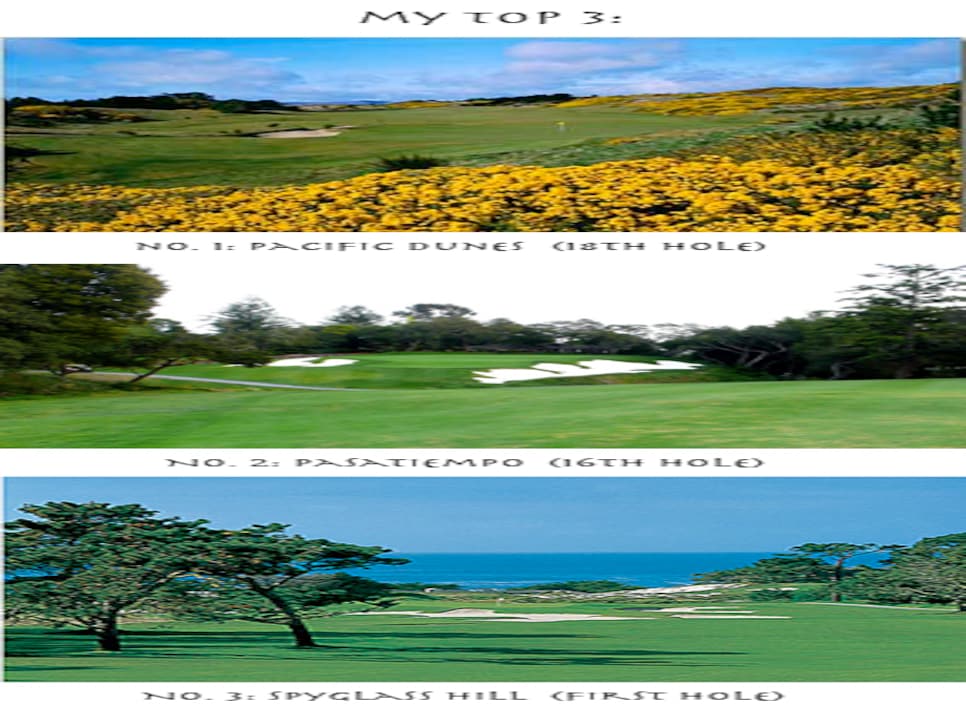 No. 11: Pinehurst Resort & C.C. (No. 2). It gets a little old, for me, when I hit a good approach shot and it lands on the green, and then it starts to roll off the green. And then it keeps rolling...and rolling...and rolling. How many times in one round can you yell, "Stop! STOP!!!"  I'm putting it on my top 10 list, but it comes it at No. 11. Young Danny Lee, with your barrage of birdies, you are my hero.
No. 10: The Classic at Madden's Resort in Brainerd, Minn. You know a woman is beautiful when her looks hold up sans make-up. The Classic needs no make-up. Scott Hoffman just had to clear some trees and cut some grass. Now I just need to figure out how to justify a trip back to Minnesota to play more golf.
No. 9: Old White at the Greenbrier in White Sulphur Springs, W.V. Lester George redid the work of C.B. Macdonald and Seth Raynor. It was the Best New Public Remodel of 2007 according to Golf Digest. I was just there and I would've kept playing in the dark with glow a glow ball if they would've let me.
No. 8: PGA West (TPC Stadium)__ in La Quinta, Calif. I have a love/hate relationship with Pete Dye. I love him on the first tee--hate him on the 18th green.
No. 7: Sea Island G.C. (Seaside)__ on St. Simons Island, Ga. As I wrote in my Away Game on Sea Island, I love Tom Fazio and this is the best of his bunch. He redid an original Harry S. Colt and Charles Alison design in 1999.
No. 6: Pine Needles Lodge and G.C.__ in Southern Pines, N.C. Another course I didn't want to stop playing. My pre-round impromptu lesson with teaching legend Peggy Kirk Bell helped my score and my experience. Ms. Bell, I may be back down in the winter for a refresher on how to roll that left wrist.
No. 5: Kapalua G.C. (Plantation)__. I caught it on a perfect day (only a little wind, lots of sun). I appreciated the views and felt the back nine gets all the buzz, but the front nine is just as good. I also had my best round of the year (so far), so I'm sure that helped the Plantation's place on my list.
No. 4: Pebble Beach Golf Links__ in Calif. I get it--Pebble is (one of) the best. I just don't like paying $500, putting on punched greens, getting a bad caddie and having trucks pull in front of my tee shot at 16 and cars stop behind me at my tee shot at 17. I'm sorry, but with that kind of price tag comes a high level of expectation and my last Pebble experience came up a little short. Back to No. 4 on my list.
No. 3: Spyglass Hill G.C.__ in Pebble Beach, Calif. So much is said about how tough it is, not enough is said about how great it is. This is a litmus test of golf. A round at Spyglass will expose any and all weaknesses in your game. My list was long.
No. 2: Pasatiempo Golf Club in Santa Cruz, Calif. I wrote it a few months ago for the magazine and I stand by it. I'm putting Pasatiempo in the same class as Pebble and Spyglass. Tom Doak just finished a 10-year restoration of an original Alister Mackenzie. You don't have the views you get at Pebble but you get great golf and an extra $300 in your pocket to spend on a replay round and beers at the bar of the Hollins House.
No. 1: Pacific Dunes__ in Bandon, Ore. In a word: It doesn't get any better than Pacific Dunes (except for Turnberry in Scotland).
The courses just missing my list but stay close to my heart: Bandon Dunes, Bandon Trails, Chambers Bay, the Quarry at Giants Ridge, Doral's Blue Monster, Pinehurst No. 4 and No. 8.
My priority list for the next 10 months: The Straits and the Irish course at Whistling Straits, Bethpage Black, the River at Blackwolf Run, the Ocean Course on Kiawah Island, Harbour Town, Arcadia Bluffs and Forest Dunes in Michigan, TPC Sawgrass and the Prince Course on Kauai.
I know, I know. Tough job--right?