The Loop
Coming to grips with Tiger Woods' troubled comeback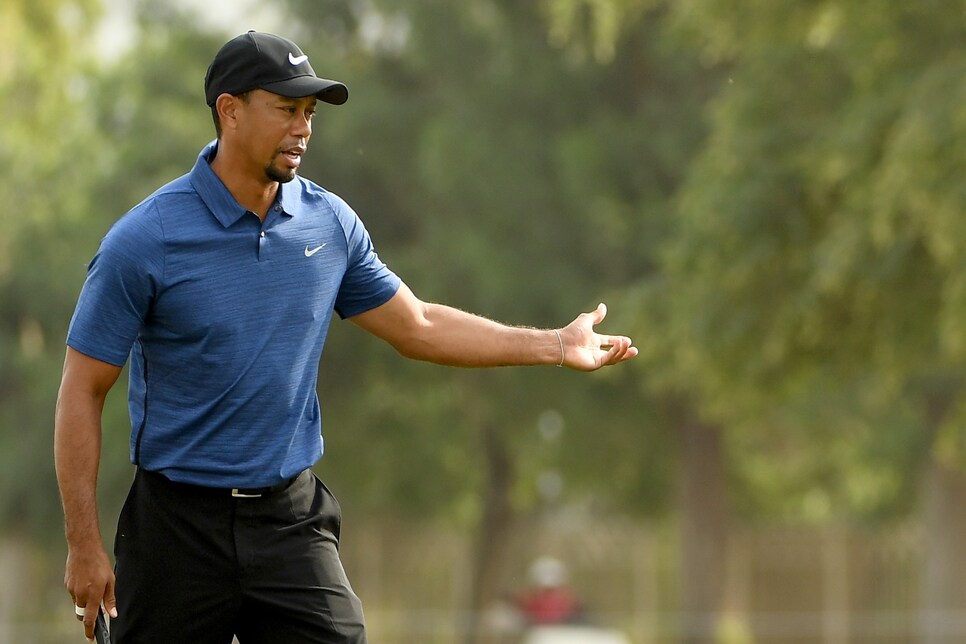 It's only February, but the early returns for Tiger Woods' comeback have been inauspicious, to say the least. From the aborted start at the Safeway Open, bogey troubles at the Hero World Challenge, driver issues at Torrey Pines, and back problems in Dubai, there's been little light to those hoping for a rejuvenation from the 41-year-old. And whatever hope gleamed was further diminished with Tiger's withdrawal from playing -- and, as we shockingly found out on Valentine's Day, speaking -- at the Genesis Open, an event that benefits Woods' foundation.
Yet, there's no denying the fascination Woods continues to evoke, in part fueled by the belief/hope that maybe, possibly, he still has gas left in the tank. And to harbor such expectations, my friends, is delusional. Luckily, we've created a question-and-answer coping program for fans struggling to come to grasps with Tiger's troubled comeback.
It's not really over, is it?
What constitutes "over"? As in, he'll never play again? Doubtful. (Although you can wager on it in Vegas!) Unlike its sporting brethren, golf is not a game you retire from. Hell, Gary Player and Jack Nicklaus still make the occasional playing appearance or two.
But "over" in regards to Tiger's ability to compete? Clearly, things aren't promising. In one breath, you can't go Stephen A. Smith, all-caps, hot-take "HE'S DONE!!" even though it certainly feels that way. You only need a steady round or two to get into the mix of a tournament, and plenty of guys have come out of the woods in their 40s to contend -- and even win -- an event. Conversely, any assertion of consistency from Woods is audacious, if not outright ludicrous.
But he lead the field in birdies at the Hero World Challenge!
The Hero World Challenge was merely a platform for Woods to dip his toe back into the competitive pool. Using it as a prism for future success is a mistake.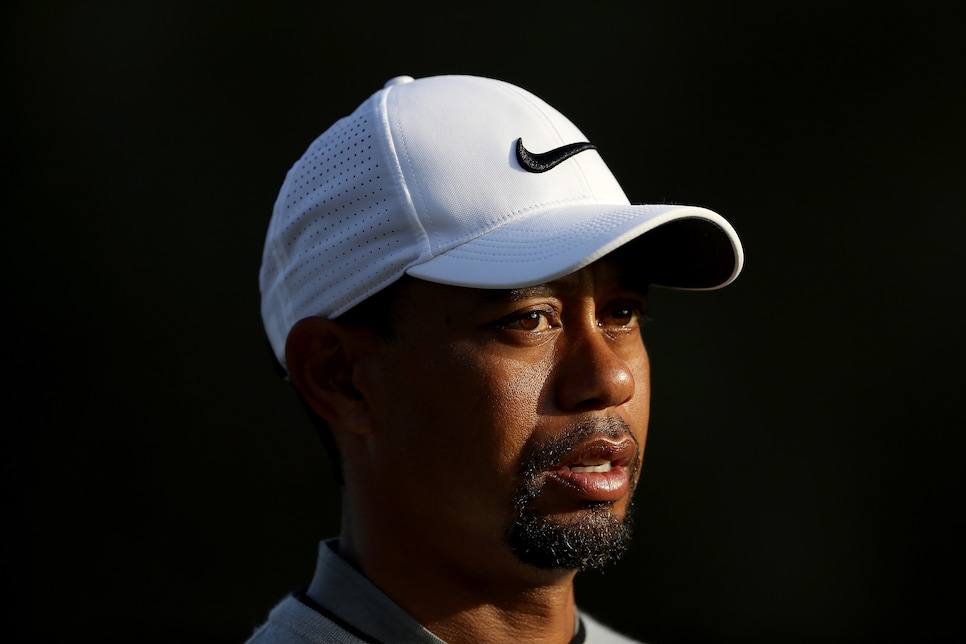 OK, but there were positives at the Hero. What happened between the Bahamas and Torrey Pines?
We don't want to get political, but there was a change in the presidency. Mind you, we're not the yahoos that blame every bad thing on 1600 Pennsylvania Avenue. That said, we're not not saying the two aren't related.
One theory regards his swing. Comparing his technique from the two events, Woods lacked speed on the downswing at Torrey Pines. He looked apprehensive, almost bracing for more pain. Some speculate he was already in pain before the back spasms hit in Dubai. Such observations seem to have merit.
However, the most logical difference regards the test at hand. Torrey Pines does not suffer fools, demanding accuracy off the tee and patience in approach shots. Even at his peak, Woods struggled to keep the ball in the fairway; in his current state, he's lucky to find the short stuff 40 percent of the time. And without the power and preciseness to muscle it out of the rough, you could argue that Torrey Pines -- a place he has won eight times -- was the worst venue possible for Tiger.
Is there anything positive to take away from his few appearances?
His scrambling and short game -- two areas of concern before his 15-month sabbatical -- were relatively sound. But admittedly, that's an "Other than that, how was the play, Mrs. Lincoln?" question.
Any chance he's simply taking precautions for the Masters?
We often hear back problems are fickle issues, usually in negative connotation. There's another side to the coin though: the pain can subside. It's not totally out of the question that Tiger wakes up in March, feels fine and decides to give it a go at Bay Hill for a Masters warm-up.
So we could seem him at Augusta?
(Afraid to say anything.)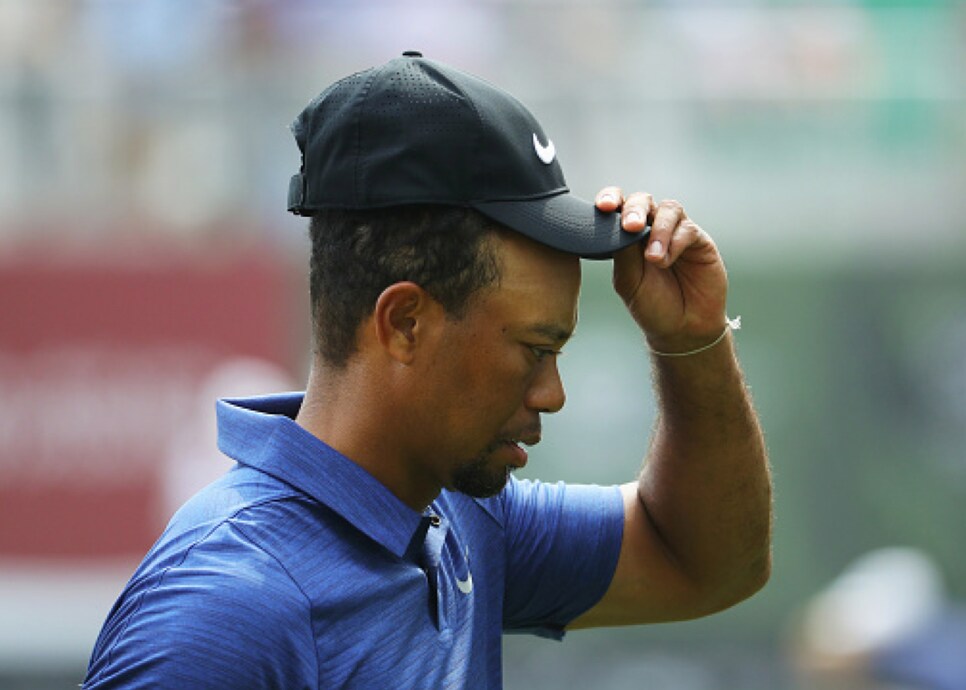 Why did he return if he wasn't ready?
That's the thing: He was ready. It's hard to accuse Woods of rushing back, particularly given the aborted first attempt at the Safeway. And from a health standpoint, Woods appeared to be OK in the Bahamas. Forget about the score from his three competitive rounds; that his body couldn't withstand the rigors is the more concerning matter for his future.
Why can't I let Tiger go?
Not to go all "Good Will Hunting" on you, but it's not your fault. As Dave Shedloski wrote after Tiger fired an 85 at the Memorial, "Greatness radiates a magnetism that outlives the source." Kobe Bryant still garnered sellout crowds last year despite laying more bricks than a construction worker. People remained fascinated with Brett Favre even as he tossed two interceptions to every touchdown. Muhammad Ali's final fights were borderline inhumane, yet he remained the sport's biggest draw. For whatever reason, fans can't let go of the past, no matter what picture the present paints.
I'm so bummed, how do I get over this feeling?
We all need a mourning period. Dust off your collarless Nike golf shirt, bury yourself in YouTube highlights and pour one out by bouncing a ball on your wedge.
After that, wake the hell up.
For 10 years, you got to witness a historic tour de force, a phenomena the athletic world has seen only a handful of times in the past century. The type of display worthy of telling your children. Don't be dejected that Woods (likely) won't recover that magic. Be elated you were lucky enough to bear witness to such a performance.
More importantly, golf has never been in a better place. The professional ranks are blessed with an abundance of talent. Better yet, many of these players are engaging personalities with dynamic, provocative games. The PGA Tour is also in good hands with new commissioner Jay Monahan, who will uphold the integrity and character of the game while desperately pushing it into modern times. To think the sport's in trouble sans Woods is a misinformed, ignorant perspective.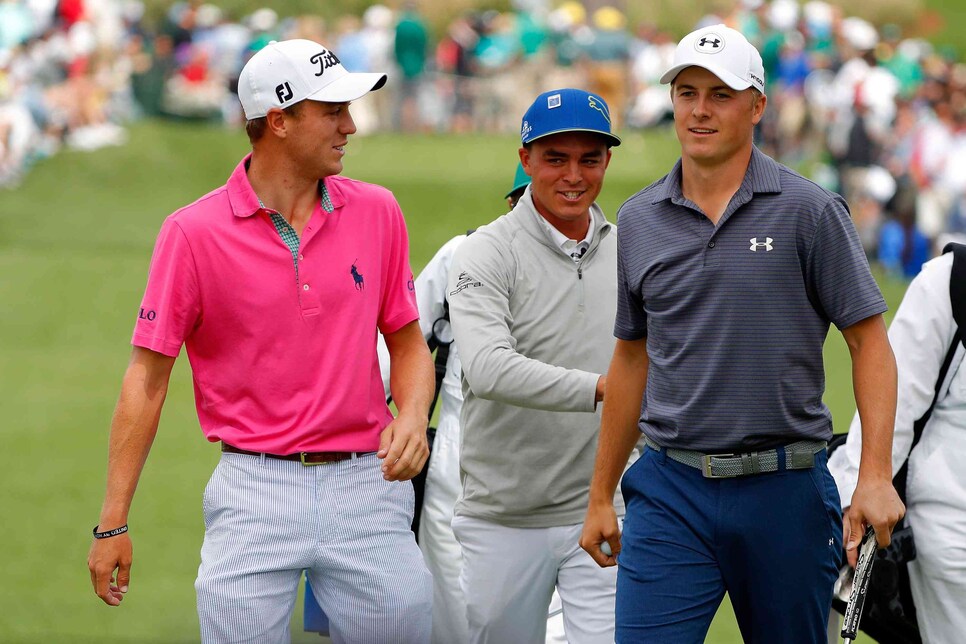 OK, but I need someone to fill this void. Who should my new favorite player?
Do you really need a rooting interest? Mentioned above, there are so many likable players and engrossing storylines from week to week. Why tie yourself to one guy when you can enjoy the play of the entire field?
That sounds like a cop-out.
Is it ever. I don't want a call from an agent asking why I didn't pick his player.
OK, in your estimate, how will Tiger's 2017 play out?
A tenet of gambling is to bet with your head over your heart. And, Mr. IRS agent, if wagering were legal, I theoretically may have placed a few jellybeans on Tiger not playing in the Masters earlier this year. That conviction has only grown the past two weeks.
If Augusta is a no-go, perhaps we see Woods in May, with a tournament or two under his belt before the Memorial (a tournament Tiger's won five times) and U.S. Open. If he doesn't suit up by Erin Hills, consider the season a wash.
Should I abandon all hope?
Let's assume Woods and his agent are telling the truth, that these issues are merely spasms. While we don't know the exact severity, judging by other athletes with the condition, spasms are not career-enders. And for all the conjecture about Tiger's competitive fire, you don't douse such a flame that burned so bright. In short, don't totally discard those well wishes.
In that same breath, it's time to come to reality. One that's potentially -- at least for the near future -- Tiger-less.