Open Championship
Open Championship 2022: The omen that could spell success for Collin Morikawa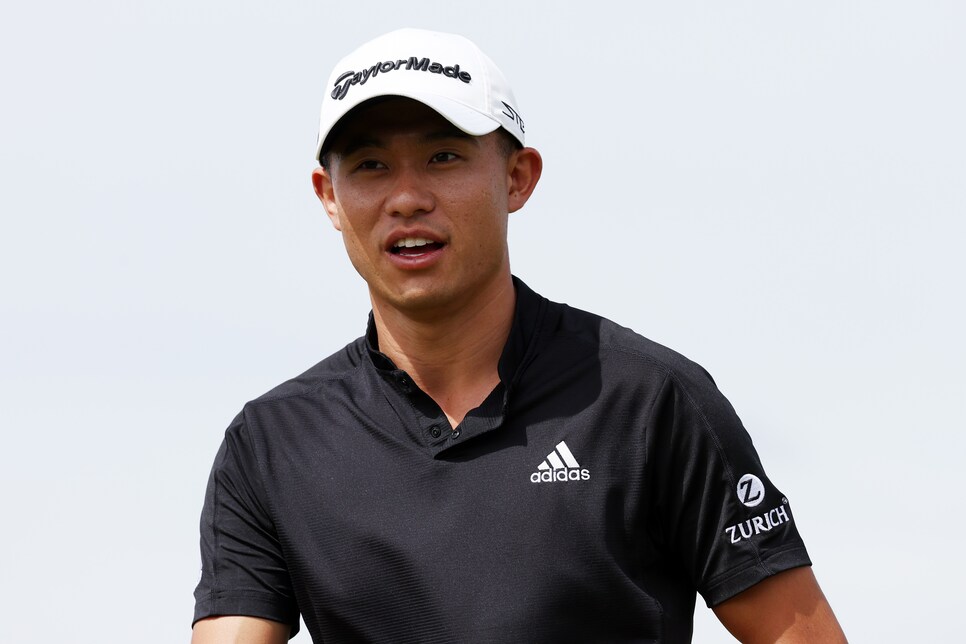 ST. ANDREWS, Scotland—Should Collin Morikawa be one for omens, what happened in North Berwick could foretell providence.
Morikawa, you remember, was befuddled after his first true links experience at the 2021 Scottish Open. Your favorite ballstriker's favorite ballstriker, Morikawa was unable to hit his irons flush at Renaissance Club en route to a ho-hum T-71 finish. Realizing the issue was not with ball position or swing flaw, he switched several of his blade irons to a more forgiving set strictly to achieve better turf interaction. The dividends were immediate and fruitful; Morikawa—with his new sticks guiding the way—captured the claret jug at Royal St George's, his second major championship in as many years.
Entering St. Andrews as the defending Champion Golfer of the Year, Morikawa is again coming off the business end of the Scottish Open, failing to reach the weekend at Renaissance. And that performance told the 25-year-old another equipment switch was needed.
"Already made some changes and feeling great now," Morikawa said Monday at the Old Course.
The changes were not as drastic; according to Morikawa it was a slight grind change on a wedge, dialing in the driver to add more spin. "I've just been playing all year with kind of too little spin or way too much spin," Morikawa. "I haven't found that middle zone to kind of be able to hit that one shot that I know that I can trust down the line."
It may seem facetious to correlate such matters to future success. But any port in a storm, right? For Morikawa hasn't done much of late to inspire much confidence.
A look at his record conveys another solid season for the Cal product. Top-five finishes at the Masters and U.S. Open, two runner-ups and seven top 10s in just 15 starts. But since Augusta National Morikawa has just one top-25 finish in seven outings, including missed cuts in two of the last three appearances. And that U.S. Open included a 77 on Saturday which, while in tough conditions, is a number no normally associated with Morikawa's play and one that knocked him out of contention.
All players, eventually, run into a slump of some nature. Morikawa has hit similar dry streaks in his nascent career. Still, he admitted that things haven't felt right.
"Yeah, I am looking for something," Morikawa said. "We're at the end of our season. We're at the fourth major. Playoffs are coming up pretty soon. I want to give it a run. I really haven't been in contention at all this year in any tournament, and it sucks because I love being in those spots. I love coming down the stretch and knowing that you've got to make some great shots, make some birdies, and close it out, and I just haven't put myself in that position."
Perhaps what the mild-mannered Morikawa needs is a healthy dose of annoyance. He wasn't particularly happy to return the claret jug. "It sucked. It really did," Morikawa said. "I woke up this morning and looked at it. The replica is beautiful, but it's not the same. It really isn't. It will never be." Morikawa has also been snippy and curt when it comes to LIV Golf discussion, wanting nothing to do with the conversation. "We don't need to talk about LIV," Morikawa said. "You're not going to learn anything from me. What you know is what everyone knows."
However, what could also help is just a general sense of appreciation for what could lie ahead. Morikawa will be the first to tell you he's not a historian of the game, that most courses are not meccas but merely obstacles that need to be hurdled. This week breaks that mold.
"Everything has led to this," Morikawa said, echoing the Open's slogan for its 150th anniversary. "That's true of everything, but especially for this moment. For a lot of guys who haven't been here like myself, to come here, look out the hotel, walk down 17, 18 on Sunday when you have the public just walking, that's the coolest experience as a fan, as a golfer, anyone could ask for because it's a game for everyone.
"I think that's what we're trying to do. Yeah, the stretch of just teeing off on 1, just seeing 17, just seeing 18, you feel the history, and you feel the importance of everything that has come before us at this golf course and golf in general. It's really cool to be here."
Forget equipment changes. If you're looking for an omen, a Collin Morikawa that recognizes the opportunity at hand—and seems up for the challenge—is a dangerous man.