BMW Championship
Collin Morikawa's fade is back, which could mean trouble for his competitors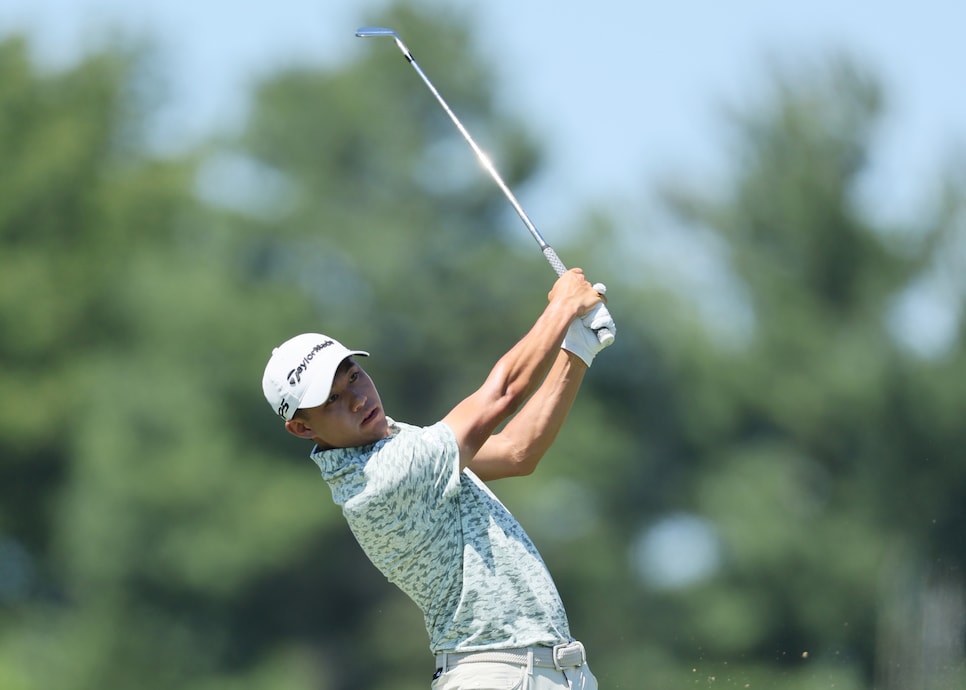 WILMINGTON, Del. — On Wilmington Country Club's 15th tee, Collin Morikawa had 216 yards to the pin, slightly downhill with a light breeze a bit into his face and off the right. It set up perfectly for a held-off, 4-iron fade. After a brief discussion with his caddie, the world's No. 8 golfer stepped up and executed perfectly, leaving a six-foot birdie putt that he would make minutes later.
It was just one swing on Thursday afternoon at the BMW Championship, but it was indicative of a rediscovered confidence in a left-to-right ball flight that carried Morikawa to two major championships before his 25th birthday. One of the best ball-strikers on tour since the day arriving in 2019, Morikawa has been battling a draw since the U.S. Open in June. Something that was a bit disconcerting for a player who has hit an uncountable number of fades throughout his young career and still sees that shape in his pre-shot routine.
"It sucks. It sucks," Morikawa said. "Look, that was pretty much what the past two and a half, three months, especially since the U.S. Open. At the U.S. Open I had to play the draw, but it was tough because you don't see that all the time. You see a left-to-right shot. Certain numbers you see that left to right kind of hold-off, cut-off 8-iron, for example. When you don't see that and you have to play a different shot and a different height, it's tough."
Morikawa hit all but two greens Thursday, largely looking like the player we're all used to seeing en route to a four-under 67, three shots behind leader Keegan Bradley. When he finished his round, he was fifth in the field in strokes gained/approach and sixth in strokes gained/tee-to-green. Familiar territory. And more importantly he finally felt in control of his ball again.
"It's a good time to start feeling like that and to start feeling a little more confident in your golf game," Morikawa said. "Yeah, this year I think ever since the start has kind of been a search.
"It's been nice to see the work I've been putting in the past couple weeks to see some shots go my way and see kind of old Collin golf, I guess."
Crisp iron shots are nice, but as the saying goes, you can lead a horse to water, but you can't make it drink. After missing an eight-foot birdie try on the fourth hole, he made a nine-footer on five. And then he got on a roll.
With the return of what he called "normal shots," Morikawa also brought a conventional putting grip back. He had switched to a "saw" grip before the 2021 Genesis Invitational and stuck with it (mostly) since then. He won the 2021 Open Championship using both grips, but used the conventional method exclusively Thursday. With it, he holed six birdies and was actually in the top third of the field in strokes gained/putting, somewhere he doesn't often find himself.
"Sometimes you just go down one path and you don't get that feel that you necessarily want," Morikawa said. "Just randomly out of the blue, I tried conventional just for a day out when I was practicing and it felt good. Didn't really make much but felt good at least. That's the biggest thing is confidence; do you feel confident over your putts? It's felt good, and hopefully we continue that over the next few weeks."
After a few loose approaches and some tucked-left pins that didn't suit a fade led to a pair of bogeys in the middle of his round, Morikawa reached the back edge of the par-5 14th green in two, nipped a tidy chip into the circle of friendship and made birdie. He followed that with another at 15 and carved a baby cut to eight feet at the 16th. That putt didn't break the way he thought it would, but it was apparent he was in full control of his irons.
A perfect drive on 18 left 143 yards up the hill to the green on the par-4 finishing hole. Again, Morikawa went to the fade, dropping a pin seeker three-and-a-half feet right of the hole which he would clean up for a closing birdie.
It was the perfect exclamation point on an encouraging day for Morikawa, who might just be peaking at the right time.