The Loop
College golf will miss Vincent as a coach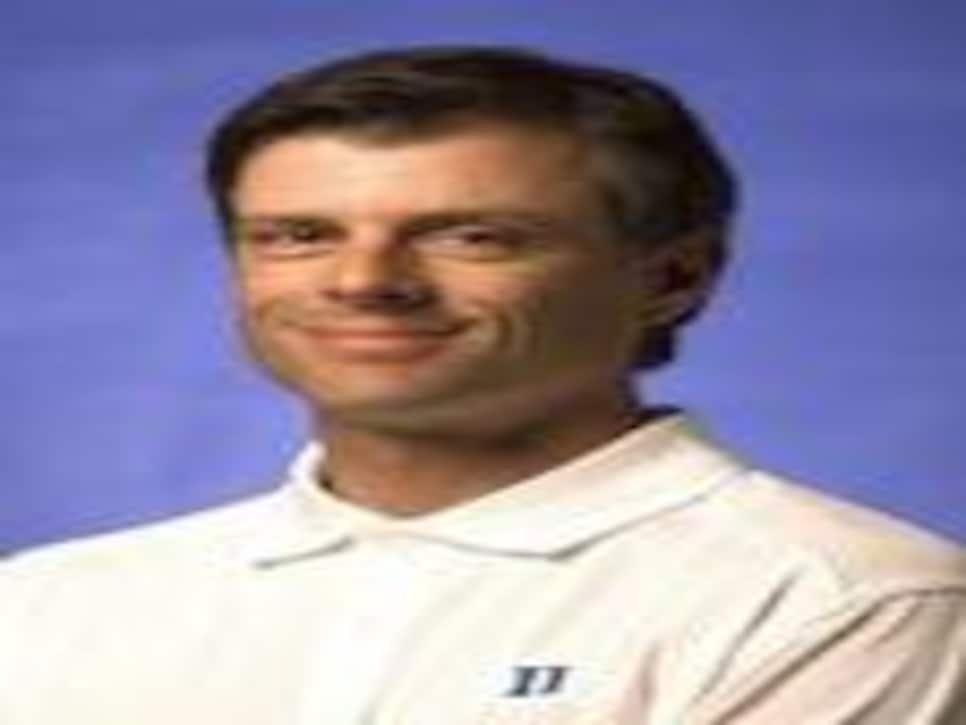 During his 13 1/2 seasons as a golf coach, first with the Huskies (1995-2002), then at UCLA (2002-07) and finally in Durham, N.C., (2007-08), Vincent had become one of the sport's genuinely innovative individuals, someone unwilling to accept "well, we've always done it that way" as the primary argument for or against any idea offered in an attempt to help the game. The 40-year-old, a former Pac-10 medalist who competed briefly on the European Tour before getting into coaching, favored the new match-play format that will be used at the NCAA Championship this spring to determine a team champion. He also was considered the principle figure behind a push to update/expand the rules governing development of "junior varsity" teams.
"It's about giving more student-athlete a chance to play college golf," Vincent argued passionately when asked why he spent so much energy promoting JV golf. This past year, he hosted the Duke Coca-Cola Individual Collegiate, a first of its kind event in the modern era where schools could bring players who might not otherwise have had a shot at cracking their fall lineups, and let them get some tournament experience.
Aside from being a progressive thinker, Vincent succeeded in motivating his players and getting the most out of them on the course. His squads won two conference titles, had three top-four finishes at nationals and five top-10s. Fourteen of his players earned All-American honors and he won national coach of the year honors in 1999 and was named Pac-10 coach of the year three times.
Cynics likely will suggest that Vincent's move back to the West Coast (he and his wife, former UW swimmer Jana Ellis, have much of their family in the Seattle area) was a result of the lawsuit filed against him and Duke last July by former Blue Devil player Andrew Giuliani regarding his dismissal from the team earlier in 2008, a case that's still under review by U.S. District Court judge in North Carolina. When I asked him yesterday if there was any connection, Vincent was adamant in saying the legal proceedings in no way instigated his departure.
"It's kind of humorous that that would be brought up," Vincent said. "After all that I've been through here, I'm not surprised. I can't tell you how far away from the truth that it. I didn't even consider it." "
Vincent says he asked his new bosses in Seattle if there was any way he could defer taking the job until the end of the spring but was told no. So torn about leaving his Duke team, that Vincent turned down the UW job at first. When new Husky athletic director Scott Woodward offered the position again, however, Vincent decided he had to make the move.
"It's bittersweet obviously," Vincent said. "We had hoped the timing would be better, but it's not."
So, what now for Duke? When the school hired Vincent in June 2007 to replace Rod Myers, who coached the team for nearly 34 years before passing away from cancer earlier that spring, the athletic department in Durham, N.C., thought they had a coach who would be around longer than 18 months. Lucky for them, there are several individuals with North Carolina ties that would be solid candidates for the job (Vincent's assistant Ryan Ressa will handle the day-to-day operations in the interim). Charlotte's Jamie Green and UNC Wilmington's Matt Clark come to mind as young, energetic possibilities. Coastal Carolina coach Allen Terrill is a former Duke assistant who also would be worth considering.
There are also a few strong assistant coaches out there (Oklahoma State's Alan Bratton, Auburn's__Ryan Cabbage__, Cal's__Walter Chun__) who deserve an exploratory call.