News
Colin Montgomerie wins SAS Championship, takes momentum into Charles Schwab Cup playoffs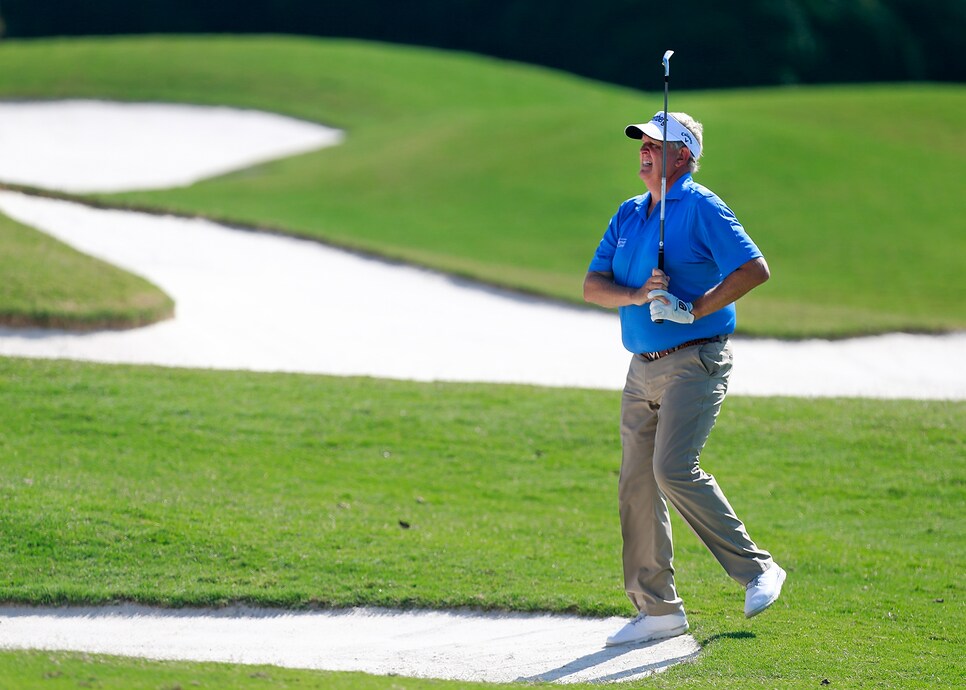 Colin Montgomerie on Sunday shot a flawless eight-under par 64 and posted his second victory in his last four starts, a boost of momentum heading into the Charles Schwab Cup playoffs in his perennial pursuit of Bernhard Langer.
On the back nine at the Prestonwood Country Club in Cary, N.C., Montgomerie, a World Golf Hall of Fame member, broke free from a crowded leaderboard and won the SAS Championship by four strokes.
It was his second victory of the season — he won the Japan Airlines Open a month ago — and sixth of his PGA Tour Champions Career.
But he has his sights set on a bigger, though more elusive prize: The Charles Schwab Cup and its $1 million bonus. For three straight years, he has finished second to Langer.
"Obviously, we're all trying to catch the German, you know?" Montgomerie said on Saturday. "That's what we're doing the last bloody three years, and let's hope somebody can do it this time, but he's the standard and all credit to him."
Up next is the first of three Schwab Cup playoff events, the Dominion Energy Charity Classic next week in Richmond, Va.
"I was just delighted today," Montgomerie said. "I was pressed hard by Vijay [Singh] and Doug Garwood and Corey Pavin, especially early on, with three great champions. It's difficult, you know. Vijay's got length on me, so he's got that great asset. So I had to keep it going. That was darn near as good as I could do, really, eight under.
"To score 64 when it matters gives you a lot of confidence, and the playoffs are important, obviously. I want to try to get this Charles Schwab Cup for the first time. There's no one going in there with as much confidence. It's just a matter of getting over this as quick as possible and starting all again."
Montgomerie's victory here earned him $315,000 and moved him to seventh on the Schwab Cup points list. Langer, in pursuit of a fourth straight Schwab Cup, is the leader.
Montgomerie, 54, played a bogey-free round that included eight birdies. He birdied the 12th, 14th and 15th holes to break from a tie with Corey Pavin, and added another birdie at the par-5 17th hole.
Singh and Doug Garwood each shot six-under par 66s to tie for second, while Pavin, with two back-nine bogeys, fell to fourth place.
Jerry Kelly, who shared the 36-hole lead with Montgomerie and Peter Price, shot a 70, ending a streak of 16 consecutive rounds in the 60s.