The Loop
Clarke still glowing the morning after landmark win
SANDWICH, England -- Darren Clarke answered the bell, arriving just after 9 a.m. at Royal St. George's for the annual champions Monday press conference. Not surprisingly, though, the 42-year-old Ulsterman admitted he had yet to set head to pillow after a career-defining victory at the British Open a day earlier.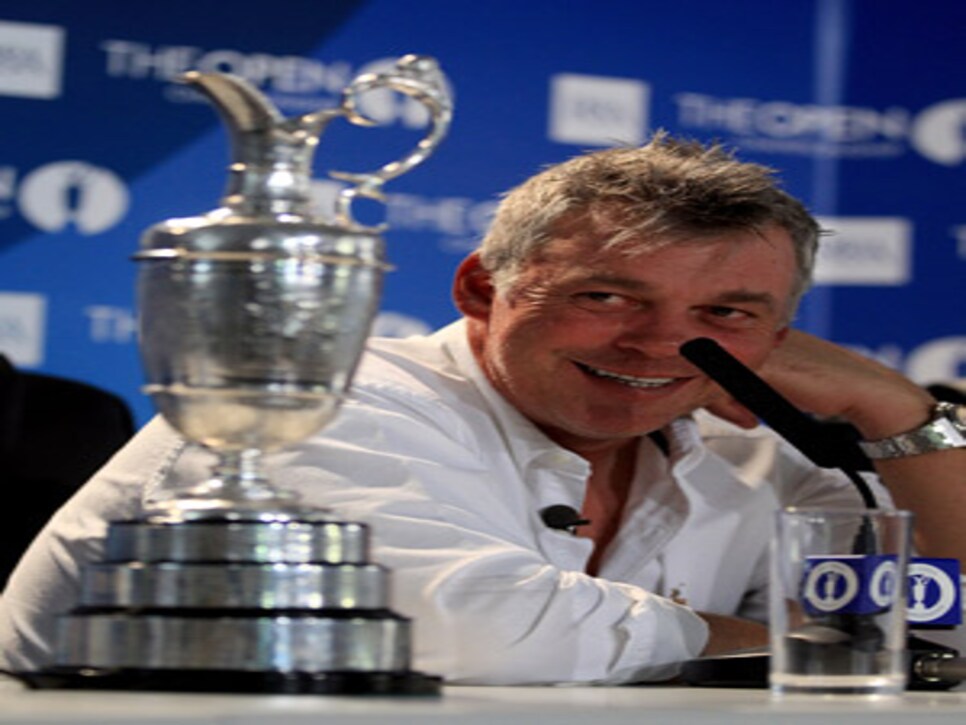 "I probably won't get any sleep until tomorrow at some stage," said Clarke, claret jug within arms reach. "Have to enjoy it when you can."
Everyone knew that Clarke needed 70 strokes in the final round to win the title "champion golfer of the year" by three strokes over Phil Mickelson and Dustin Johnson. But count that was on the minds of many was how many pints did Clarke consume as his reward afterward?
"Quite a few, and quite a few beers and quite a few glasses of red wine, and it all continued until about 30 minutes ago," Clarke said. "It's been a very good night."
That said, Clarke noted that not one drink was actually taken from the jug itself. "I'm a little bit of a traditionalist," Clarke said. "I love the thought of whatever being in the trophy but ... I feel a bit funny about putting stuff in the claret jug that shouldn't be in there, so I'm a little bit more reserved as to what I should do. So there's nothing in it as yet. That may not be the case as the week goes by, but at the moment there's been nothing in there."
That a native of Northern Ireland has won a major championship for the third time in the past 13 months, Clarke joining Graeme McDowell and Rory McIlroy, not surprising gave new life to the debate on whether the R&A should bring the Open Championship to Royal Portrush in the near future.
R&A chief executive Peter Dawson expressed his understanding that public sentiment for such a move might be increasing and confirmed that he and his staff would take another look at the logistics of hosting the event there. Still, questions remain.
"The usual mixture of a great course and plenty of infrastructure combined with the prospect of commercial success is what is needed," Dawson said. "There is no doubt about the golf course, although there might be one or two things one would do. But the other two we have to look at. I don't want to start a hare running on this other than we are going to take a look."