DP World Tour
Civility is being tested at Dubai between players from LIV Golf and the DP World Tour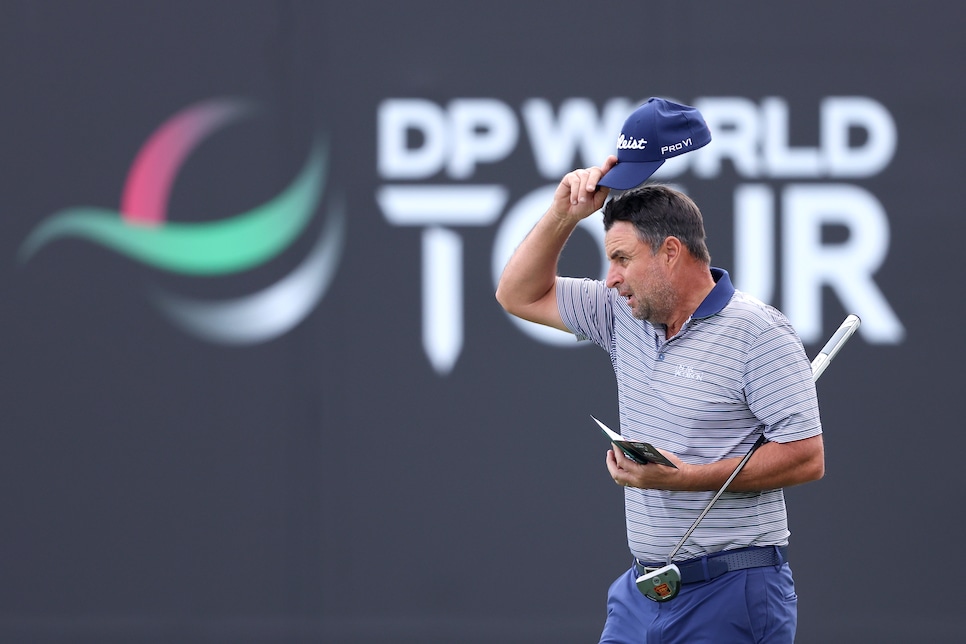 DUBAI, U.A.E. -- On the surface, the halfway point of this Hero Dubai Desert Classic might appear to be pretty much like past editions of this event, the oldest constituent part of the DP World Tour's Middle East Swing. But don't be fooled. Lurking in the undergrowth is an alternative narrative, one darker than who might make off with the winner's check in this $9 million Rolex Event.
We're talking LIV Golf versus the DP World Tour, even if not many others feel able to do so either publicly or out loud, a state of affairs epitomized by the background to the interaction between Rory McIlroy and Patrick Reed earlier this week. Overblown in one sense, the clear animosity crossing the LIV/DPW divide is clearly there.
On the golf course, too. Even a cursory inspection of the leader board after 36 holes -- and three rain-disrupted days -- here at the Emirates Golf Club reveals a sprinkling of LIV Tour golfers in various degrees of contention. One, Richard Bland (shown above), is tied for the lead at 10-under par alongside former Ryder Cup player, Thomas Pieters, and American amateur, Michael Thorbjornsen, who might as well have "Switzerland" after his name rather than USA.
Bland is far from alone, too. A few of his Saudi-backed chums aren't too far behind. Bernd Wiesbeger, Reed and Ian Poulter are tied for seventh place at eight-under par alongside McIlroy, the unofficial spokesman for the "Anti-LIV" squad. Two shots further off the pace are three others who have all played in at least one LIV event: Justin Harding, Shaun Norris and Pablo Larrazabal. Then there is Adrian Otaegui at five-under, two shots ahead of Lee Westwood and Sam Horsfield. Henrik Stenson is the last of the LIV men to survive the 36-hole cut. The Swede, who was stripped of his European Ryder Cup captaincy for joining LIV, is two-under par, as is Luke Donald, who took Stenson's place as Ryder Cup captain. The two are playing together in Sunday's third round.
All of which makes the possibility of a "LIV victory" far from unlikely -- or attractive to just about anyone connected to the DP World Tour. Indeed, far from it. But with the arbitration hearing that will decide the future ability of LIV players to compete on what was once the European Tour looming on Feb. 6, neither side is keen to discuss the scenario that has made Ryder Cup stalwarts like Westwood, Stenson and Poulter unwelcome on the tour they represented for so long with such distinction.
Of course, everyone is at pains to make it clear that such an unhappy situation isn't really the case. Tiptoeing through the unfortunate reality has been the order of this week, even if the McIlroy and Reed spat laid it bare at least briefly.
Not surprisingly, McIlroy wasn't going anywhere near suggestions that he might be drawn alongside Reed -- as it turned out, they were not -- in Sunday's third round. He certainly wasn't rising to the suggestion that certain sections of the media might find such an eventuality "delicious."
"I need to sort my game out, that's how I think," said the four-time major champion, who hit only two fairways en route to a second round of 70. "I need to go to the range. I need to sort everything out. I need to straighten up my tee shots and feel like I have a chance going into the next two days. I focus on myself when I'm out there."
On the other side of the divide, a similar "straight bat" was being applied to any and all questions by Bland.
"I'm not trying to kind of get one over on the guys that are out here," he said after completing a second successive round of 67. "I've got a lot of good friends out here, and a lot of them have shown support. So I'm just here to do the best I can and hopefully give myself a chance to go one better on Sunday than I did last year [Bland lost a playoff to Viktor Hovland]. I'm not out here to try and make any enemies with any comments that I make. If other people want to make comments, then that's on them.
"No one has said anything to my face," he continued. "I get on the same with everybody. I've had absolutely zero from any of the players saying, 'you shouldn't be here,' or 'why are you here?' If I had had any ill comments towards me or animosity from the guys, I'm sure it might have had a knock-on effect. But there hasn't been. I've just been able to go out and play like I've played the last 500 and however many tournaments I've played."
Poulter was also cloaking every carefully composed comment behind a curtain of courtesy.
"Whenever I come to Dubai the fans are great," he said. "And I've been coming for 24 years. It's great to feel that encouragement when I'm playing well."
The Rory-Patrick to-do also got short shrift from Poulter.
"Storm in a teacup," he snorted. "I've got nothing to add. I'm here to play golf. I'm not here to talk about what's coming up. It's not in my headspace this week. Whatever happens in two weeks time I can't handle."
Ah, but Poulter has never been one to completely fight off verbal temptation, even if, on this occasion, he did so with an unusual level of subtlety. Still, his meaning was clear. Asked if it would mean a lot for him to win this week, he didn't hesitate.
"Yes, it would," he said, before pausing briefly. "A lot," said with an edge that surely conveyed its hidden meaning, was his final comment.
So the somewhat unsavory background to proceedings is there, lurking not too far beneath a veneer of politeness and diplomacy. No matter what anyone on either side says to the contrary.