The Loop
Cheat Sheet: What you need to know for Sunday in golf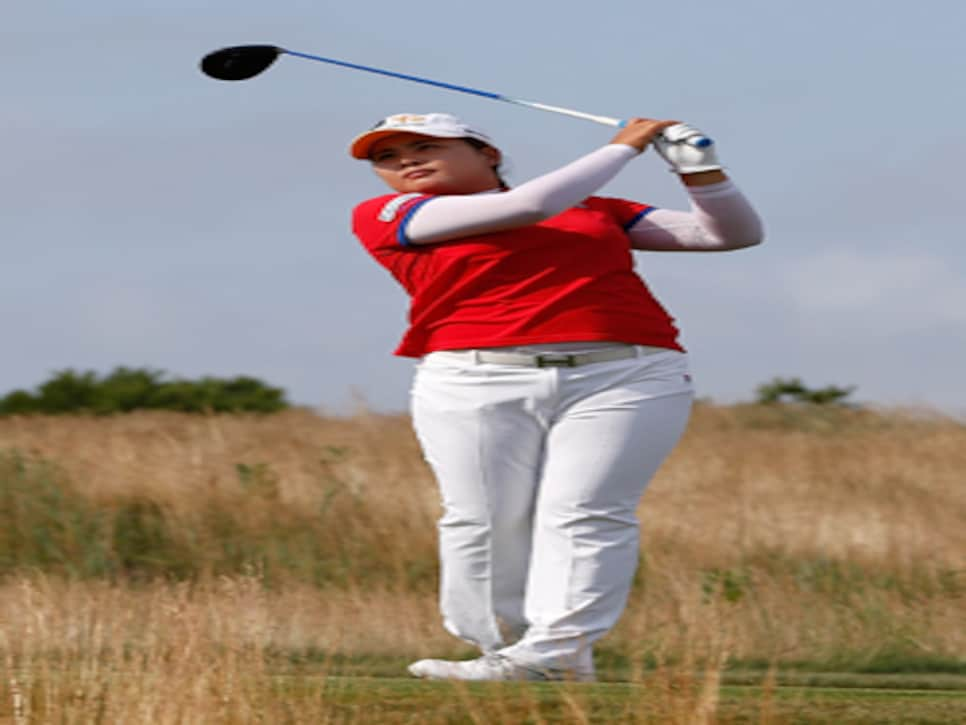 After winning her last two starts and now leading by four going into the final round of the U.S. Women's Open, we're starting to wonder if Inbee Park will ever lose again. It feels as though no one has dominated the ladies circuit quite this way since the great Babe Zaharias was teeing it up over half a century ago. Now Park has the opportunity to confirm those assumptions. By winning the U.S. Open, she would join Zaharias (1950) as the only players in tour history to win the first three major championships in a season. But even Babe never won a fourth. As if that's not enough historical perspective, Park can etch her name in the record books at the world's most historic golf course when the LPGA Tour hits St. Andrews in early August for the Women's British Open.
Does anyone want to win at Congressional?
Maybe the PGA pros are trying to give their LPGA and Champions Tour brethren the spotlight this week, because it doesn't seem like anyone wants to pull away at the AT&T National. Already without host Tiger Woods and U.S. Open champ Justin Rose, the third round of the Tour's annual Congressional stop did little to define a favorite in their absence. Four players are tied atop a group of ten players separated by only four shots. Second round co-leader, 19-year-old Jordan Spieth had a two-shot lead after opening with two straight birdies before missing five putts inside eight feet during a four-hole slide. Roberto Castro has been near the top of the leader board all week, but he needed a chip-in par on Saturday just to finish even on the day. Bill Haas is the only player to break 70 in all three rounds, but his Saturday 68 was dampened by the fact he had nine birdies and only finished three-under. With so much parity, the AT&T might not be about who wins, but who survives.
Will Freddie keep his cool in Senior Players final round?
After a Friday 62, Fred Couples has resided atop the leader board at the Senior Players and will be two-shots clear of the field when he starts his final round on Sunday. Couples won this tournament in 2011 and was in control last year after a second-round 63, but he shot one-over on the weekend to finish four strokes behind winner Joe Daley. So which Freddie is it going to be? With eight wins on the Champions Tour since making his debut in 2010, a betting man would probably side with Couples, but it's hard to discount a leader board that boasts the likes of Perry, Waldorf, Huston, and Calcavecchia hot on his heels.
Another bad day for caddies.
Last week it was Bubba Watson publicly chastising his caddie, this week it was Jessica Korda firing hers mid-round. Korda, who is currently tied for 6th place, but 11 strokes behind leader Inbee Park at the U.S. Women's Open, fired Jason Gilroyed after the 9th hole and replaced him with her boyfriend Johnny DelPrete; a move first reported by Golf Channel's Kelly Tilghman on Twitter.
After argument, Jessica Korda fires caddie mid-round in US Open, puts her boyfriend Johnny DelPreti on the bag.
After her round, the 20-year-old Korda said she needed to make the switch to have a little more fun. "It's a U.S. Open," she said, "It's tough out there. It just wasn't working out."
Last week Ken Duke was finally rewarded for his consistent play by winning the Travelers Championship -- his first PGA Tour victory at the tender age of 44. This week he finds himself five strokes off the lead heading into the final round of the AT&T National, and while it may be a stretch to say he's in contention, Congressional has a way of quickly closing the gap. Case in point: Bill Haas found himself five shots out of the lead after a triple bogey on the 11th hole on Saturday. Four holes later, he had the lead to himself. With so few AT&T story-lines to follow, wouldn't it be nice to see Ken Duke get his second (consecutive) PGA Tour victory in exciting come-from-behind fashion?