The Grind
Charles Barkley's big (losing) bet on himself, Lexi Thompson's bold business venture and an all-time celebrity golf choke
Welcome to another edition of The Grind, where we were glad to see Golf Twitter unite over something for once. All it took was a random fan walking onto a tee box at the Scottish Open and messing with Rory McIlroy's golf bag. The first reaction was to think it must be the latest European Tour prank. (Surprisingly, not the case!) The second was to make the same joke about the fan being lucky Steve Williams wasn't Rory's caddie. (Guilty!) Anyway, good stuff—especially as we enter what's always a nasty week of "Open Championship vs. British Open" debates. And here's what else has us talking.
Lucas Glover: The Glove! Back! What an incredible run it's been for golfers ending droughts, and Glover became the latest by getting his first PGA Tour win in a decade at the John Deere Classic. "It's been a long 10 years," Glover said after. "There's been some struggles."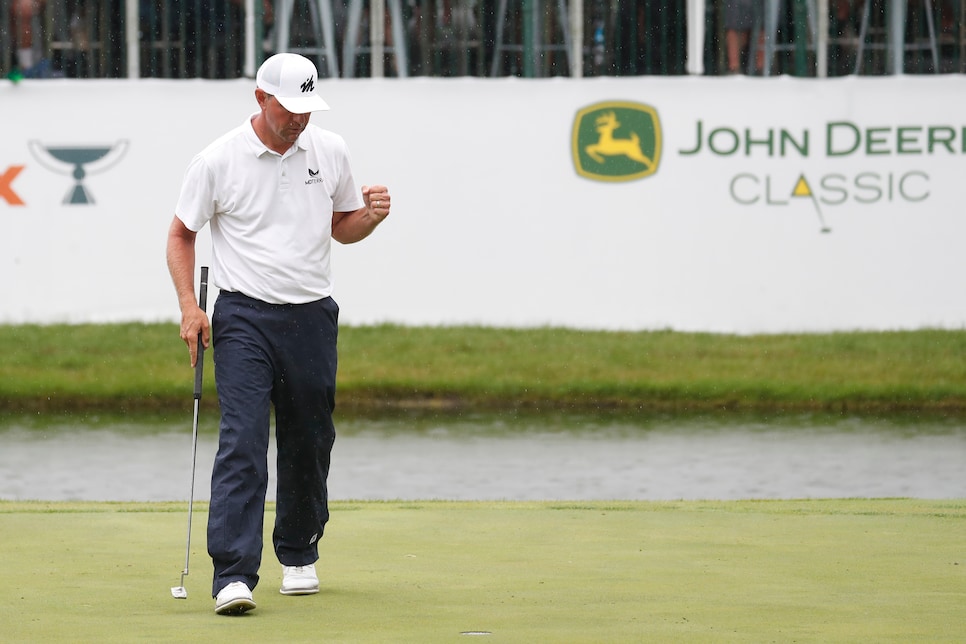 Those struggles included his wife reportedly attacking him for a bad round at the 2018 Players and being arrested for domestic violence. So, yeah, struggles. But the couple has moved past that and now they have another win to celebrate. Anyway, back to the droughts:
Who's next?! Bill Haas? (Please be Bill Haas.)
Min Woo Lee: Henceforth known as Min Woo(!) Lee since "Woo!" is my favorite thing to say. The 22-year-old Aussie notched the biggest win (so far) of his life by taking the Scottish Open in a playoff over Matt Fitzpatrick and Tom Detry. And by taking it, we mean taking it with this brilliant—and saucy—finish:
Love the sass, Min Woo(!).
Jim Furyk: It's still a bit of a mystery how one of his era's ultimate grinders only won one U.S. Open, but at least Furyk can call himself a U.S. Senior Open champ now: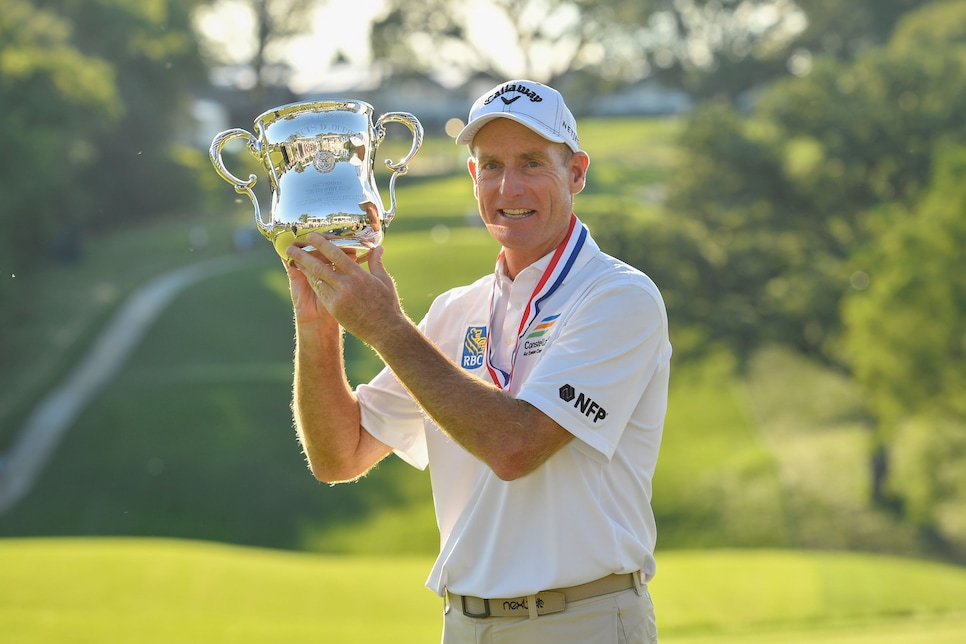 Furyk also broke a brutal streak of 10 straight blown 54-hole leads dating back to his win at the 2010 Tour Championship. And he did that after playing his first three holes on Sunday in three over. Final-round jitters are no joke. Anyway, good for him and bad for me for continuing to not bet on senior major favorites.
Aaron Rodgers: Either the Packers(?) star pulled off the ultimate rope-a-dope with all those "I haven't been playing much golf" comments or he's the greatest weekend golfer of all time in addition to being arguably (Yes, Tom) the greatest QB of all time. Look at him exacting a little revenge on Brady for that NFC Championship game by closing out The Match (IV) in style:
What a performance. Oh, and he also had the line of the night when he told Phil Mickelson to "Shut-up." Tiger would have loved playing with this dude. Sigh.
Angel Cabrera: The two-time major champ has traded a green jacket for an orange jumpsuit after receiving a two-year prison sentence in Argentina for charges he assaulted a former partner. What a stunning fall from grace.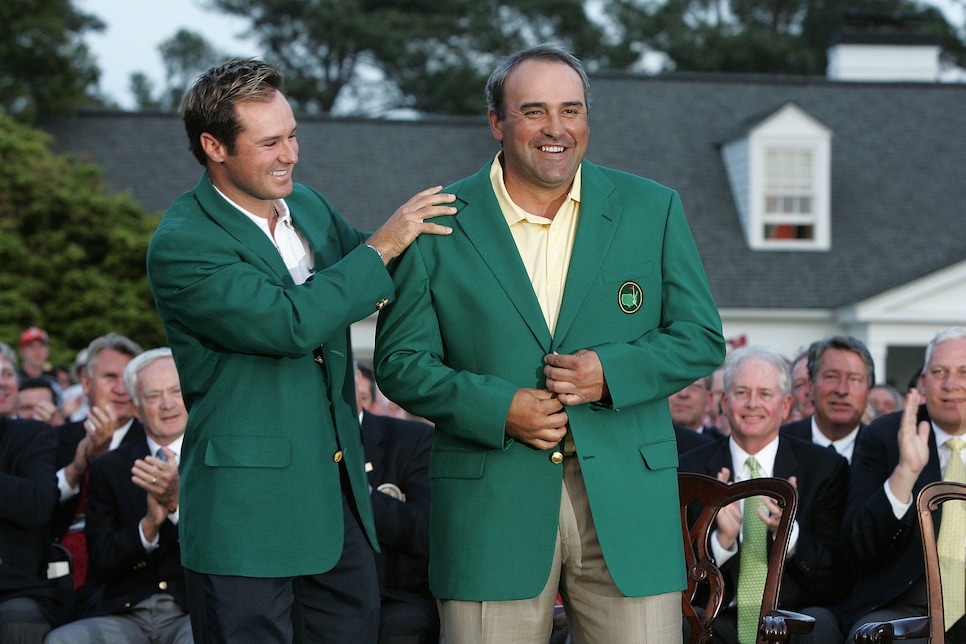 There's really not much else to say. So … let's move back to some lighter stuff, shall we?
Barkley's big bet: We've talked about how great it is for Charles Barkley to be playing great good respectable golf again. We've even talked about it with Charles Barkley. But despite a big improvement at the American Century Championship—AKA the Super Bowl of celebrity golf—Chuck still walked away down 100 GRAND. That's because his big bet to finish in the top 70 of the 88-person field (Barkley got 5-to-1 odds) didn't pay when the NBA legend only managed a T-76 with scores of 96-90-90.
Still, for someone who had finished in the bottom three of the event for 17 consecutive years, beating 11 other players must have felt like winning an NBA title. Well, an NBA Western Conference title (Sorry, Chuck). Barkley's swing coach, Stan Utley, is nothing short of a miracle worker.
John Smoltz's finish: Apparently you can be incredibly clutch in one sport and still choke your guts out in golf. Such is life for the Baseball Hall-of-Famer who was cruising to his first win at the American Century Championship—AKA the Super Bowl of celebrity golf—before three late bogeys and a water ball in the playoff against Vinny Del Negro. Ouch. This guy was basically unhittable in the MLB playoffs, but he was hitting trees and water hazards down the stretch at Tahoe. Golf. Tough sport. Hey, at least he didn't bet 100K on himself.
Lexi's new skincare line: To be clear, I'm only selling LEXI SKIN because I will not be using it. As you can probably guess, I'm not a big skincare guy. In fact, I'm not a big self-care guy in general. But I wish Lexi Thompson the best with her new business venture, and I hope it does prove to be a "win"—especially considering that rough finish at the U.S. Women's Open:
Good luck, Lexi. As I know from watching lots of "Shark Tank," the health-and-beauty sector is a tough market to crack!
We head across the pond for the Open Championship, AKA the British Open if you want to tick off Euro golf writers. But sadly, the tournament also could be simply called The Opt-out this year due to all the WDs. From positive COVID tests (Zach Johnson) to "travel restrictions" (Kevin Na) to no reason given at all (Matthew Wolff), players are dropping like we've never seen before. At this rate, our own Daniel Rapaport, who is in England covering the event, might get the nod.
Random tournament fact: Royal St. George's has produced two of the most surprising winners in golf history the last two times it hosted the Open: Ben Curtis (300/1) in 2003 and Darren Clarke (125/1) in 2011. Apparently, George is the patron saint of underdogs.
RANDOM PROP BETS OF THE WEEK
—Angel Cabrera will ever be invited to another Masters Champions Dinner: 1 MILLION-to-1 odds
—Darren Clarke will win the Open this week: 1,500-to-1 odds (Actual odds)
—Charles Barkley has more than $100K riding on the NBA Finals: LOCK
Lucas Glover went 10 years between PGA Tour wins. Tag Ridings went nearly twice as long before winning again on the Korn Ferry Tour. Live it up, Tag. Live it up.
Just two GOATs playing catch and talking shotgun-formation strategy during a round of golf:
Amazing. I just hope people don't follow Tom and Aaron's lead and start stuffing footballs in their golf bags. Rounds at public courses are slow enough.
VIRAL VIDEO OF THE WEEK (NON-GOAT DIVISION)
This is absolutely, um, electric:
Just incredible. Also, I know you paid a lot for watered-down mojitos and to use that hitting bay, but you should stop hitting golf balls with metal clubs when lightning is in the area. Just a friendly suggestion.
THIS WEEK IN PUBLIC DISPLAYS OF AFFECTION
Apparently, Billy Horschel is a West Ham United fan. A BIG West Ham United fan:
By the way, patting myself on the back for watching that entire Euro Cup Final. But we're still doing penalty kicks to end important soccer, sorry, FUTBOL matches? Imagine how silly it would have been if Harris English and Kramer Hikock had a closest-to-the-pin chip-off instead of their epic eight-hole playoff at the Travalers a few weeks back? On second thought, that actually sounds better. Hmm. Soccer, sorry, FUTBOL may be onto something here …
THIS WEEK IN BRYSON BEING BRYSON
Bryson announced he was taking the plunge (with a new caddie) by actually taking a plunge into a pool:
We've reached a new PIP high (low?).
THIS WEEK IN BROOKS VS. BRYSON
Brooks Koepka said he'd put aside his beef with Bryson for the good of the U.S. Ryder Cup team, but that he won't partner with him. No surprise there. He also gave a little more insight to the genesis of their feud:
That "little video game thing" LOL. This guy is relentless.
"I remember that was my biggest takeaway when Tiger won his last Masters is that his kids got to see him as a champ. That was a goal of mine, too." —Lucas Glover. That's a goal of mine as well, but unfortunately I keep choking on my annual golf trip.
Nasa Hataoka was declared the winner of the Marathon LPGA Classic with a six-shot lead when the final round was canceled due to rain. Jon Rahm could have really used that kind of Sunday weather at the Memorial. … Congrats to Ashleigh Barty on winning Wimbledon. I'm singling out the Aussie tennis star because she's also the reigning club championship winner at golf at her home club. What an athlete! … Congrats to Novak Djokovic on winning Wimbledon for his 20th career Grand Slam to tie Roger Federer and Rafael Nadal. No golf connection here, but imagine if the three golfers with the most career majors all played in the same era? It's inconceivable. … And finally, treated my daughter to our first lunch at Costco in 16 months. This feast cost less than $5:
What a magical place. Things are really starting to get back to normal.
RANDOM QUESTIONS TO PONDER
How long will Barkley's new swing hold up?
How long will Bryson's new caddie last?
Will Costco ever bring the chocolate froyo back?