On The Tee
Chargers quarterback Justin Herbert explains how to deal with adversity of an interception . . . or a shank
As quarterback for the Los Angeles Chargers at only 23, Justin Herbert is used to playing under pressure. After jumping into the starting role in the second game of his rookie season, Herbert exceeded expectations by learning to deal with setbacks, a vital skill in another sport he grew up playing: golf.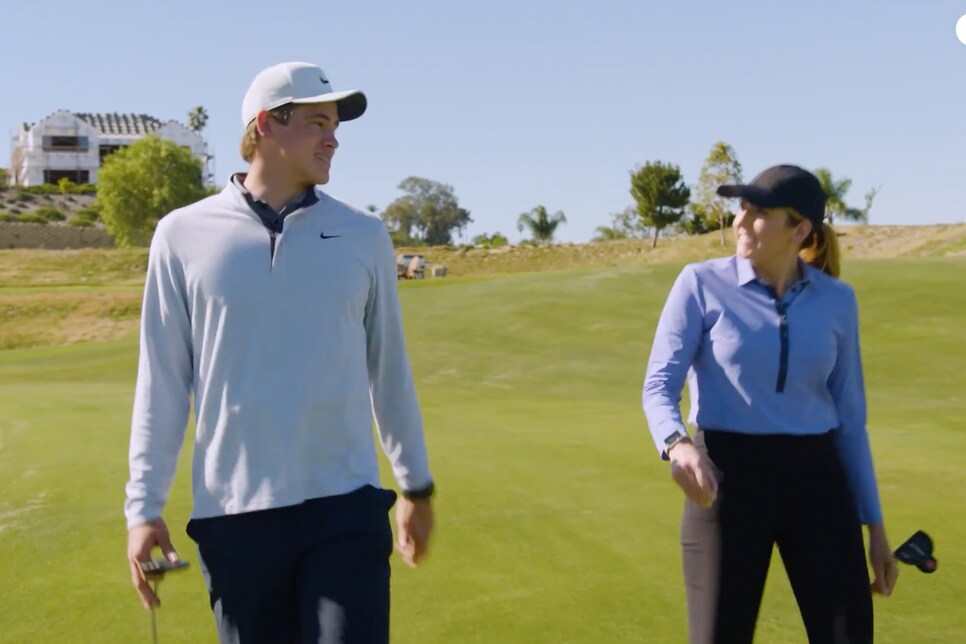 "The one thing about golf and football [that is similar] is adversity," said Herbert. "Whether you throw an interception or an incompletion or you shank one or put one in the water, it's always about the next play, the next shot. Having to deal with adversity, you get better with it."
In this episode of On The Tee, host Hally Leadbetter challenges the 6-foot-6 Herbet to a three-hole match while picking his brain about his football career, trash-talking on the field, the mental benefits of golf, and more.
Although Herbert is wed to the football field, he is drawn to golf since it helps him stay even-keeled. When asked about his emotions as a competitor, Herbert emphasized the similar mindsets required for both sports.
"I'd say I'm pretty level-headed," said Herbert. "And I think to play quarterback and to play golf, that's kind of how you have to be. For the most part I try to stay level-headed...I need to play more golf."
Herbert also finds that when he plays his best games and hits his best golf shots, the sensation is familiar. "I would say more of a feel player," Herbert said of his approach to both sports. "Going out there and doing it, not thinking about it and reacting, I think that's kind of when I play my best."
Herbert puts his talent as a young quarterback on display every week, but it's not often that he gets to show off his natural ability as a golfer. Check out the full episode of On The Tee to get a glimpse of his swing and hear more about the star's first two seasons in the NFL.
On The Tee: Justin Herbert