The Loop
Chargers punter blasts 69-yard punt, pulls the ol' driver celebration out of the bag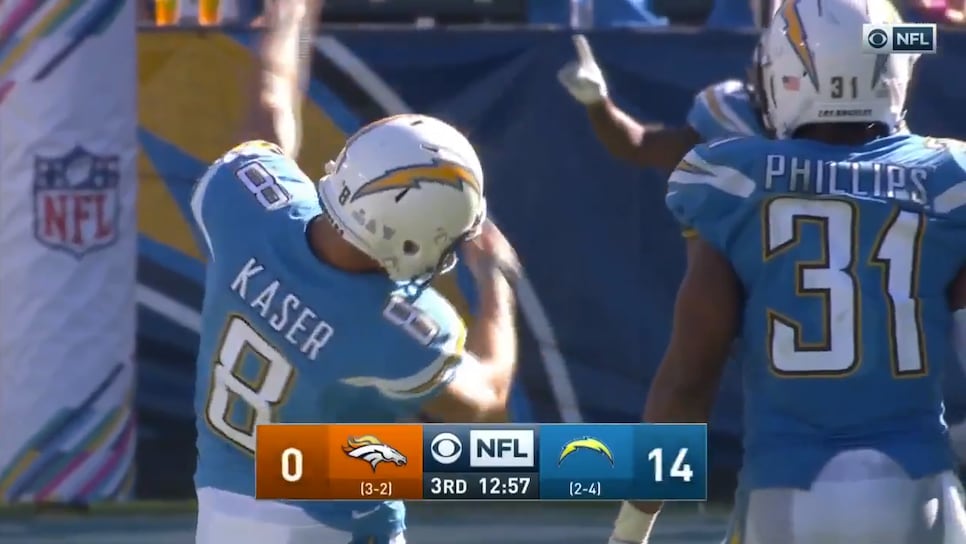 STOP THE PRESSES, AMERICA. WE HAVE A PUNTER HIGHLIGHT. On a sleepy NFL Sunday that produced a Titans-Browns FG exhibition, a primetime Patriots blowout, and a 14-point Bears win that didn't feature an offensive touchdown, Chargers punter Drew Kaser provided some much-needed entertainment with the special teams highlight of the year thus far. BEHOLD THE HURRICANE:
Up 14 at the start of the third quarter, Kaser, standing at his own 30, kicked the name, memory, and continence out of the damn ball, booming it 69 (nice) yards to the goal line (ON THE FLY) where it bit and was promptly downed. Kaser then pulled the big stick out of his bag and crushed one from the tips to complete one of the rarest sightings in modern sports: The punter celebration. The StubHub Center's orange sea wasn't exactly thrilled—the Chargers would go on to blank the visiting Broncos 21-zippo—but at least the Bolthead faithful had something to cheer about before Dean Spanos packs up and moves the team to his secret moon base or something.
In related news, this is the third time we've written about the Chargers kicking game this season, which seems like A LOT of times. What are you putting in that fair trade coconut water, LA?