The Loop
Chamblee weighs in on Woods again: "I definitely think Tiger is overcoached."
Golf Channel analyst Brandel Chamblee lists Tiger Woods as his favorite for player of the year, describing what Woods has been able to do this year as "extraordinary." But Chamblee also said he's "never seen a player vary week to week in every facet of the game as I have Tiger Woods."
So what's the problem? Among other things, Chamblee thinks it's a case of paralysis by analysis.
"I think he's got way too much going on," said Chamblee during a conference call previewing the final two FedEx Cup Playoff events. "It's a very complicated golf swing that he's trying to work on, that much fold, shaft lean, the down and the up that he has, the excessive down, the excessive up; you know, his driver might as well be a dead mackerel wrapped in newspaper at the moment. It's just awful watching him hit that golf club, just awful. It's really fun to watch guys like (Graham) DeLaet and (Henrik) Stenson and Adam Scott drive the golf ball. So yes, I definitely think Tiger Woods is overcoached."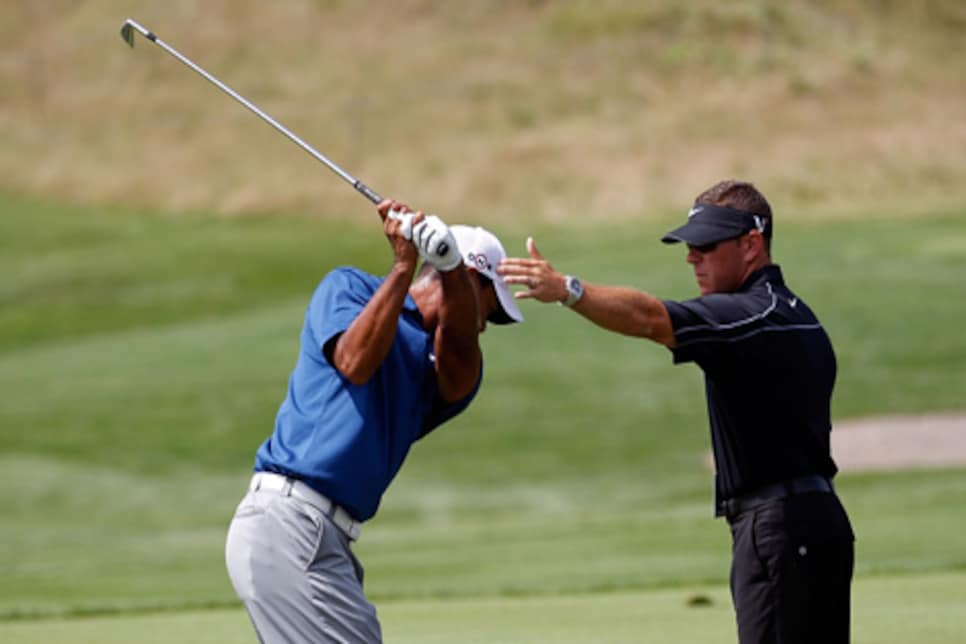 Chamblee thinks Woods is just one of many examples of PGA Tour players relying too much on their instructors. He made special note of DeLaet's recent success, calling it "refreshing" due to the lack of coaching the Canadian receives.
"I'm just absolutely flabbergasted watching that guy hit golf balls. He's never had a golf lesson. His father showed him how to hold a golf club and then he just went about it himself. He leads the tour in total driving and he leads the tour in ball-striking," Chamblee said of DeLaet. "A few years ago it was Bubba Watson leading the tour in greens in regulation, and similarly he's never had a golf lesson. These two guys are proof that not only can you compete on the PGA Tour without an entourage, but you can be one of the best or if not the best tee to green."
Chamblee -- never one to pull a punch when it comes to assessing Woods' game or his instructor, Sean Foley -- was very critical of Woods' practice session during last month's PGA Championship. In particular, he couldn't believe Foley had Woods working on a drill in which he tucked a glove into his armpit just a week after he blew away the field at the Bridgestone Invitational. Chamblee described it as "ridiculous" and compared it to Michael Jordan getting tips on how to shoot a free throw before an NBA Finals game.
(Foley, a Golf Digest Teaching Professional, currently coaches three of the top 14 players in the world ranking.)
"I watched video of him warming up in the 2008 U.S. Open the other day for about 30 minutes, 40 minutes, and it was just a site to behold, to watch a guy be able to work the ball every direction," Chamblee said. "All nine shots, boom, he had them. And to see how limited he is now, again, all that down, all that up, hands so far ahead. . ."
Johnny Miller also weighed in on Woods' game, saying he feels Tiger still has all the shots, but that internal doubts have him playing too tentatively. It's that careful mindset that has closed the gap between Woods and other players.
"There's a lot of guys on tour that have all the shots, but they just get in their little mini blanket with their thumb in their mouth, and they will just stick with the one that they believe in," Miller said. "Now [Tiger's] basically playing more like everybody else on tour, going with their primary shot and just they are afraid, oh, I might miss it if I try to do this or that."
Miller said Woods has become too reliant on hitting a fade. Chamblee agreed, but says it's more technical than mental.
"He's so bought into this squat down and jump up. It's really hard to hit a draw when you're squatting down and jumping up, because to hit a draw you have to drive your legs down the target line and then you have to chase it with your right shoulder," he said.
And so it went. One question about Tiger Woods can prompt enough discussion to fill 10 golf instruction books. But while all that talk and examination is great for those covering the game's biggest figure, perhaps it's a bit much for a player who has already won 14 majors.