No. 132 on America's Second 100 Greatest Courses
No. 22 on America's 100 Greatest Public Courses
Robert Trent Jones Jr. & Bruce Charlton (2007)
Prodded by his partner, Bruce Charlton, and their then-design associate Jay Blasi, veteran architect Robert Trent Jones Jr. agreed to a radically different, vertical-links style when building Chambers Bay in an abandoned sand quarry near Tacoma. By the time Golf Digest named it as America's Best New Public Course of 2008, the course had already been awarded the 2010 U.S. Amateur and 2015 U.S. Open. In the Amateur, Chambers Bay proved to be hard, both in the firmness of its dry fescue turf (Jones called his fairways, "hardwood floors") and its difficulties around and on the windswept greens. For the U.S. Open, the firmness and surrounds were more manageable, but the greens were notoriously bumpy. That's now been remedied, as the fescue turf on the putting surfaces has been replaced with pure Poa Annua.
Second 100 Greatest History: Ranked from 2013 to current. Highest: No. 121 (2013-2014). Previous: No. 129.
Panelist comments, Chambers Bay:
"An interesting mix of links-like golf from sandy fairways and uneven lies juxtaposed with severe elevation changes more reminiscent of a mountain course, Chambers Bay is an uncovered, and unnatural setting that proves to be particularly suited to modern golf course architecture. Many of the holes play like true links, allowing the golfer to use the undulations of the course to his advantage to play away from trouble and allow the ground to direct the ball toward the hole. Conversely, other holes require play through the air to a specific target and getting the ball to stop quickly lest the ball finds trouble."
"The hazards, particularly the omnipresent bunkers, encourage shot selection that errs on the side of caution at first, but safety first leads results in greater challenges going forward. This latter quality has a great effect on play, as the green complexes demand precision and creativity. Slopes on and around the greens at times are like gentle encouraging hands steering the ball to safety, while at others act as stern examiners swatting away the shot back to its origin."
"Chambers Bay boasts incredible views, sandy/rugged terrain, gigantic greens , and wide fairways, a recipe that is appealing to golfers of all skill levels. The course design does an exceptional job of forcing varied shot types/shapes (through varied hole lengths and elevation changes), while maintaining a test of golf that is both fair and enjoyable from tee to green."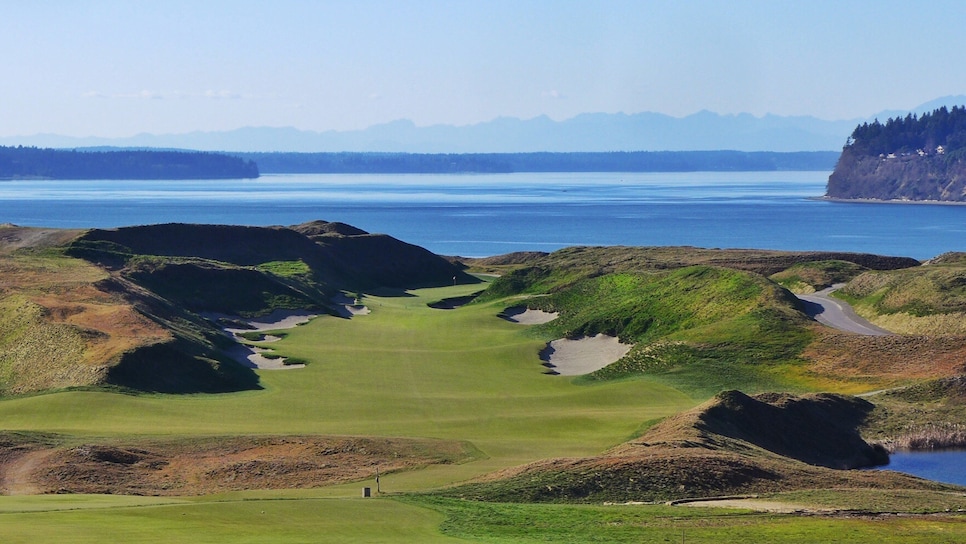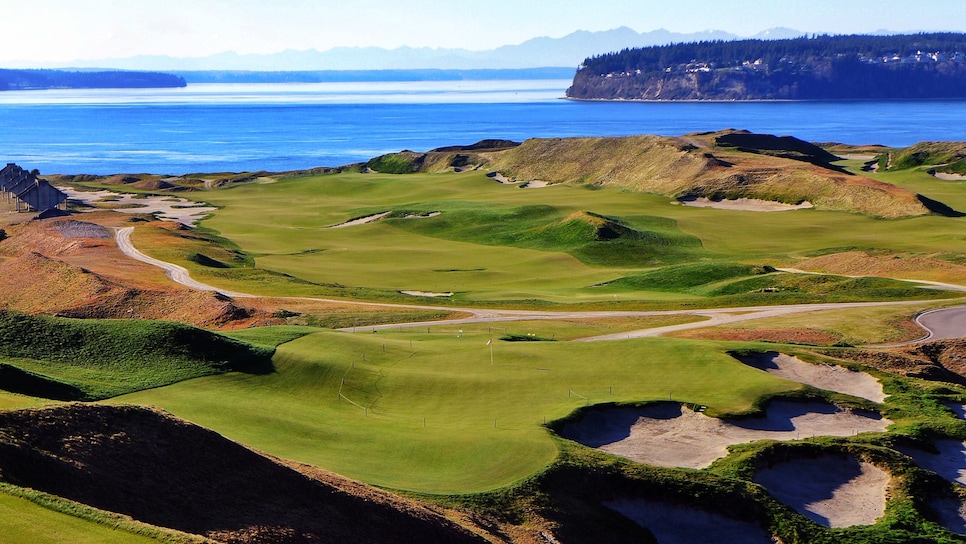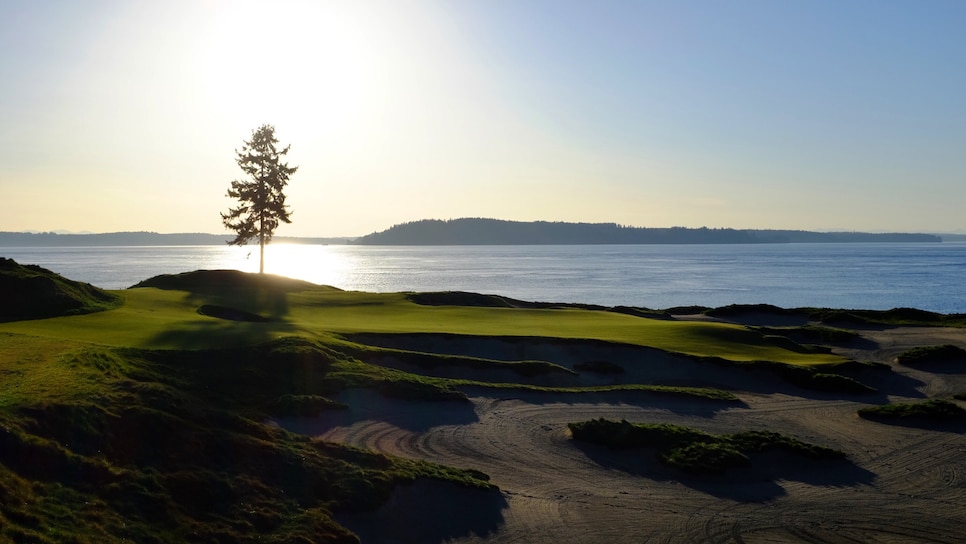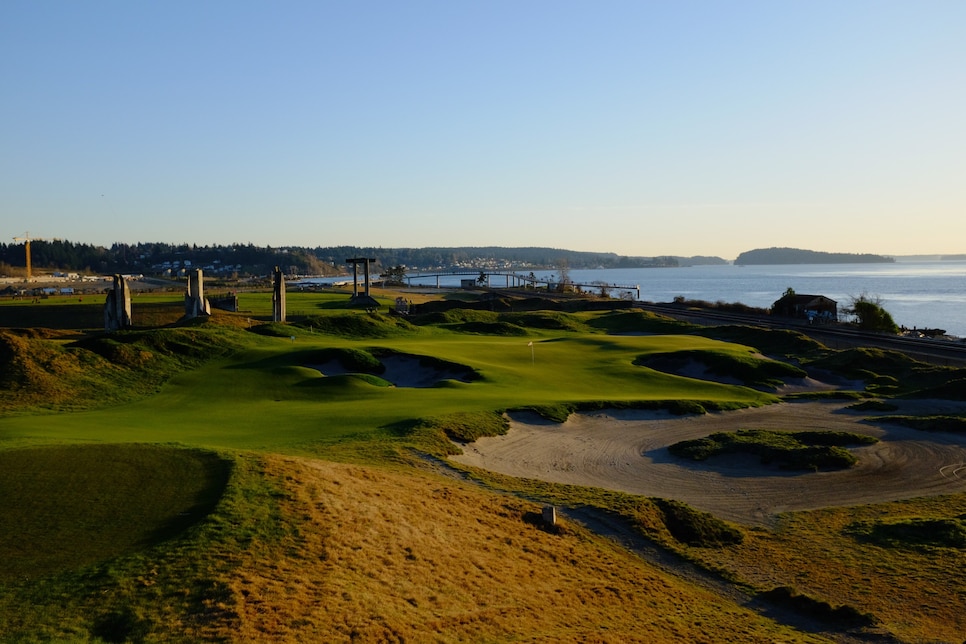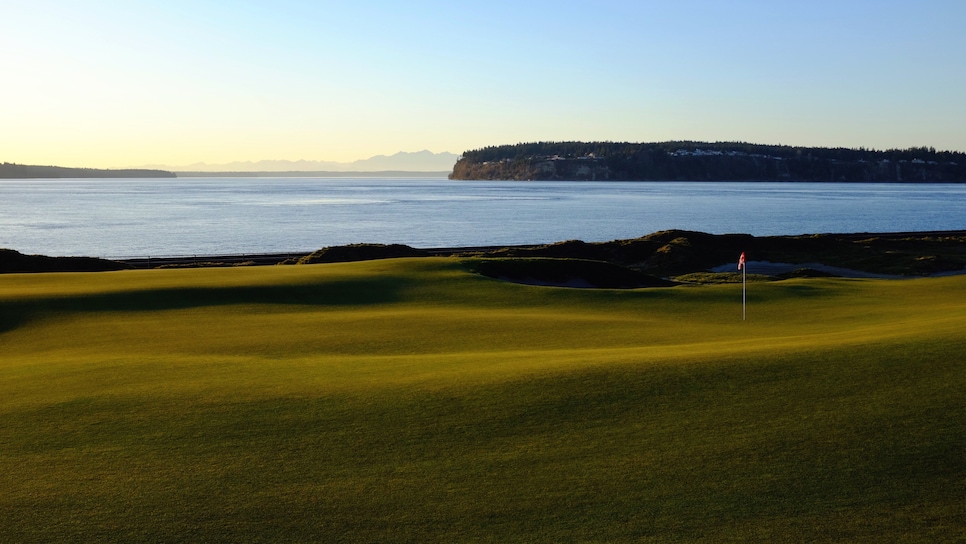 "While the quality of the greens definitely impacts the overall conditioning score, the greens that have been replaced with all Poa are great. Once the Poa takes over all of the greens and have time to grow in, the conditioning score should go up."