The Loop
Catching up with Mike Keiser, owner of Bandon Dunes
Last week I spoke to a very wealthy and avid golfer. He took time away from swinging deals for potentially prosperous property to discuss the opening of his new courses, working with architect Gil Hanse, and what might be next in Ireland. He's a key figure in the world of golf, now and in the future. Oddly enough, this could be a description of Donald Trump, but my conversation was with Mike Keiser.
[Ljava.lang.String;@11b1a8e3
If the sport is shrinking and the game is serving a timeout for being too hard, too expensive and too time-consuming, Keiser, with his Spartan sensibilities, minimalist-minded architects and shoulder-season specials, has obviously been issued a pardon by the golf gods and slumping economy.
So Preserve opens on May 1?
At $100 green fees, I'm amazed that the tee sheet is full for opening day. I continue to be astonished in the overwhelming belief in links golf. And as you know, we're donating all Preserve profits to south-coast conservation. [Profits from Preserve will go to Wild Rivers Coast Alliance, which supports and protects the South Coast of Oregon's rich lands and waters.]
Will you be in the first group out?
The first to tee off will be Chris Smith and Tim Scott, the winners of our Speed Golf Championship. They'll play in roughly 25 minutes and shoot close to par.
Are you concerned that Preserve will be so popular that it will take business away from the other four courses on property?
That's a concern. I wouldn't want to be the guy who's the starter at Preserve. How would you like to be on duty from 1 to 3 in the afternoon? Four groups coming off the four big courses, converging on Preserve's first tee . . . It will be the toughest job on property.
Although I've never taken you up on it, I've always appreciated Bandon's offer -- if you play 36 in one day, and you still have the time and energy to play another nine or 18 -- you play for free. If I play 36 in a day on one or two of the big courses, is my late-afternoon round at Preserve free?
This is how it's going to work: If you play a big course in peak season, it's $230. A replay rate on a big course is $115. The Preserve will be $100 in peak season; $50 off-peak, and although there will be no replay rate at Preserve, the third round in one day on any of the five courses is free. In order to avoid an afternoon jam on Preserve, we're considering an age stipulation. One suggestion: you can only play Preserve in the afternoon if you're over 50.
That's age discrimination. I'd see you in court.
I'd like that -- Ginella vs. Keiser. If you're under 50, and able-bodied, which you are, Matt, you should be playing on one of the big courses.__
(When I spoke to Keiser in July, he was offering a land swap with the Oregon Parks and Recreation Commission so that he'd get access to gorse-choked land with good bones four miles south of Bandon Dunes. At that point, he told me Gil Hanse was scheduled to be the architect.)__ __
What's the status of Bandon Muni?__
We're moving on the property as fast as we can, but we're navigating a glacially political landscape. I recently upped the ante on what I'm willing to trade the state. I thought our original offer was fair: In an appraisal of the land being swapped, for every two dollars of my land, I was getting one dollar of their land in return. Now the deal is closer to $4 to $1. The governor likes the offer, but we're not ready to announce anything right now. I'd say it's 50/50 it happens in the next six months. The governor has a fiscal responsibility to make a good deal for the state. And in order to approve the deal, he has to see "an overwhelming public benefit." I would like to think we're satisfying those terms, and that's without considering the aspect of a public park in the form of a golf course, with junior and local discounts, as well as the caddie programs.
So the plan is for a much different business model than what you have at the resort right now?
I don't think anyone has created a true St. Andrews concept in the U.S. At Bandon Muni, juniors will essentially play for free, locals at a significantly reduced rate, and we'll have a junior caddie program, complete with dormitories. This will be the feeder system to the Chick Evans Scholarship Program we have at Bandon Dunes, in which we've already sent 40 caddies to Oregon and Oregon State. But it will also be a feeder program to the caddie community of the big courses. Right now, it's hard to put junior caddies out with people playing the big courses, because when avid golfers come all this way, they expect a lot from their caddie.
Now that Gil Hanse has committed to building the Olympic Course in Rio, how does that affect what you want him to do at Bandon Muni?
The situation, as it relates to Gil, is that Rio will take a lot of his time and energy. So even if we get the land in the next six months, Gil will slow us down. It's a setback, but it's not permanent. And there are things we can do without him. The property we'd be using is chocked with gorse, and is a real fire hazard, which helps the chances for approval of the proposed deal. We'd have a lot of clearing to do, and we haven't agreed on a routing yet.
Have you, or would you, consider hiring an alternate architect?
I thought about it, but [Tom] Doak has done two at Bandon Dunes, [Bill] Coore has done two, and will be the next architect if we build a second course at Cabot Links. I like and want to work with Gil, so I'll wait for Gil. Although Rio will obviously be his biggest priority, he will be able to fly back and forth somewhat, and he can have a toe in what we'd be doing here at the same time.
You only mentioned Doak, Coore and Hanse.
They are the new Big 3, aren't they? If you haven't been to Streamsong, be prepared to be astonished. [Streamsong is a Florida resort with 18 holes by Doak and 18 by Coore and Crenshaw, which expects to open for play in November 2012.]
Now that Old Mac has been open for almost two years, which course is getting the most play?
Old Mac, then Bandon, then Pacific, then Trails. And I think that has a lot to do with the fact that Old Mac is fun. How often is a course designed to be fun? Turns out, that's a popular concept.
In June you open Cabot Links. How's that going?
I'm nervous. It's showtime on June 29. We need 200 golfers a day to be successful. July and August are the first two prime months. And that's when I'll find out if the investment is worth it. I have a quite a bit of money into it.
And you said that if you build a second course at Cabot Links, the architects would be Coore and [Ben] Crenshaw?
Yes. We'll know a lot more by the third week in August. If we can't do 200 golfers per day, there's nothing to do.
What about the Sheep Ranch? [The Bally Bandon Sheep Ranch is a Keiser-owned course a few miles north of Bandon Dunes. Keiser has mentioned a complete renovation to an otherwise raw routing, and eventually bringing it into the resort portfolio.]
There's no architect and no current plans. I'm pushing as best I can.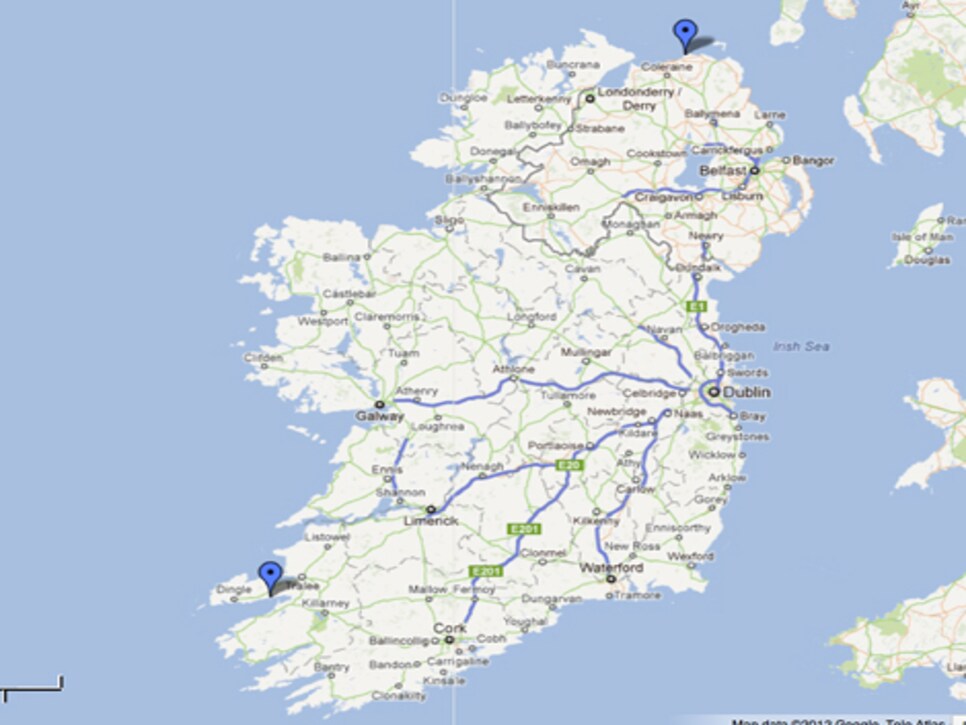 I keep hearing rumors that you're looking into land in Ireland.__
I'm going in July or August to look at two sites: the Inch Peninsula in the southwest, and Bushmills Dunes in the north. In the north, I'd be adding to Royal County Down, Portrush and Portstewart. In County Kerry, you'd have Ballybunion, Lahinch, Old Head, Waterville, Doonbeg and Palmer's best, which is Tralee. Aberdeen now has Trump International, Royal Aberdeen, Cruden Bay and Castle Stuart, Dornoch and Nairn aren't too far away. So I might be competing with Trump in a nice way.
You have a lot going on. Can you list your priorities for me?
Preserve. Cabot Links. A second course at Cabot Links. Bandon Muni is only behind the second course at Cabot Links because of Gil's commitment to Rio. The Sheep Ranch and Ireland are both on the priority list.
Last year, on the Summer Solstice [June 21] the most avid of golfers played all 72 holes on property. Are you guys going for 85 this year?
Yes. The event is already sold out. So is the 3-Club Championship and the Speed Golf Championship, which will have a full field of pros playing for a $50,000 to $100,000 purse.
And what about the 14th hole at Trails; I heard Coore made some more changes.
He moved the trap that's left of the green, farther to the left.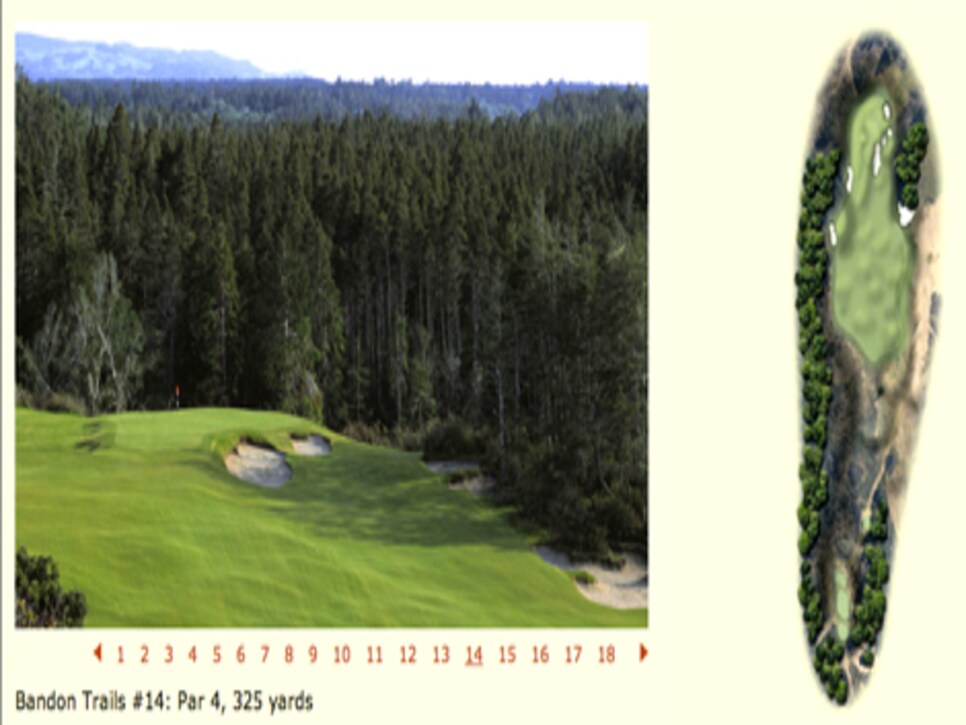 It's only bigger by inches. We know Trails doesn't get a lot of play for two reasons: It's not on the ocean and the finish is too hard. We've made the finishing holes easier and more forgiving.
The fairway bunkers on the 16th hole have been moved to the right, so it will be an easier lay-up shot. We added a tee at the 17th. On the 18th, we're taking out the fairway bunker on the left, we're moving the green to the left and there will be less undulation to your approach shot to the green.
I know you have a small gym and a few massage tables, but there has been talk of expanding the spa experience at Bandon Dunes.
We don't use the word "spa" at Bandon Dunes. We will call it a fitness center, it will have eight to 10 massage rooms, and it should be open in July. It will be next to McKee's Pub, in what used to be an administration building. It's what we need. After playing 36, or 49 holes in a day, the last thing you're looking to do is push-ups or lift free weights.