The Loop
For the December issue I Ambushed at Hawks Ridge in Ball Ground, Ga. While I was there I was told Jerome Bettis had just joined the club and was playing the back nine. The Bus was a perfect candidate for a Q&A in the travel section of the magazine.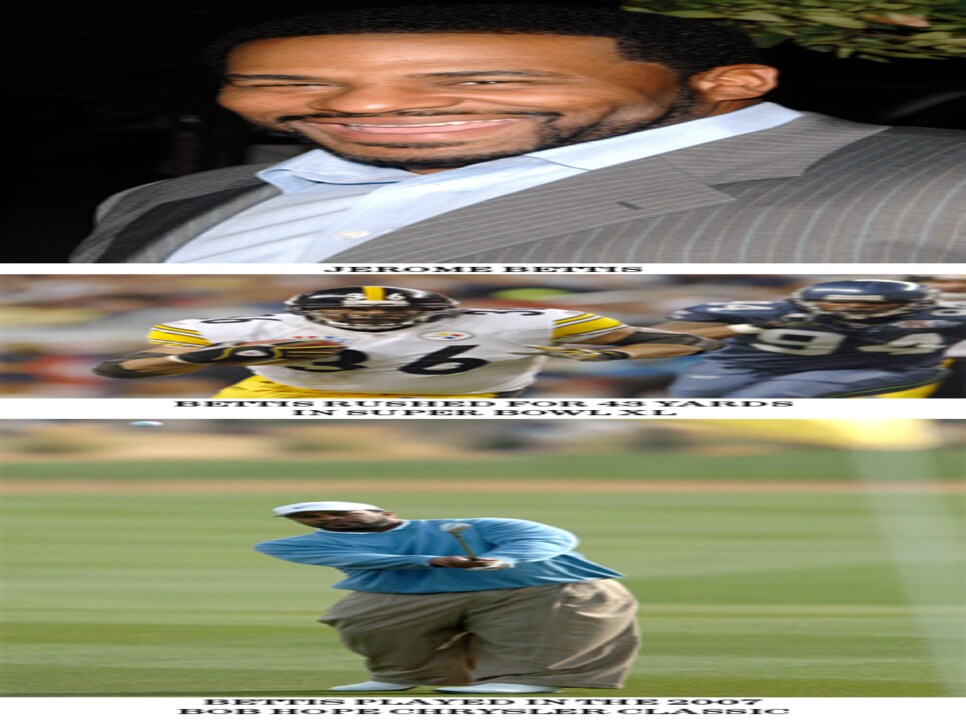 After I explained the Q&A to Bettis, how much time I'd need, that I could do the interview by phone at his convenience and that I'd be happy to go through his agent to get a date to talk, would you believe Bettis said, "Here's my number. Just call me directly when it's good for you."
Cue the parting of the clouds, a ray of light and gospel music.
I'd have an easier time trying to get 10 minutes with President-Elect Obama than I'd have trying to get time with a tour player these days. And I'm only asking for 15 to 20 minutes over the phone.
YOU KNOW IT'S BAD WHEN: I just had Boo Weekley's agent tell me the best way to do the interview is via e-mail. "He feels more comfortable doing it that way," was what I was told.
Really? I can't talk to Boo directly? My thought being, if Annika, Elway, Greg Maddux and Molly Sims can give me some time over the phone, surely I shouldn't have to fight for real time with Boo.
Arnold Palmer, who hasn't needed a minute of press since the '70s, still signs autographs for an hour every day. Not only that, the living legend spends thousands of dollars every year paying for the postage to get the items he signs back to the people who sent the stuff in. The man, who earned the nickname The King, not only gets "it"--he invented "it." Which explains why Palmer, 30 years removed from competitive golf, still annually earns $29.5 million.
These modern-day golfers getting big paychecks for finishing in the top 100, better be investing wisely. Tour purses look good for the first part of 2009, but my guess is, they won't stay that way. A big portion of tour sponsorship comes from car companies and financial institutions. Last I looked . . .well, back to The Bus.
Bettis is fifth on the list of the NFL's all-time leading rushers. He's behind Emmitt Smith, Walter Payton, Barry Sanders and Curtis Martin. He's just ahead of Eric Dickerson, Tony Dorsett, Jim Brown, Marcus Allen and Franco Harris. Not bad company.
Here's a link to my entire conversation about golf, travel and food with a guy not afraid to give out his digits. I liked the part when Bettis talked about beating Michael Jordan:
You played in the celebrity golf event in Lake Tahoe this past summer. You beat Emmitt Smith, Michael Jordan and Lou Holtz. Who did you take more satisfaction from beating?
Michael Jordan, because when I was first starting to play, I'll never forget it. I was playing at the Mario Lemieux event and they had a dinner the first night. Michael called me over. He immediately looked at the sheet to see what I shot that day and I'll never forget, I shot a 95, and he said, "You're not ready yet." Basically he told me to come back when I'm ready. So for me to beat him in Tahoe, that was pretty cool.
Arnold Palmer was kind enough to give me 15 minutes over the phone a few weeks ago. You'll be able to read about his thoughts on golf and travel in the January issue of Golf Digest.