48. Castle Pines Golf Club
When Golf Digest began its annual Best New Course awards in 1983, the review panel selected Castle Pines as the Private Course winner, but Bill Davis, co-founder of Golf Digest and founding father of all its course rankings, didn't care for the course and vetoed its inclusion. So no private course was honored that year. Davis soon recognized his error, and in 1987—its first year of eligibility—Castle Pines joined America's 100 Greatest and has remained there ever since. Club founder Jack Vickers, a Midwest oilman, had urged architect Jack Nicklaus to produce a mountain-venue design worthy of a major championship. Jack did, but when a championship never resulted, Vickers established his own, The International, which for many years was the only PGA Tour event played under a unique Stableford format. It's a pity that The International is no longer on the Tour's schedule.
100 Greatest History: Ranked since 1987. Highest ranking: No. 28, 2009-2010. Previous ranking: No. 48
Watch Golf Digest's latest "Every Hole At" course videos below:
Panelist comments:
"Castle Pines gets really high marks in playability for presenting a wide variety of challenging holes in smart packages; five sets of tees allowed players to select from 5,488 yards up to 7,701 yards in length. You don't often see such a degree of playability in an upper-echelon private club."
"Rolling terrain, uneven lies, split fairway options. Design variety was solid but not outstanding due to a significant amount of holes playing to a left-to-right tee ball hitter's advantage."
"This is a great golfing experience, from the valet at the front door to the chocolate shake at the end of the round. The course is beautifully set and is not as severe as some of the Nicklaus' course I have played. It is very demanding but fair in all respects. On my "I could play here everyday" list. Try the homemade potato chips, too."
"Perhaps Jack's most fun course to play while still offering a significant challenge. Spectacular views of Pike's Peak with impressive elevation changes on this site. It's not as difficult as Muirfield Village, probably because it's easier to get around the greens, though you still need well-hit, long approach shots to score."
"The course takes advantage of the beautiful vistas and does a great job framing tee shots and approach shots into the green. Several hole renovations are eminent and appear to be an improvement to playability in each case. Overall an enjoyable and challenging round of golf."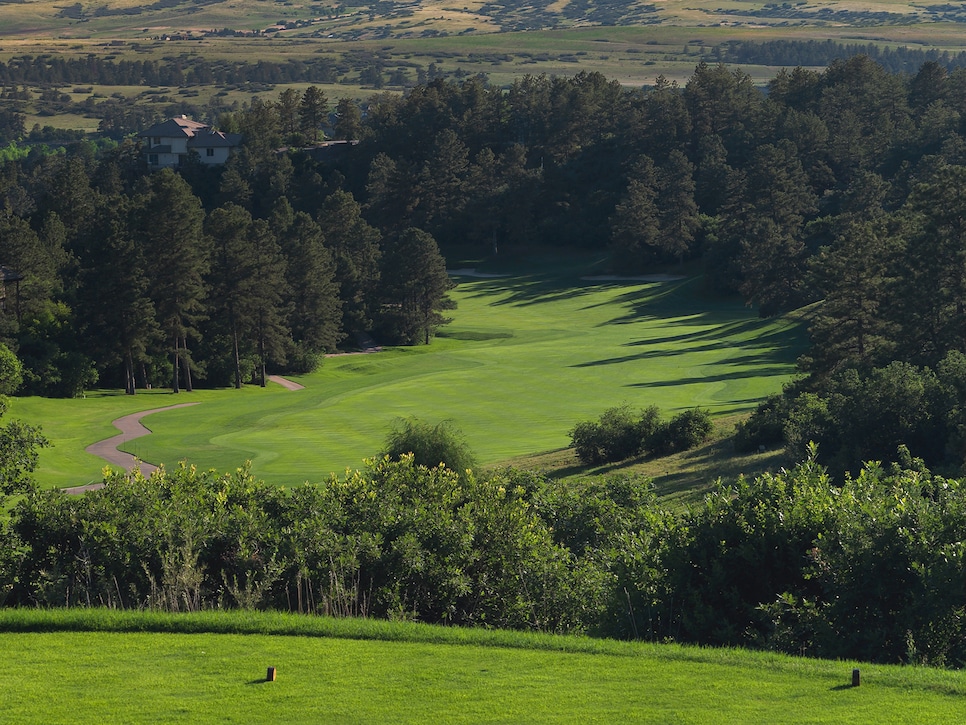 Courtesy of Castle Pines GC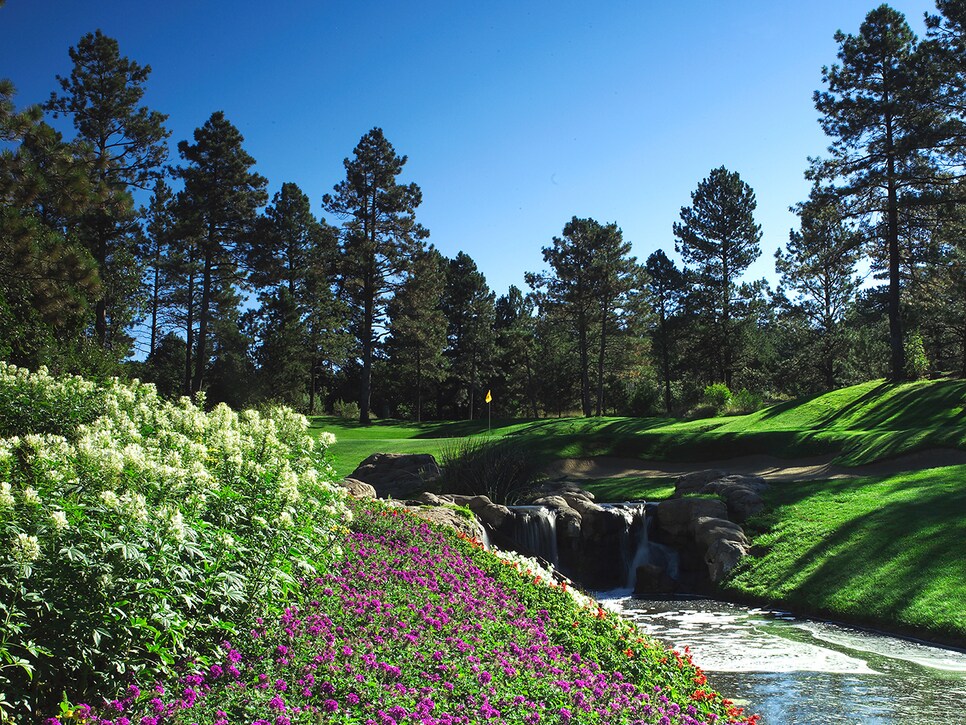 Courtesy of Castle Pines GC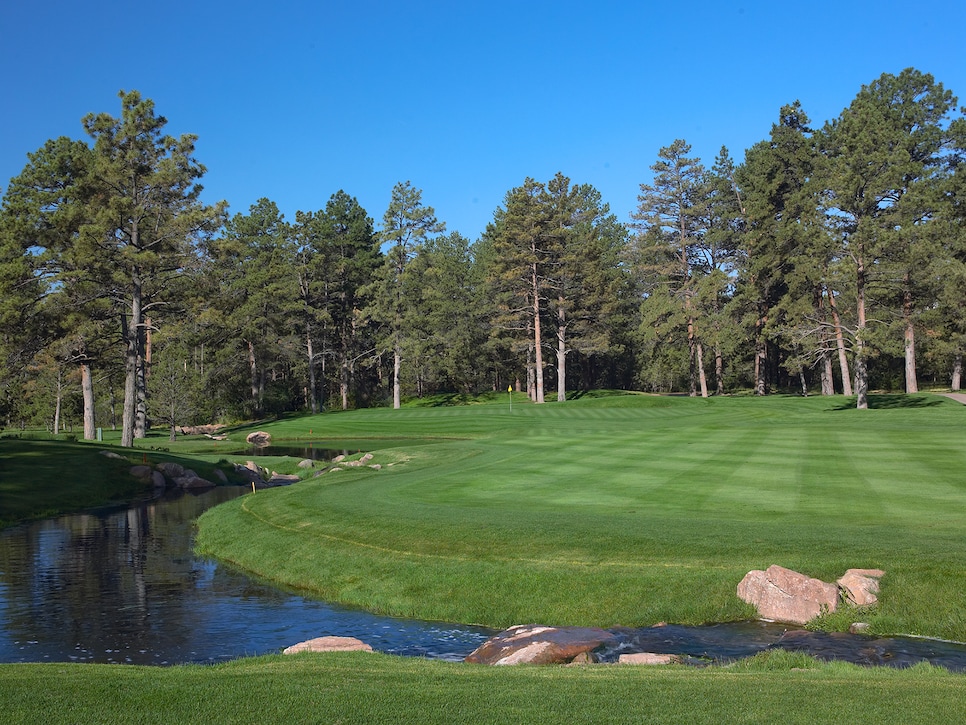 Courtesy of Castle Pines GC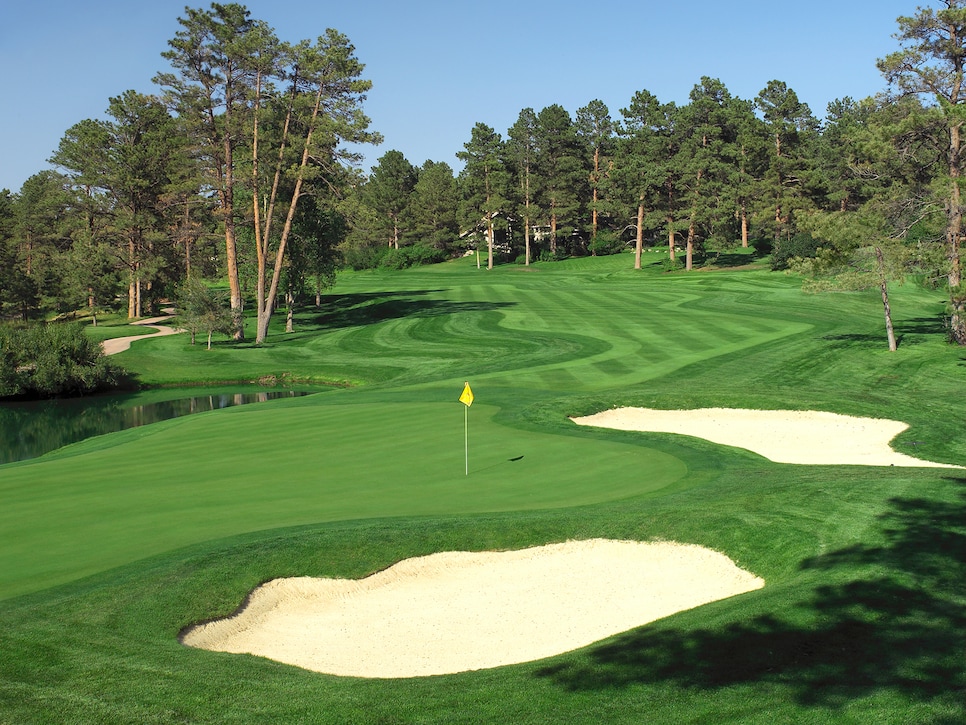 Courtesy of Castle Pines GC