The Loop
Martin manages to survive a taxing day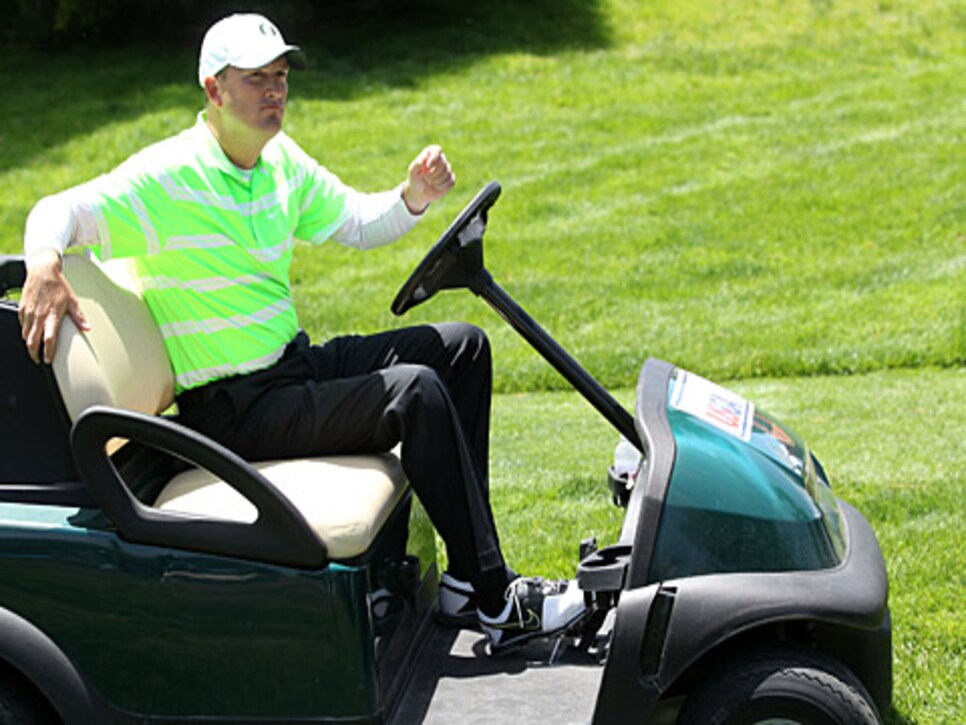 *Casey Martin wore Oregon green on day one at Olympic.
SAN FRANCISCO -- Through six holes of the first round at the U.S. Open Thursday, Casey Martin might have wondered what he had gotten himself into.
Tension was tainting his swing and bogeys were filling up his scorecard. This wasn't a good time for the competitive sweats, although since the disabled golf coach at Oregon hadn't really competed in six years, he knew what could happen.
"If you play golf, you kind of know what your swing feels like and then all of a sudden it gets under pressure and it feels like you've never hit a ball in your life before," Martin said. "It felt like that early on."
Early on, Martin was five over through the Olympic Club's tough half-dozen opening holes. Then came a welcome birdie at No. 7. Later on, his nerves settled down (some) and he finished with a four-over 74. It was the same first-round score he shot in his historic U.S. Open appearance at Olympic 14 years ago after he had sued for the right to ride a cart due to a painful congenital circulatory disorder in his right leg.
"It was a special day, really thankful that I played decently," Martin said. "But man it's a stress out there. I haven't felt like this in a long, long time."
With a respectable score that had him in the middle of the pack after one round Martin, 40, was hopeful about Friday. "My goal is just to relax somehow out there and be able to hit shots like I think I'm capable of and see what happens," he said.
Regardless of how he plays the rest of the Open, Martin will bring a message back to his Oregon team. "Get really good if you want to play out here," he said. "Get really good because it's hard, it's hard. But this is an awesome stage, and I love this tournament."