The Loop
Captain Couples: 'Finish by Spieth a...wowza'
It is not easy to ascertain what Fred Couples is thinking, even when he attempts to articulate it, what Golf World editor-in-chief Jaime Diaz once described as "one of his trademark stream-of-consciousness rambles that usually leaves the questioner too puzzled to follow up."
But it seems a safe bet that what Couples was thinking on Monday was that Jordan Spieth might look good in red, white and blue.
Couples again is the U.S. Presidents Cup captain, who on Wednesday will announce his two captain's picks. One of them could and should be the PGA Tour wunderkind.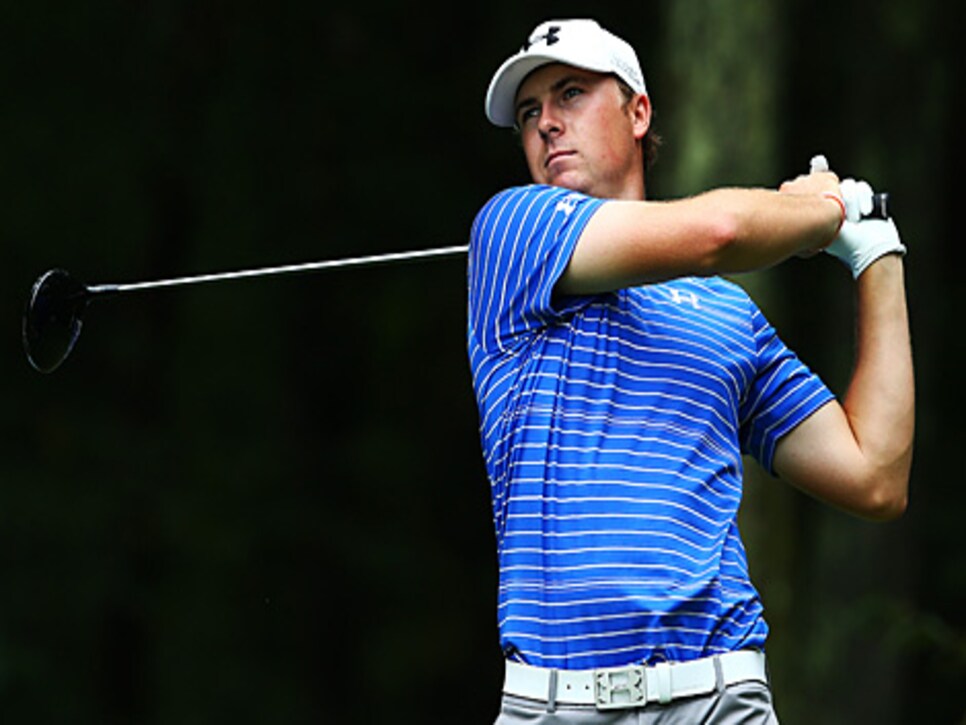 Spieth, 20, did not win the Deutsche Bank Championship on Monday -- Henrik Stenson did -- but he did shoot a final-round 62 that included a birdie, birdie, birdie, eagle finish that at the time vaulted him into a second-place tie. He eventually tied for fourth.
"That finish by Spieth was a Johnny Miller 'wowza,'" Couples said, according to NBC's Dan Hicks, who spoke with him by phone on Monday. Hicks also said that Couples was looking for Spieth's cell phone number.
Three days earlier, Couples, playing in the Champions Tour's Shaw Charity Classic, acknowledged that Spieth had squeezed into his Presidents Cup purview. But he also threw out a caution flag.
"If I was the Boston Bruins or Calgary Flames and I was making a playoff run late in the year, I don't make a trade for a rookie," he said. "I make a trade for a quality player that's good in the locker room, correct? Now golf, that's the way I look at it. I left Keegan Bradley off the team two years ago. He won the PGA and the Byron Nelson."
Yet this is no ordinary rookie. The start to Spieth's career brings to mind the explosive debut by another 20-year-old, Tiger Woods, in 1996, with one notable difference. Spieth was only 19 for nearly eight months this year and was still a teenager in July, when he won the John Deere Classic, the youngest winner on the PGA Tour since Ralph Guldahl won in 1931 at 19 years, two months.
Spieth turned pro in December, having played only one year of college golf at Texas. He began 2013 with no status on any tour, yet played his way into a PGA Tour membership. In 21 starts, he has finished in the top 10 eight times, tying him for second on the tour. In his last six starts, he has a victory, lost in a playoff and was T-4 on Monday.
Among Spieth's virtues is that he is as polite as he is talented. Accordingly, he declined to lobby on his behalf in a post-round interview on Monday. "There's just so many great players ahead of me in the standings," he said. "It's going to be a tough decision for Freddie. Whether I'm picked or not I'll be rooting hard for the American team. I think it would be an unbelievable opportunity for me. We'll just have to wait to see what happens."
Couples, incidentally, has experience keeping a Jordan around, having employed Michael as an assistant captain in the 2009 Presidents Cup. Golf's Jordan presumably can't dunk, but, like his namesake, he is adept at putting the ball in the hole. That, not his age or inexperience, ought to be the only qualification necessary.