Australian PGA Championship
Cameron Smith knows 'nerves' will be a factor as he tries to close out a sentimental win in Australia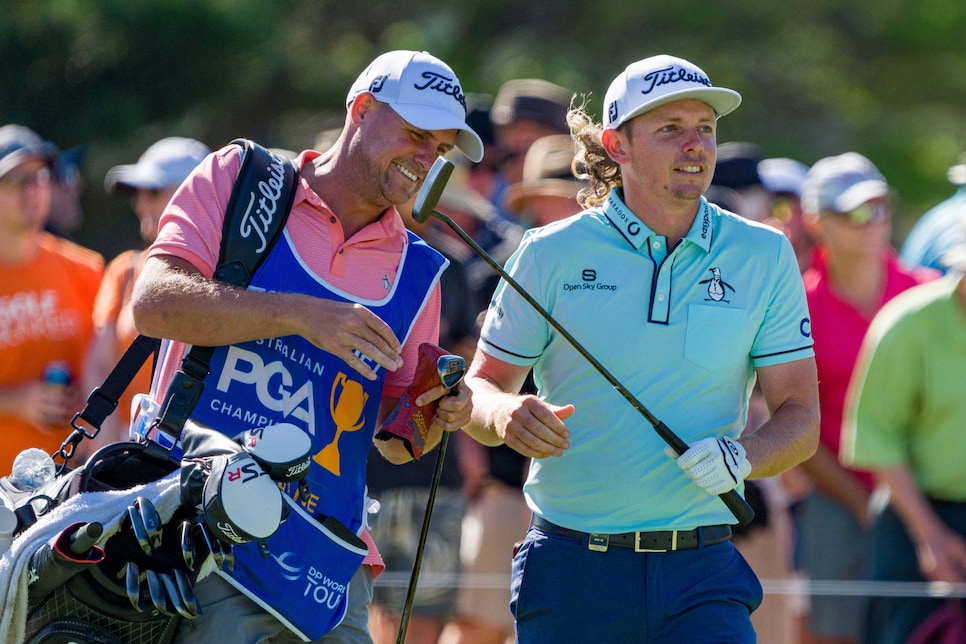 Cameron Smith's 69 on Saturday at Royal Queensland gave him a three-shot lead after 54 holes at the Australian PGA Championship, which he's trying to win for the third time in his career.
Andy Cheung
BRISBANE, Australia — Cameron Smith is comfortable being uncomfortable. The Australian has made that crystal clear throughout 2022, most notably at the Open Championship at St. Andrews in July when he stared down Rory McIlroy and others to win the 150th edition of golf's oldest major at the Home of Golf. It was his sixth PGA Tour win before leaving to join LIV Golf in September.
The nerves Smith felt that day in Scotland, when he overcame a four-shot, final-round deficit to take the lead after 13 holes, were so severe that the 29-year-old couldn't swallow water, or feel his hands, from the time he reached St. Andrews' famous par-5 14th until the winning putt on 18. Frightening for some, Smith relished the sensation of numb hands when in contention. He revealed as much during an awards dinner this week in his native Australia, where Smith is playing the Australian PGA Championship.
"It means you're playing really good golf and what better time, really, to be playing good golf than when you're in contention?" Smith said. "It's a really cool [mental place] to be in. I love that feeling, for some reason."
Smith is getting to replay that feeling, although on a slightly less intense stage at Royal Queensland. After shooting a third-round 69 in windy conditions to get to 11 under par, the World No. 3 has seized the 54-hole lead by three over China's Yan Wei Liu (70) and Japan's Masahiro Kawamura (71) while two-time DP World Tour winner Min Woo Lee was among four pros tied at seven under. Smith will tee off Sunday Australian time at 10:50 a.m. (7:50 p.m. Saturday E.T.) in a three-ball final group alongside Kawamura and Liu.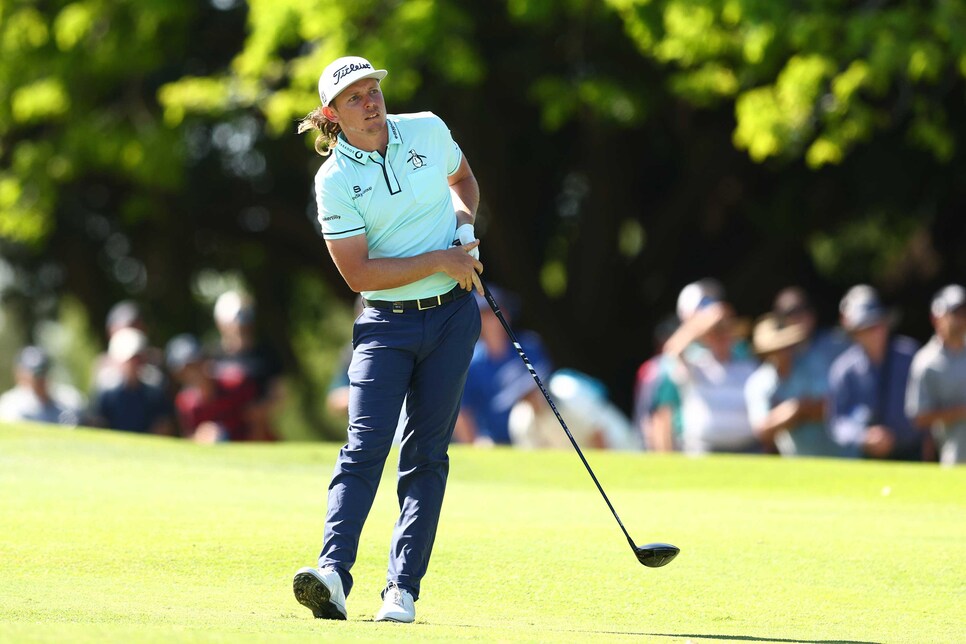 Cameron Smith admits that nerves will be a factor on Sunday as he tries to win for family and friends who are seeing him for the first time at home in three years.
Chris Hyde
"It'd be nice; I wouldn't complain with another one of these [Australian PGA Championships]," said Smith, who is making his first trip back to his home country in three years. "Everything's feeling really good and I'm confident, so I'm really looking forward to [the final round]."
Victory for Smith is not a fait accompli, though, especially if you ask the golfers in chase. Liu appears to be playing with house money; the World No. 900 got into the Australian PGA in the very bottom category on the entry list: players who made the 72-hole cut at the recent DP World Tour Qualifying School but who finished outside the top 25 there. Liu, 25, turned pro at age 17. He has only played four Official World Golf Ranking-sanctioned events this year due to COVID-19 restrictions in his native China. He respects Smith and admits he'll be "edgy," but is not necessarily scared of him.
"Cameron Smith will be very, very exciting for me," Liu said. "He's, by far, the best player to play with in a tournament round, so I'll be looking forward to that. I'm definitely going to be a little bit edgy out there tomorrow, but I'll have the same mindset last two days and give it my best shot."
"It will be amazing; that's why we play golf," Lee, the younger brother of LPGA Tour star Minjee Lee, said. "[Smith] is a top golfer for a reason. I'm striving to [get to that level]. I want to see if my game matches up with his. If the wind blows like this, it doesn't matter how good you are, it's going to be tough [in the final round]."
"I still get nervous," Smith said. "I think I've become better at handling the nerves and playing under the nerves."
Maybe. But as was the case at St. Andrews, we probably won't be able to tell.