BMW Championship
Cam Davis spent most of season desperately chasing top 50 in FedEx Cup and ignoring it at the same time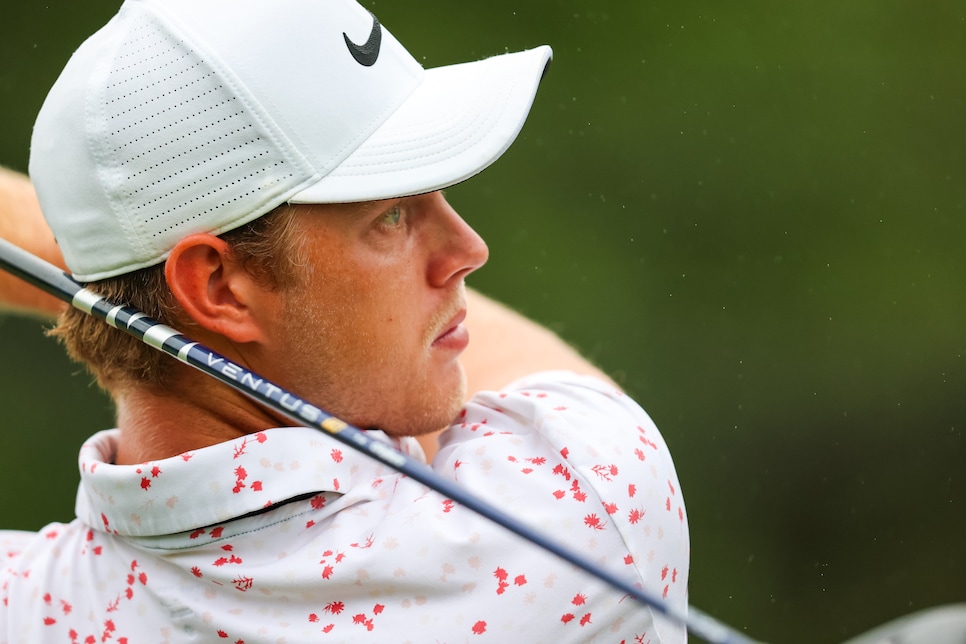 Cam Davis overcame struggles early in the season to reach the FedEx Cup Playoffs.
Icon Sportswire
OLYMPIA FIELDS, Ill. — There are some PGA Tour players who prefer to not look at a leaderboard during their round. Then there's Cam Davis, who spent most of his 2023 season eschewing a peek at the FedEx Cup standings.
At least he did so until it mattered. Which was, well, recently.
Davis is one of two players (along with Hideki Matsuyama) who played his way into the BMW Championship, the second leg of the three-tournament FedEx Cup Playoffs, arriving at Olympia Fields Country Club in 45th place in the FedEx Cup standings. The Australian native knew exactly what he had to do last week at the FedEx St. Jude Championship, coming up with a nervy T-6 finish at TPC Southwind, his third straight top-10, after he entered the week 62nd.
When he missed the cut at last month's Genesis Scottish Open and then didn't get into the British Open as the first alternate, he was outside the top 70 needed to advance to the playoffs. Then Davis turned in a T-10 at the 3M Open and T-7 at the Wyndham Championship. It was gut-check time, and it turned out his gut was OK. Apparently, it's a pattern with him.
"I feel like when it is kind of a do-or-die situation, some of the inhibitor actually is taken off in my brain," Davis said. "I've got free reign; the only way I'm going to succeed is if I make a really committed swing and not just go for broke but definitely play without fear of making a mistake."
Davis, 28, who played in the 2015 U.S. Amateur at Olympia Fields, had his sights set on making the top 50 since the tour announced in March that reaching that status will exempt players into the more lucrative $20 million signature events in 2024. Oddly, he spent most of the year intent on not tracking his progress. Who needs that headache? Not Davis.
"I feel like it's an extra element that up until the end of the year, I feel like it hurts more than helps knowing [where he stood]," he said. "Even if you win early in the year, you still need to play a lot of great golf to maintain your standing and keep improving, and I feel like anything extra on top of just the things you can control and the things you're trying to do week in and week out to play well is just not really needed as something to clutter up the mind.
"I've played with it on the back of my mind the first couple of seasons I was out here, and I don't feel like it really helped me at all," he added. "It just created more pressure each week. I feel like I've gotten to the point where I'm starting to figure out what works and what doesn't when it comes to what I think about."
That's not to say he didn't have a sense of how he was faring. He began the year with a strange illness that contributed to him missing five straight cuts starting at The American Express. "A really great way to start the year, no confidence whatsoever," he said.
He ended the poor run with a T-6 at the Players and then finished T-4 at the PGA Championship at Oak Hill, his best effort ever in a major. Those were the high points. But Davis, ranked 49th in the world, still didn't keep track of his progress until the final push.
The approach has been a success. Another top-10 and the one-time tour winner will have a chance to advance again to next week's Tour Championship for the top 30 in the points standings. The perks for that distinction include a Masters berth and a two-year tour exemption.
"This year a lot of the time was kind of spent stressing about whether or not I was going to make it to the playoffs or keep my card or how was it going to be at the end of the season," Davis admitted. "To kind of turn it around and really finish strong like this is really satisfying because I've pulled myself out of some pretty deep holes this year."