The Loop
Calvin Peete, 1943-2015: One of golf's least likely champions
Calvin Peete had an aversion to heat that was rooted in the summers of his youth and long hours picking corn and beans beneath Florida's blistering sun. It left sweat stains on his soul that would not allow him even to keep a vegetable garden at home.
One day, friends invited him to play golf. "Who wants to chase a ball under the hot sun?" he asked rhetorically.
Peete, who died Wednesday morning at 71, was as unlikely a champion as golf ever produced. There was his upbringing; he was one of 19 kids from his father's two marriages and was a high school dropout who worked in the fields "from sunup to sundown," People magazine once wrote, "or, as he would say, from can to cain't.'" He had diamonds implanted in his two front teeth and sold jewelry to migrant farm workers. He did not take up golf until he was 23, and in a sport that preaches left arm straight, his was permanently bent from falling off a tree and breaking it.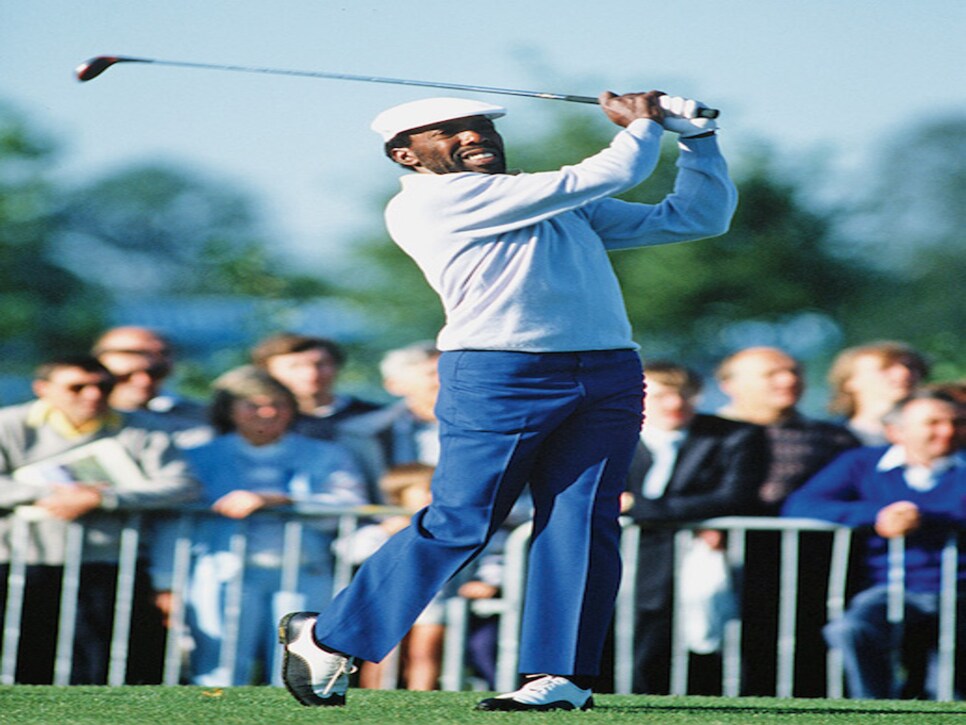 He not only took up golf, he became proficient at it, winning 12 tournaments, including the Players Championship in 1985. Eleven of those victories came from 1982 through 1986, more than any other player, and spent 20 weeks in the top 10 in the World Ranking. He won the Vardon Trophy for lowest scoring average in 1983. Jack Nicklaus was second. He also played on U.S. Ryder Cup teams in 1983 and 1985.
"Calvin was an inspiration to so many people," PGA Tour Commissioner Tim Finchem said in a statement. "He started in the game relatively late in life but quickly became one of the tour's best players, winning and winning often despite the hardship of his injured arm."
His arm was crooked, but his forte was straight. For 10 consecutive years, from 1981 through his last full season in 1990, he led the PGA Tour in driving accuracy. In 1983, he hit 84.55 percent of the fairways. He also led the tour in greens in regulation on three occasions.
Peete was a quick study. Within six months of taking up golf, he was breaking 80. A year later, he was breaking par. He never took a lesson, but read instructional books by Hogan and Snead, Nicklaus and Toski. At the age of 32, he earned his PGA Tour membership.
"I can still remember watching Calvin hit drive after drive straight down the middle of the fairway, an amazing display of talent he possessed despite some of his physical limitations," Finchem said. "Throughout his life, he gave so much, and we especially noticed it when he moved to Ponte Vedra Beach as he continued to support the community, the PGA Tour and our various charitable pursuits.
"Along with his wife, Pepper, he made such a difference working with the First Tee and junior golf in this area. Calvin will always be remembered as a great champion and an individual who consistently gave back to the game. We will dearly miss him."