The Loop
Calcavecchia: Can't putt any worse with a 3-wood
SAN FRANCISCO -- You don't win almost $25 million in career earnings as a professional golfer if you can't putt. That said, Mark Calcavecchia and his short (or not so short) stick have always had a love-hate relationship. It was veering toward the latter Saturday during the third round of the Charles Schwab Cup Championship at TPC Harding Park.
"On the 14th tee, I took a gander at Lake Merced down there and I wasn't capable of throwing it that far in the air, and I probably would have hurt myself more than I'm already hurt," Calcavecchia said. "I saw a kid standing there with Hunter Mahan's Presidents Cup caddie bib. He was carrying around a stick. I thought I'd give him a putter to carry around instead."
Calcavecchia gifted his Ping belly model to 10-year-old Ryan Brownlie of Castro Valley, Calif. While the sixth-grader toted his souvenir, Calcavecchia putted with his 3-wood for the last five holes.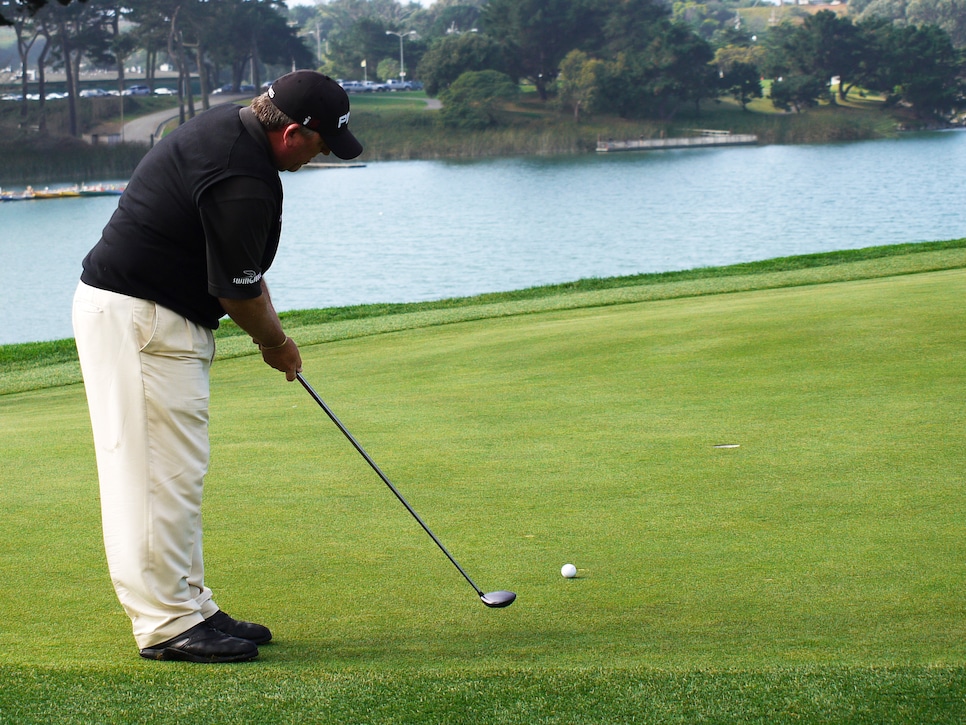 Mark Calcavecchia, putting with his 3-wood (photo by Bill Fields)
"I three-putted 14 when I knocked the first one by about seven feet," Calcavecchia said, "then I parred 15 and birdied 16, when I made a five-footer. It was my long putt of the week. I'm not kidding you - I've had 32, 34 and 36 putts this week. I'm good for 38 tomorrow. I might just stick with the 3-wood and not even bring a putter out. Maybe I can find a long one, but my options are slimming down quick."