The Loop
Caddieing for a Hall of Famer was actually as cool as it sounds
TROY, Ohio -- Hale Irwin has just put a ball in the creek on the short par-4 17th hole at Troy Country Club, and his caddie is looking for a place to hide. I have no chance.
"Why did you let me hit that club?" Irwin says, trying to look perturbed while handing back the offending 3-wood.
Well, because he wanted it. The first lesson in being a caddie (that's me in the red visor and sunglasses below) for a Hall of Fame golfer is that you never question his decision. The second lesson is whatever happens is your fault if you don't know when to break the first rule.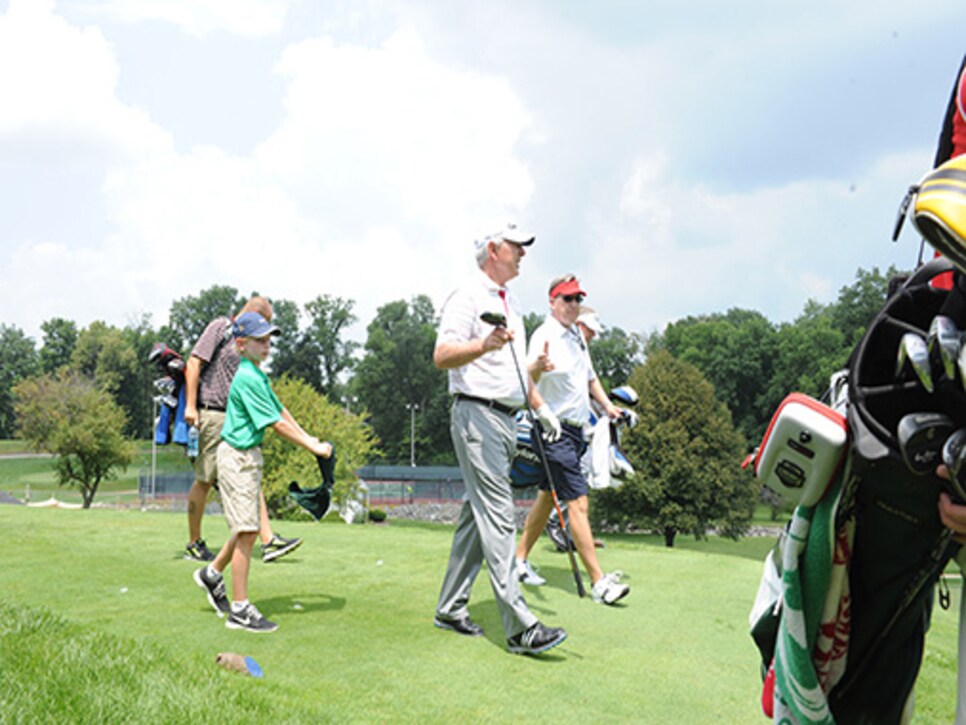 The occasion was two-fold: to celebrate the city's bicentennial and to raise money for Hospice of Miami County. Irwin, who for years has supported various charities, including St. Louis Children's Hospital (where the Hale Irwin Center for Pediatric Hematology/Oncology resides) was joined on a sun-splashed day in southwest Ohio by PGA Tour veteran Frank Lickliter. A two-time tour winner, Lickliter, 45, grew up in nearby Franklin, Ohio.
The outing was Troy's second celebrating a milestone; 50 years earlier future Hall of Famer Gary Player and reigning PGA champion Bobby Nichols played an exhibition at Troy C.C. in conjunction with the city's sesquicentennial.
Irwin and Lickliter spent seven hours on the grounds, signing autographs, posing for pictures and giving a 30-minute golf clinic highlighted by the most difficult shot I have ever seen executed -- the intentional topping of tee shots. When Irwin coiled his 69-year-old frame and dribbled his ball 10 yards, Lickliter spoke up, saying, "People don't know how hard that is." He proceeded to refute the claim when he followed on cue with his own dub while taking a violent cut at the ball.
There were few mis-hits on the course, with Lickliter shooting a bogey-free 65 and Irwin a 69 despite a sore left hip, which the day before had been a sore right hip. "It's radiated from one side to the other," said the three-time U.S. Open champion, who planned to skip the next two senior events.
In front of a gathering of about 250, each man played with a collection of local club pros and prominent amateurs, including Gareth Johnston, one day removed from her 25th club championship win, and Michael Walker, who has won 12 club titles at Troy. Walker's father, Joel, spearheaded the outing. He's the former publisher of the local newspaper who has covered the Masters for more than 40 years and happens to be one of the early investors in Golfweek magazine.
Lickliter's team triumphed in the better-ball competition, turning in a 61 to Irwin's 63. Probably because he was provided a better caddie.
Carrying Irwin's bag proved fascinating. He rarely hits a stock shot, meaning he always is looking for a way to work the ball. When his second shot on the par-5 10th found a bunker about 30 yards short of the green, he didn't grab a wedge, as we amateurs might be inclined. He took a 9-iron and ran the ball up the slope near the hole. Birdie.
His competitive spirit was evident when a couple of tired swings didn't produce the desired results. When one approach shot came up short, he rehearsed his turn several times while his partners hit. Always working.
"There's only one way to play the game, and there's no point in playing if you're not totally committed to hitting the shots you want to hit," Irwin said.
Hmmmm, so that's how you win 20 times on the PGA Tour and a record 45 on the Champions Tour. Among the lessons gleaned from the day, that was the most significant.