Courses
A Taste of Scotland in Nova Scotia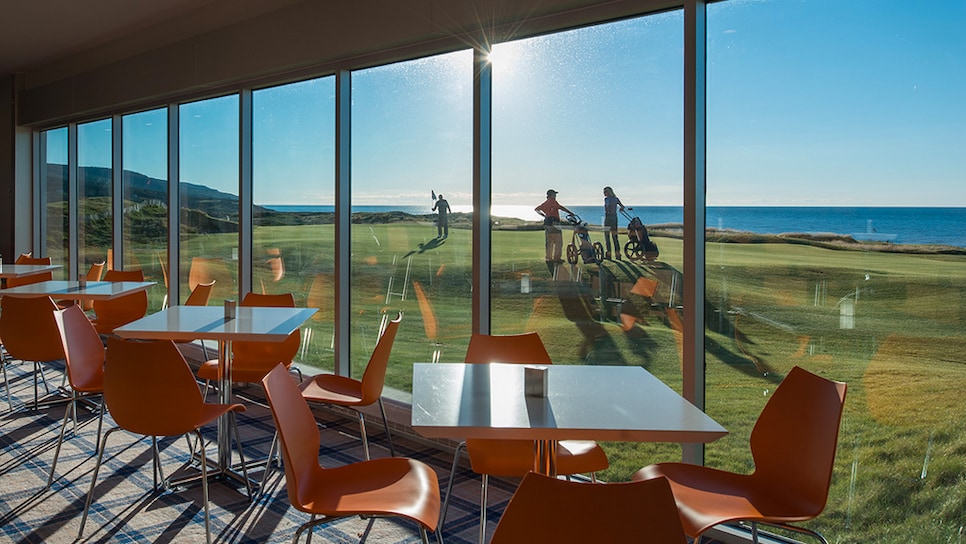 Cabot Links, the picturesque new golf resort perched on the cliffs of Nova Scotia in southeastern Canada, is deep into a winter chill and the course won't open until spring, yet there are 35 staffers hard at work around the property. The 48-room boutique golf resort has been piling up accolades since opening in 2012, including Golf Digest's Best New Course in 2015 for its much-anticipated second course, Cabot Cliffs, which is opening for public play in June. The year-round commitment reflects a driving passion that comes from the resort's owners, Canadian entrepreneur Ben Cowan-Dewar and Mike Keiser of Bandon Dunes in Oregon, to be authentic and the very best. "All of our decisions are based on 'How do we make it better'? You can't just do things one way. Can't say 'sorry sir,'" general manager Andrew Alkenbrack contends. "We try to anticipate the different requests and preferences before we get them and before the guests even get here."
"As we were starting out here, we set the foundation to showcase all things Canadian," says Alkenbrack, who is one of the few staffers not from the Cape Breton area, but he's so committed to Cabot that he's building a house there and marrying a local. "You can go to places that are trying to be like somewhere else but from its inception, the biggest thing here was to use local people, local experts, local produce."
Cabot's Scottish accent is authentic. Nova Scotia means New Scotland, and in the first half of the 19th century there was an influx of Highland Scots in the area. Today, the Celtic spirit dominates Cape Breton' Island's culture, and as a result, whisky is a crucial part of the mix at Cabot Links. Not only because golfers have developed an unquenchable thirst for one of the games traditional pairings (the love affair between whisky and links golf goes back to the 16th century), but because whisky and Cape Breton have a history too. "Golf and whisky go hand in hand, and at Cabot we have set back the clock to where golf was born," says Alkenbrack.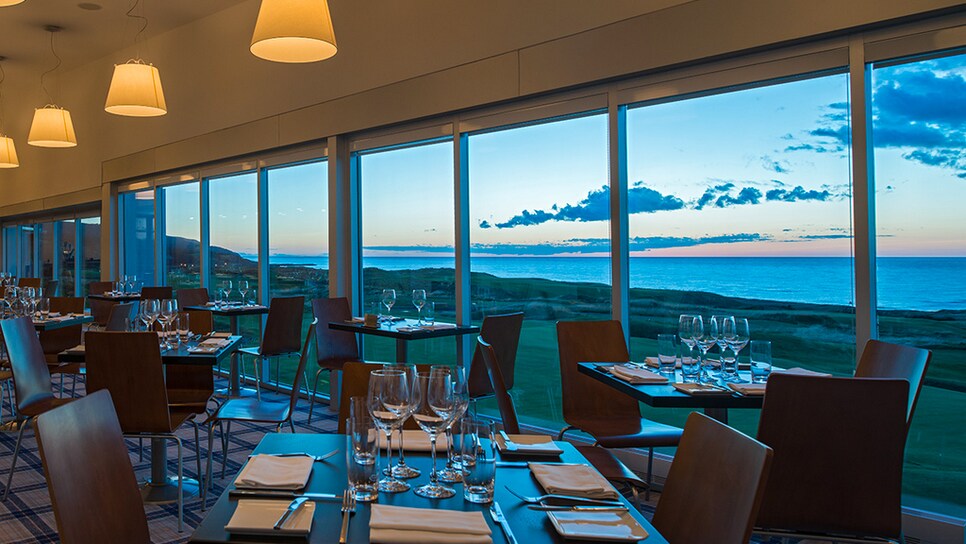 There's arguably no better place to enjoy the marriage of two great traditions than at the Cabot Bar, a favorite oceanside gathering spot for guests, with floor-to-ceiling windows and killer views of the 18th green, and sunsets that rarely disappoint. (The Gulf of St. Lawrence is a favorite gathering spot for Pilot whales, and it's not uncommon to see them at play from the bar.) The hotel has drawn on the expertise of the Glenora Distillery, which sits 11 minutes down the road in Glenville, and was the first producer of a single malt whisky in North America and still Canada's only maker of single malt. Glenora has produced a special-edition single malt for Cabot Links, the Glen Breton Cabot Links Edition 19 yrs.
The custom-made spirit is just one of the many offerings on Cabot's whisky menu, which features 70 varieties and continues to grow. The hotel's selection draws from various regions in Scotland and Ireland, with some familiar names like Macallan and Glenlivet but also some lesser-known pours such as Aberlour and Caol Ila. The list favors the lighter, more approachable single malts from the Lowlands and Speyside Glenkinchie, a Lowland whisky with a subtle, floral taste, is a popular request. "It's a good first approach for the whisky novice," says Alkenbrack. "We also have the heavier, smoky, peaty whiskies from Islay, which are definitely more of an acquired taste." The Bruichladdich Octomore is the most heavily peated and offers an "intense" flavor. "We've taken a balanced approach to whisky, with a great range of single malt that can satisfy many taste preferences. With such a range, we can be sure to get the right glass in your hands." For guests who want to delve further into Cape Breton's local Gaelic history and see how the premium spirit is made, tours of the Glenora Distillery can be booked through the hotel. But the better idea may be to stay put at the Cabot Bar and drink it all in--the local spirits, the authentic Scottish accent, the vibrant sunsets overlooking the links course, the warm personal service. As Alkenbrack notes, "We are here to please with a smile and a 'yes'."