Equipment
Picking the Right Junior Clubs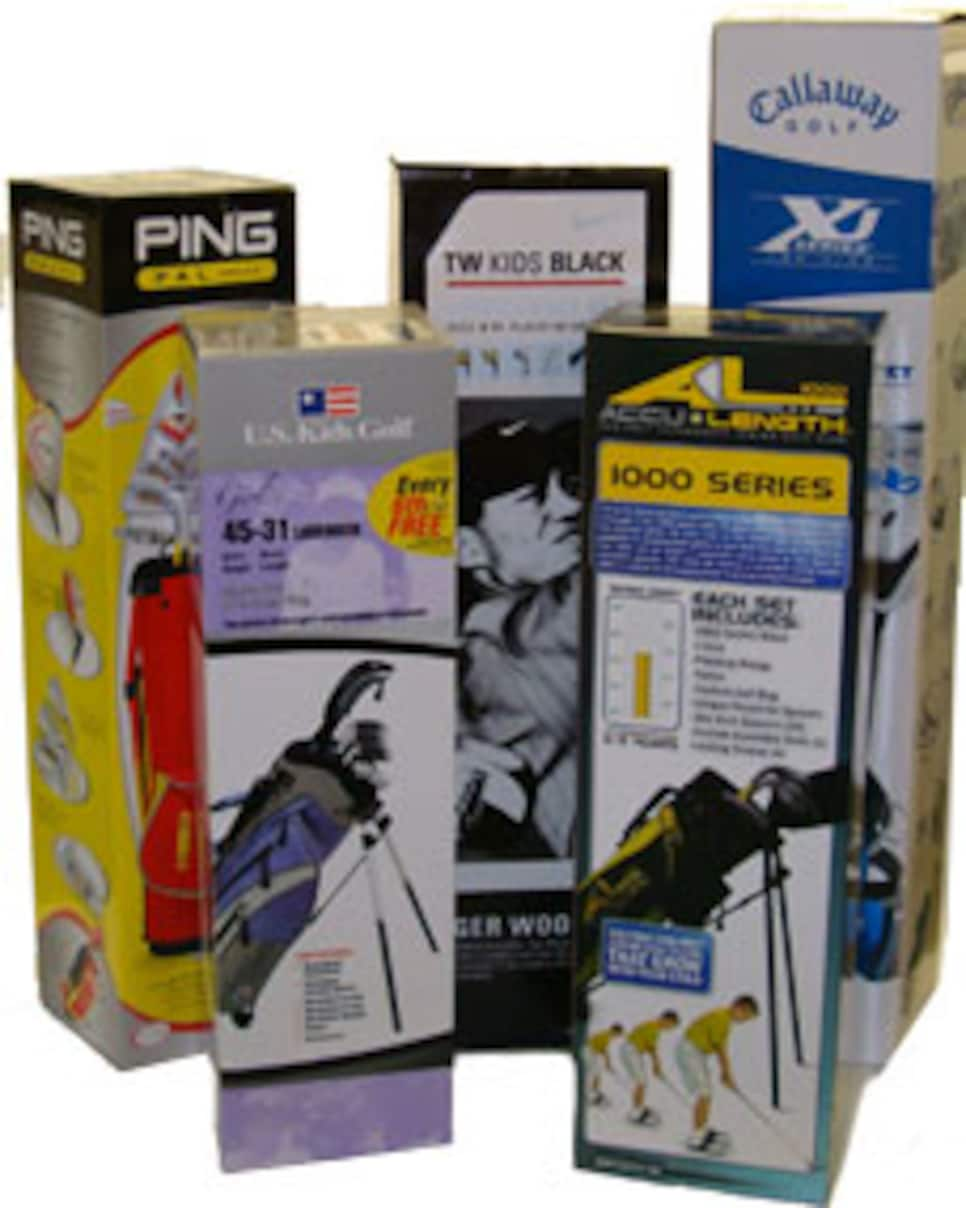 Seve Ballesteros used a cut-down three-iron to hit golf balls on a beach when he was seven years old. He later went on to win 91 professional tournaments worldwide, and is arguably the greatest golfer in European Tour history. And Andres Romero, a 28-year-old Argentinean and winner on the PGA Tour, began playing when he was six years old, using a club his father carved from a branch of a Mulberry tree. While these nifty methods have proven outstanding for Ballesteros and Romero, today's proper junior clubs are better than cut-down 3-irons and Mulberry branches. Indeed, you may think there are just too many options, but it'll serve you well to put some thought into which clubs and which pre-packaged sets best suit your junior golfer.
How many clubs do I really need to buy?
There's no need for a 5-year-old to carry fourteen clubs. Tony Dabbs, the product line manager for junior clubs at Nike Golf, has a 5-year-old daughter who enjoys hitting golf balls. Dabbs has access to every kind of junior club, for obvious reasons, but he began by giving her a wedge and a putter, and has slowly added a few irons, hybrids and a driver.
"My 5-year-old only practices with a wedge," said Dabbs. "Longer clubs are harder to control and can create frustration. Plus, she enjoys getting the ball up in the air, which is easiest to do with a wedge."
Even when kids venture onto the course, many have such slow swing speeds that 14 clubs become a pointless abundance.
"Depending on height and strength, most junior golfers can only swing so hard," said Jose Miraflor, the product line manager for junior clubs at Taylormade. "Because you need swing speed to create distance gaps between clubs, distance gaps are usually quite small or unnoticeable with kids. Therefore, a driver, a hybrid -- which makes it easier to get the ball in the air -- a 7-iron, a wedge and a putter are a perfect set. It makes sense to have 12-14 clubs only when a kid becomes 10 years old, can swing harder and sees a distance gap that's larger than five yards between clubs."
How much should I spend on a driver, and what's the ideal length?
Less expensive drivers are made from aluminum and stainless steel, while pricier ones are made from titanium. A beginning junior golfer who isn't quite ready for tournament play will do fine with an aluminum driver. Because it's a weaker metal than titanium, an aluminum head has to be thicker. This makes impact sound worse and won't help launch the ball as far, but that won't matter much at this stage in the game. A junior golfer with a higher swing speed who's ready for tournament golf, however, will reap more benefits from a driver with an all-titanium clubhead. It'll be worth the extra money.
And do your child a favor: Don't buy a longer driver hoping your kid will eventually grow into it. Even worse, many kids -- and their parents -- equate a longer driver with longer drives. But Dan Van Horn, the founder of U.S. Kids Golf and the developer of the U.S. Kids measuring system, says that couldn't be farther from the truth.
"A driver that's longer than two inches below the sternum encourages improper technique and slower hand speed," said Van Horn, whose company offers the most comprehensive fitting system among all junior golf equipment manufacturers. "And these early mistakes are tough to correct."
Miraflor understands that buying a new driver every time your child grows can become a financial issue.
"If they're struggling to swing with a driver that's a bit too long, it's okay to have them choke down on the grip," said Miraflor. "But a junior should never have to choke more than two or three inches down. At that point, the driver is too long."
When should my kid get professionally fit for clubs?
Tiger Woods got his first fitting at the tender age of four, and his clubs were rechecked every six months thereafter.
"It was a big part of my job to help Earl keep clubs fit to Tiger," said Rudy Duran, Tiger's first swing coach. "Earl knew the importance of club fitting, and as a result we worked together to make sure that Tiger had clubs that fit him every year."
Duran paid most attention to length, and also checked shaft flex, grip size and weight. But equipment companies today have taken a lot of the guesswork out by offering pre-packaged junior golf sets that meet Duran's basic criteria. Major manufacturers such as Callaway (callawaygolf.com), Nike (nikegolf.com), Ping (ping.com), TaylorMade (taylormadegolf.com), Tour Edge (touredge.com) and Wilson (wilson.com/golf have pre-boxed sets of junior golf clubs, designed for children of a certain age and height. And other equipment companies, such as Accu-Length (acculength.com) and U.S. Kids (uskidsgolf.com), focus solely on building junior golf clubs. The sets cost from $80 to $400.
"With these junior sets, until the junior grows to more than 60 inches in height, there's no need to get them professionally fit to each club in the bag," said Van Horn, who offers 10 different pre-packaged junior golf sets that are tailored to kids who are 27 to 63 inches tall. "The best thing to do is to learn a company's philosophy and follow it. The golf pro at your local club can help you decide which concept is best."
What kind of golf balls should my child use?
Unless your junior golfer is six feet tall and swings like Bubba Watson, chances are your child's swing speed is lower than 80 MPH. It's tough for anyone with such a slow swing speed to maximize a golf ball's distance-enhancing properties.
"Juniors with slower swing speeds don't compress balls and don't generate a lot of spin," said Miraflor. "So they will benefit from a ball that has a softer cover and spins more, which will stay in the air longer."
Most of the pre-packaged junior golf sets come with two or three soft-compression golf balls, which are more easily compressed by golfers with slower swings.
"We have two kinds of balls," said Van Horn. "One of them works for kids whose swing speeds are slower than 70 MPH. That ball's overall compression is in the mid-50s, which helps kids hit it farther. The other ball is for swing speeds around 90 MPH."
But don't feel limited to balls made specifically for junior golfers. Rather, balls like Nike's Power Distance Soft and Bridgestone's TreoSoft and e5+ have super soft cores that will help junior golfers maximize distance. Plus, the slew of women's balls currently on store shelves will help any junior launch the ball higher. Check out Callaway's HX Pearl, Nike's Karma, Precept's Lady IQ 180 and Srixon's Soft Feel Lady.