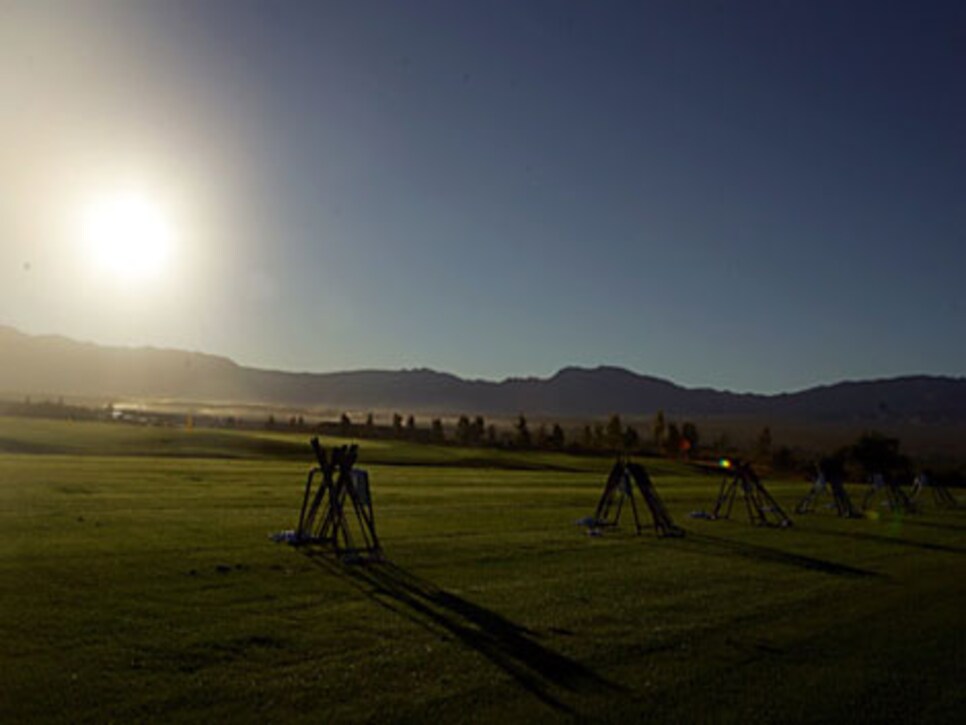 From the day it opened its gates in 1998, Superstition Mountain Golf and Country Club was one of the "it" clubs in the Phoenix area. Boasting a Spanish Colonial clubhouse and a pair of Jack Nicklaus-designed courses with majestic mountain views, the club exuded an air of wealth and success. And because Superstition Mountain was the host course for a popular Ladies Professional Golf Assn. tournament, its members got to hobnob with such stars as Annika Sorenstam -- a perk that made writing a $100,000-plus initiation check a little easier.
But as the economic downturn suddenly made a club membership seem more extravagance than necessity, Superstition's luck took a turn for the worse. With membership slipping and the developer behind the club and the adjoining residential development suffering his own financial problems, Superstition's lenders foreclosed and now plan to sell the property at auction this December. What happens then is anyone's guess, given that Superstition Mountain has only about half the 780 members originally envisioned. "It's just not feasible that the members take it over at this point," says Keith Bierman, the court-appointed receiver for the club.
For generations of golfing executives, joining a private club not only provided a venue to entertain clients but also served as a validation of their success. Now the economic downturn has created an existential crisis for many of the nation's 4,400 country clubs. To be sure, elite clubs such as Augusta National, Shinnecock Hills Golf Club outside New York City, and Riviera Country Club in Los Angeles remain impervious to the current downdraft, as do many of the most established, old-money clubs across the country. Hammered hardest are the thousands of middle- and lower-tier courses, as well as many, like Superstition, that sprouted throughout the Sun Belt during the past decade. Already, dozens are in foreclosure. And according to the National Golf Foundation (NGF), as many as 15% of the rest say they're suffering serious financial problems. Among the troubled are such venerable clubs as the Country Club of Lansing, Mich., and the former IBM Heritage Country Club outside Binghamton, N.Y., both of which are in foreclosure.
The pain isn't over, either. The number of golfers belonging to clubs now is down to 2.1 million -- 900,000 below the peak in the early 1990s. Experts such as consultant Jim Koppenhaver, whose Buffalo Grove (Ill.) firm, Pellucid, monitors the industry, believes at least 400 -- and worst case, 1,000 -- private clubs will have to close, convert to public play, or be absorbed into healthier clubs before the carnage is over. "The whole country club model is at risk," says Koppenhaver. But "for a lot of golfers, the value proposition of belonging to a club is hard to pencil out."
While it would be easy to ascribe the clubs' woes to the economic crisis, experts say the seeds were planted in the early 1990s, when Congress enacted tax reforms that eliminated or reduced the ability of club members -- and, more practically, their corporate employers -- to deduct club dues as a business expense. That raised the effective cost of joining clubs and gave rise to a new breed of upscale public courses some executives view as suitable, and cheaper, places to entertain clients. Societal changes had an effect as well. While earlier generations of men viewed their clubs as weekend sanctuaries from work, if not from the wife and kids, many executives in their 40s and 50s are opting to spend their weekends not on the course but on sports fields coaching their kids' teams.
The clubs themselves share the blame for their plight. Some took on huge loans to fund extensive renovations to courses and clubhouses, racking up debts they are currently struggling to repay. And while 500 of the clubs surveyed by the NGF say they've been running at a deficit, experts believe 2010 could claim even more victims. Most clubs give members a certain window each fall to suspend or shift to a cheaper plan in the coming year, and experts say many are doing just that. "There are clubs that are finding out right now that they're not going to make it next year," says David Shaw, a Greenvale (N.Y.) consultant to clubs.
To plug these shortfalls, troubled clubs are resorting to a variety of measures. At the roughly 500 clubs that told the National Golf Foundation they were suffering serious financial problems, heavy membership losses were a key culprit. As a result, 90% reported they had tried recruiting new members with discounted initiation fees -- and some, such as Inwood Country Club, a 108-year-old establishment on Long Island, N.Y., have waived their initiation charges for golf members. Others are merging with neighboring clubs to cut labor costs, which account for about half the expenses at an average club. That allows the clubs to share the cost of a bookkeeper, food-service director, and other staff. In Cleveland, two clubs facing declining memberships -- Sand Ridge and Mayfield -- merged three years ago, a move that enabled them to slash overhead enough to keep both courses. But with their combined membership down from more than 700 to 550 in the years since, the renamed Mayfield Sand Ridge Club is entertaining approaches from other clubs looking to merge their way in, too. "We're doing fine, but we're still looking for anything that would help our club," says Jon Outcalt, Mayfield's president.
Despite their best intentions, some of the clubs' efforts to stay afloat have current members grumbling. The offenses include opening the banquet rooms to outsiders and renting the courses for corporate outings and charity events. Not surprisingly, a number of the disputes involve money -- and lawyers. At some clubs, members have sued when the clubs dragged their feet on refunding their initiation fees until replacement members are found, a process that can take years at struggling clubs. In Lexington, Ky., seven members of the University Club of Kentucky filed suit in 2003 after club officials slashed the initiation fee from $12,500 to as little as $6,000. That, said members, violated the club's vows that the value of their memberships wouldn't decline. While the club and litigants reached a private settlement, Randolph Addison, a Dallas attorney who specializes in private-club matters, says the courts usually uphold the right of private clubs to alter their fees.
In the end, some industry insiders believe the long-term solution is to reinvent the country club, moving beyond golf to a broader array of services that meet the changing needs of younger members. In San Clemente, Calif., the once-bankrupt Bella Collina Towne & Golf Club has sold 120 new memberships in the past six months by adding pilates, karate lessons, and even a vegetable garden (for the restaurant) that members' kids help plant.
On the golf course, Bella Collina now offers a free junior golf program and permits members to take lessons from the club's instructors at no charge. That last move created turnover among the teaching pros, who viewed the cash from paid lessons as a perk of the job. But club officials say the gesture has helped get more mothers and children out on the course with their fathers. "The country club has to evolve and become like piazzas in Italy, the town square where families -- and not just the men who are golfing -- meet on weekends," says John G. Fornaro, one of the investors who bought Bella Collina last year. That's good advice, but it may be coming late to clubs where the wolf is already at the door.
By Dean Foust is chief of BusinessWeek's Atlanta bureau.