The Loop
Burned before, Dustin Johnson back for more
SANDWICH, England -- Trial by error. Grace under fire.
That was Dustin Johnson in 2010, playing well enough to earn a spot in the final pairing on Sunday in the U.S. Open and PGA Championship only to endure bitter disappointment. His game went south early with a horrendous front nine at Pebble Beach, and his judgment left him late at Whistling Straits when he failed to realize he was in a bunker on the 72nd hole and incurred a penalty for grounding his club that kept him out of a playoff.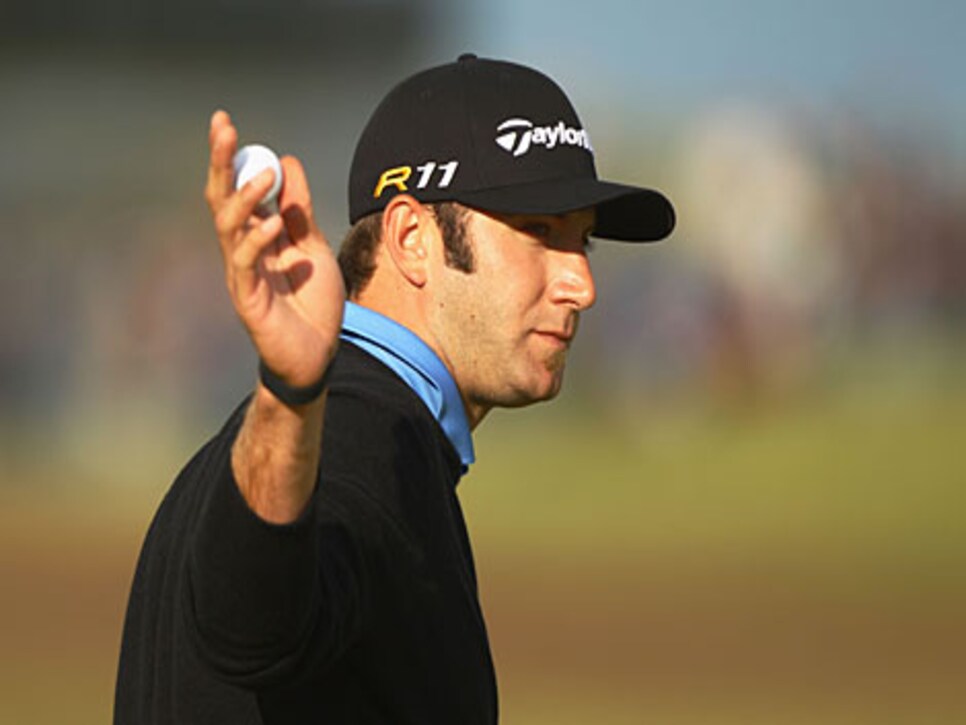 Learning experience sounds like a nice phrase until you're the one getting schooled,  but Johnson was a stand-up guy following both final rounds, making no excuses and vowing to be back. Great players have been down that same road, Tom Watson, the five-time British Open champion, among them, failing badly under pressure before realizing how to handle it. The education of a golfer understanding the crucible of majors is not cheap.
After a fine two-under 68 Saturday at Royal St. George's that moved him up the leader board in the 140th British Open, the 27-year-old Johnson has returned to familiar territory. At four-under 209, Johnson is just one stroke behind 54-hole leader Darren Clarke and in a final grouping with the Northern Irishman Sunday.
"Obviously I've been in this situation a few times, so I think the more you can put yourself in a situation, the more comfortable you get," Johnson said. "I'm going to be pretty comfortable out there tomorrow because I know what to expect, I know how to approach it, and I know what I do in those situations. So hopefully I can go out and play some solid golf like I've been doing the last few days."
It is somewhat remarkable that Johnson finds himself in the heat of contention given the way his championship began. Feeling bad with a sore throat that sapped his strength, Johnson started poorly Thursday. He was four-over after 13 holes before going on a birdie-birdie-ace-birdie run that salvaged the day. "That kind of kept me in the tournament," Johnson said. "I just fed off of that."
Phil Mickelson, who toiled for years before winning his first major championship, is a frequent practice-round partner of Johnson's and admires the South Carolinian's game. He thinks the hard knocks Johnson got in 2010 will help him deal with the pressure Sunday.
"Given the way he's played the first three days, you can't go against [him]," Mickelson said. "Plus, the fact that he's been there before and knows what hasn't worked for him [in majors] and he also knows what has worked for him in some tournaments. I think he'll be more ready than ever to play."
Johnson, who first experienced links golf when he came to Scotland and played in a tournament at St. Andrews when he was a member of the Coastal Carolina team, enjoyed the style of play from his first taste. "You've got to hit different kinds of shots," he said. "You've got to cut it, you've got to draw it, you've got to hit it low, you've got to hit it high and I enjoy that. You've got to control your golf ball, which I think I do a very good job of. I'm not surprised that I'm close to the lead. I'm just really enjoying playing this golf."
Having felt better each day after beginning a course of antibiotics on Wednesday, Johnson talked about all the right things following his third round. He said that he would "just take what the course gives me" and "play aggressive when I can and then play smart when I have to."
If Johnson's actions match his words, the third time could be the charm. One thing is certain: He will learn more things about himself tomorrow, whether or not he's smiling when class is over.
(Photo: Scott Halleran/Getty Images)