AUGUSTA, Ga. -- When you think about a guy named Bubba, Forrest Gump comparisons can come to mind. And Bubba Watson is indeed like a box of chocolates. You never know what you are going to get.
On Sunday, the 37-year-old, two-time Masters champion was subject of a "60 Minutes" segment. In an easily digestible 10 minutes, casual golf fans got what for them was probably a fresh look at Watson. The man who, despite the fun-loving image he has presented to more than 1.5 million followers on Twitter, can sometimes come off as guarded and dismissive, was revealed as a complicated and vulnerable manchild, trying but often failing to harness a gift that cuts both ways.
And since I consider it an overstatement to label Watson as polarizing, it was nice to see Bubba come off as likeable, which is how, all thing's considered, how I've always found him.
It's well established that to many, either from afar or close up, Watson is annoying. His on-course venting after a bad shot ("Water on the clubface, bro! I got no chance!"), seemingly directed at his longtime caddie, Ted Scott, is interpreted as abusive, giving rise to #prayfortedscott.
Anyone overly envious of Watson can take comfort in the lefthander's struggle with internal chaos.
But Watson and Scott are extremely close, with the caddie being more valued for the trusted guidance he gives his friend off the course. Himself a veteran of the mini-tours, Scott is anything but offended by Watson's outbursts in competition, seeing them as both a necessary release of pressure, and a signal that he'll soon have to summon the right words in the right way to settle his congenitally-jumpy player down.
More stinging to Watson is the widely-accepted notion that he isn't popular with his peers. Last year in a published poll, he was voted the player least likely to be helped in a fight. It seems the main cause of the antipathy is Watson's habit of not making eye contact or saying hello in and around the locker room. In a world of necessarily self-involved individuals playing an extremely demanding sport, the accepted protocol of light social interaction takes on disproportionate importance.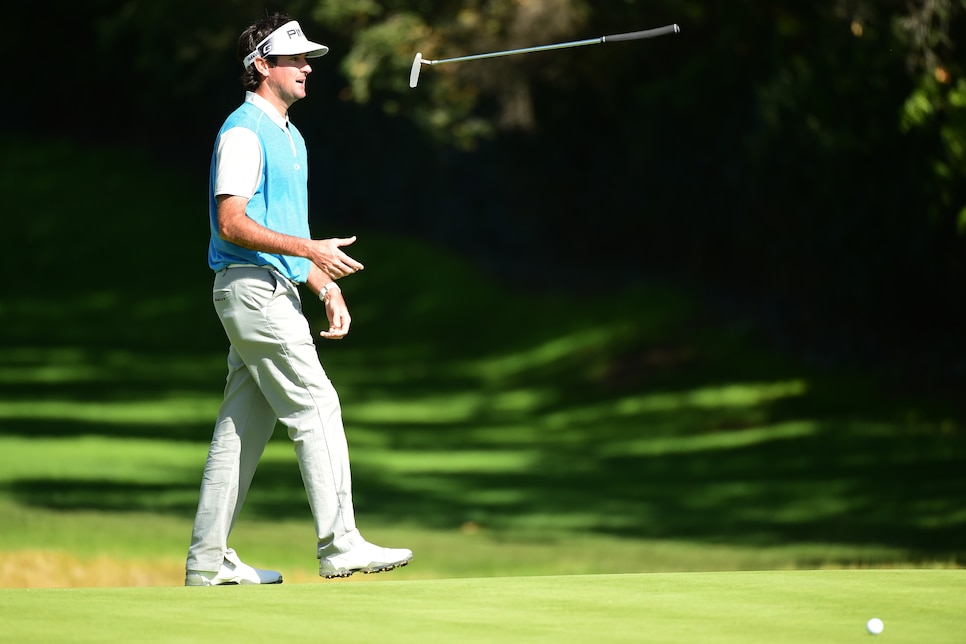 Watson can be awkward in social settings, either too detached or, to compensate, too amped up to conform to the norm. And because there's a sliding scale based on performance for what's considered acceptable behavior, there's probably a feeling that Watson hasn't won the right to be as imperious as Hogan or Faldo or Woods. Of course, it's also easy to see how many in the rank and file would be a bit jealous of Watson possessing what they most covet in the hardest game – the day in, day out certainty that hitting the ball solidly, with control, and very far will never really be a problem.
But anyone overly envious of Watson can take comfort in the lefthander's struggle with internal chaos. Though he says he has never gone beyond self-diagnosis, Watson by his own account and that of anyone who knows him well, suffers from attention deficit disorder. If he indeed has the condition, there's no doubt it would be an important source of his unpredictability and sometimes puzzling behavior.
That Watson has never seen a specialist drives psychiatrist Dr. Edward Hallowell, one of the country's leading authority on the condition – and who himself suffers from ADD – a little nuts.
"I KNOW this man," said Hallowell, the author of three bestselling books on ADD, in our latest phone call a few weeks ago. "I just want to talk to him. As good as he is, he can be so much better."
Hallowell contends that Watson is part of a long tradition of exceptional achievers. "The ADD gene has been the engine for inventors, innovators, entrepreneurs, pioneers, all kinds of achievers," says Hallowell, who believes minds like Einstein, Edison, Shakespeare and Mozart had the condition.
In Watson, Hallowell, sees another genius in his field whose everyday internal life is filled with jagged disorder, which includes a general restlessness and inability to sustain concentration. Such individuals hunger for structure in life, and when they find an enjoyable endeavor that provides it – Hallowell calls golf "the perfect ADD sport" - the resulting passion can lead them to excel. Because they are so used to adapting to disorder, they develop a heightened ability to make connections, which when unleashed within a structure can lead to extraordinary insights, solutions and innovations.
In Watson's case, according to Hallowell, it's produced a golfer with a completely self-taught swing who famously follows his creative instincts to produce breathtaking shots other players don't try, not only because they don't quite have the physical ability, but because they don't have quite the imagination.
Still, Hallowell is sure that Watson's distractibility invades his golf and is the best explanation for the inconsistency that has marked his career, even as he's won nine PGA Tour events. "That's where I know I could help him," says Hallowell. "The best way I can put it is that Bubba is like a Ferrari with bicycle brakes. I could give him better brakes, and eliminate all those unnecessary crashes."
But just as he has averred from having a swing coach and a regular sports psychologist, Watson has declined to see someone in Hallowell's field. "Maybe it would help him," says Scott, "but Bubba is afraid of being dependent on someone else. Doing it his way, figuring things out for himself, has always been a strength. It's hard for him to trust that anyone else could really understand him."
Perhaps Watson will come around on someone like Hallowell. After all, he has learned to give his trust to close confidants that include his wife, Angie, Scott and Judah Smith, the pastor of The City Church in Seattle, who has helped Watson, a devout Christian, better understand teachings of the Bible.
Until then, Watson will seemingly always have the Masters, where he's demonstrated skill and consistency like nowhere else. The course obviously suits his game – room off the tee, room to create, room to dominate the par 5s. But the visually stimulating environment also fires Watson's imagination in the special way that converts the inner chaos into a profoundly satisfying order, as Scott suggested on "60 Minutes." On Tuesday, Watson referred to an ability to "hyperfocus" at the Masters, a word Payne Stewart used to use in describing his ability to thrive in the major he was best suited for, the U.S. Open.
Perhaps it's because at Augusta, sensitive and distrustful Watson doesn't feel the stress of having to prove himself. "I'm totally at peace," he said. "I've won two Masters. I don't have to worry anymore."
In "Forrest Gump," when Jenny asks Forrest, "Do you ever dream about who you're gonna be," he answers, "Aren't I going to be me?" As he's made history in the face of criticism and worries that he's squandering his potential, that's also exactly who Bubba Watson's been.