The Loop
Bubba Watson to play Volvik ball in 2017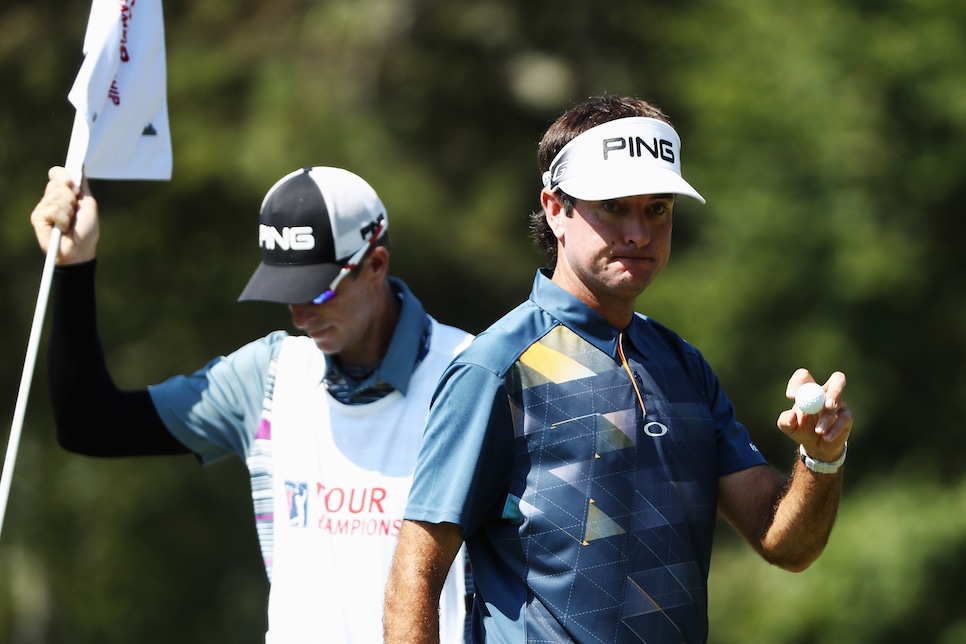 When reports surfaced in mid December that Bubba Watson would use a Volvik golf ball in 2017, a spokesman for the company said, "I can't confirm or comment at this point." Watson, however, erased any doubt in Hawaii as he readied for the SBS Tournament of Champions, saying that he signed a contract with Volvik on New Year's Day to play the company's ball.
Watson, who had played the Titleist Pro V1x, had his interest piqued watching players use the ball during the World Long Drive Championship, and his management team had some Volvik balls waiting for him when he returned from playing the HSBC Champions in China in November. "I took five balls out and hit all kinds of shots," Watson said. "Teddy [caddie Ted Scott] bought some and tested them as well. And we couldn't come up with anything wrong with them. Then it comes down to the fun factor—how could you not want a colored ball when you have a colored driver?"
Well, when you've been one of the best players in the world with a pair of Masters titles, things other than color would matter for most. But Watson, who is often reluctant to change equipment, is not your typical player who endures endless hours of product testing. A player with impeccable feel, Watson often knows right away whether a product suits him or not, and such was the case with the Volvik S4 ball.
"I can hit a shot and tell you if it's good or bad."
The Volvik S4 is designed for high swing speeds, and Watson said he noticed a slight difference in spin rate from his Pro V1x but that it wasn't anything significant. "I've tested many balls over the last eight years," he said. "I can tell when there's a difference."
Having a company willing to listen to his input also was important to Watson. "The companies I want to be with are the ones that let me have some influence and be part of the decision-making," he said. And already Watson has some ideas, having already asked about the possibility of making balls with a pink-and-white swirl or camouflage finish.
For now, however, the company is scrambling just to get him something other than white. Although Volvik is known for its colored golf balls, the S4 is only available in white. Volvik, however, had some pink S4s produced just for Watson and got them on the USGA conforming list. Watson also hopes to soon have the lime green available as well, saying that was his favorite.
As for whether he would use the white or pink at the Hyundai, Watson said, "I might just rotate them. White one day, pink the next."
Additional reporting from Brian Wacker