The Loop
As only he can, Bubba sees an opening, and seizes it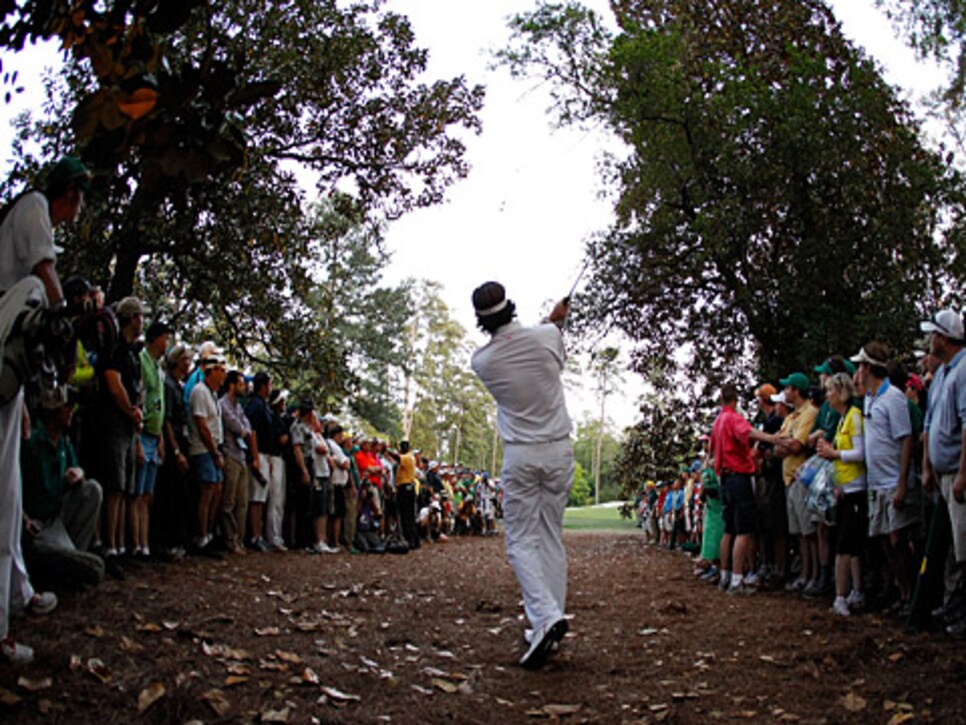 (Photo by Streeter Lecka/Getty Images)
AUGUSTA, Ga. -- In the gathering darkness, from the shadows of giant loblolly pines, from atop a bed of pine needles, with immortality at stake, Bubba Watson did what Bubba Watson always does. He hit a shot only he saw. It had to head for daylight, then turn sharp right. It did. He won the Masters.
Watson had 135 yards to the front of the 10th green, the second hole of a sudden-death playoff with the little South Africa virtuoso, Louis Oosthuizen. The question was, could Bubba bust it out of jail? As he walked down the fairway toward his ball 30 yards deep in the trees, Watson thought he knew the answer to that question.
"I saw the gap," he said.
He saw a path through the trees to the light.
The next worry was the ball's position.
"I've always said if I have a swing," Watson said, "I have a shot."
He used a 52-degree gap wedge. The left-hander played a shot that launched at no more than 15 feet. Then, rising, it began moving right. A draw, he called it. A hook, he also called it.
"A crazy shot," he finally called it. "What I saw in my head."
It was 154 yards to the hole. The ball landed on the green's front edge and, still alive with that hook spin, rolled right to a stop about 15 feet from the cup.
Here the Masters winner smiled and teased us mortals by saying, "Pretty easy."
How perfect, that shot. With Oosthuizen in trouble, the shot gave Watson two putts to win. Pretty easy. And how perfect that at last there's a good ol' Bubba on the trophy presented by the Augusta National Golf Club, long a symbol of the South's blessings and curses. Watson was born and raised in outback Florida before playing golf at the University of Georgia. He's 31 years old and still owns a seriously syrupy drawl. He shambles along, loose at all the joints, like a man used to long, hot summers . No surprise that one of his toys is a hillbilly muscle car, television's iconic "General Lee." He's so southern the champions' dinner menu next April might include catfish, if not gator stew.
For the longest time on this Sunday, it seemed the dinner might be another of those South African things serving monkey glands, which, we're told, really have nothing to do with monkeys -- but, still ... Not given the lead but taking it with a historic double-eagle at the second hole, Oosthuizen, 29 years old, the 2010 British Open champion, was two holes from being draped with the winner's green jacket by last year's champion, his countryman Charl Schwartzel.
But here came Watson with a string of four-straight back-nine birdies: at the 13th with two putts after a 9-iron second shot; at 14, a wedge to six feet; at 15, two putts after a 7-iron second, and at 16 with an 8-iron to eight feet. The last of those sensational birdies -- he had reduced Augusta's par-5s to drives and short irons -- brought him even with Oosthuizen.
They had long since left Phil Mickelson behind, the expected winner saddled with the burden of a fourth-hole triple bogey so odd that it included two chopping, right-handed swings from bushes. Nowhere in sight, done early with other also-rans, Tiger Woods finished with a 74 for a 293 total, matching his worst Masters score ever, that one posted as an amateur in 1995 when he was 19 years old.
Watson had a putt to win at the 18th in regulation. Missed. He had another putt to win at 18 in the playoff. Missed. For a while, then, this Masters had become the Masters of his dreams -- for he admitted that while he had often dreamed of a putt to win the tournament, "I just never made the putt."
Then, on the 10th, he rolled that first putt to within eight inches of the cup. He had won the Masters. A great roar of cheers began. But Watson, walking to his ball, raised a hand to slow down the celebration. He remembered that only a week ago, I.K. Kim had lost an LPGA major when she missed a 72nd-hole tap-in and was beaten in a playoff. He remembered, too, all those putts he'd missed in his dreams.
"I wanted to make sure I focused hard on that putt," he said, "because I know how delicate these situations are and how this may never happen again."
It had been some time coming. He reached the PGA Tour in 2006. It was four years before he won. In those years without winning, Watson gained notice first for the absurd distances he contrived to achieve with a long, loose action that seemed to have him simply hurling his 6-foot-3, 180-pound skeleton at the ball. Second, he beat himself up a lot. The longer he went without success, the more he doubted it would ever come.
"A few years ago, I was living the wrong way," he said. "Every golf shot was controlling how mad I got. . . .I was so wrapped up in what everybody else was doing, why is he beating me, why is this, why is that, why can't I make putts, why can't I make the cut, why can't I do this."
His wife, Angie, friends, and family intervened. "They told me that I was going the wrong way. If I'm going to live my life as a Christian -- in 2004 I gave myself to the Lord -- you can't live your life that way. And so I had to change."
He now has won four times on tour. He has played on a winning Ryder Cup team. He has become an engaging, amusing character, the stuff of folklore. (Think not? During the victory ceremony, he heard a helicopter overhead. He asked Schwartzel, a licensed helicopter pilot, "You know whose helicopter that is?" He wanted out of town quickly, to be at home with his wife and newly adopted baby.)
This is Bubba Watson: "I just play golf, fun-loving Bubba, just try to have fun and goof around. . . . I attack, always, always attacking."
It's the Bubba of his dreams. Even when he was the miserable, doubting, masochistic Bubba, he says, "I always thought I was good enough to be . . ." Here he stopped. He looked at his sleeve. He wore the winner's green jacket.
And the good ol' Bubba said, ". . . where I am today."