The Loop
Bubba Watson returns to All-Star form, the Donalds attend Michael Jordan's birthday party, and an Olympian challenges John Daly to a drink-off
Welcome to another edition of The Grind, where we believe Bubba Watson's decision to challenge Tracy McGrady might be the biggest unforced error since that time I ordered the chicken Marsala from an Italian restaurant that touted General Tso's chicken. Let's just say that both choices wound up being violently rejected. Good thing none of Bubba's buddies saw it happen . . . kidding! They were all over him!
We're guessing Watson's wife, Angie, who played in the WNBA, gave him a bit of a ribbing as well. In any event, Bubba bounced back over the weekend to re-emerge as one of the PGA Tour's All-Stars. Let's discuss a busy week.
Bubba Watson: Basketball skills aside, what an impressive performance by Bubba, who picked up his first PGA Tour win since claiming the 2016 Genesis Open. It's crazy to think this two-time Masters champ had fallen to No. 117 in the Official World Ranking. Although, yes, those colored golf balls he was playing last year probably didn't help.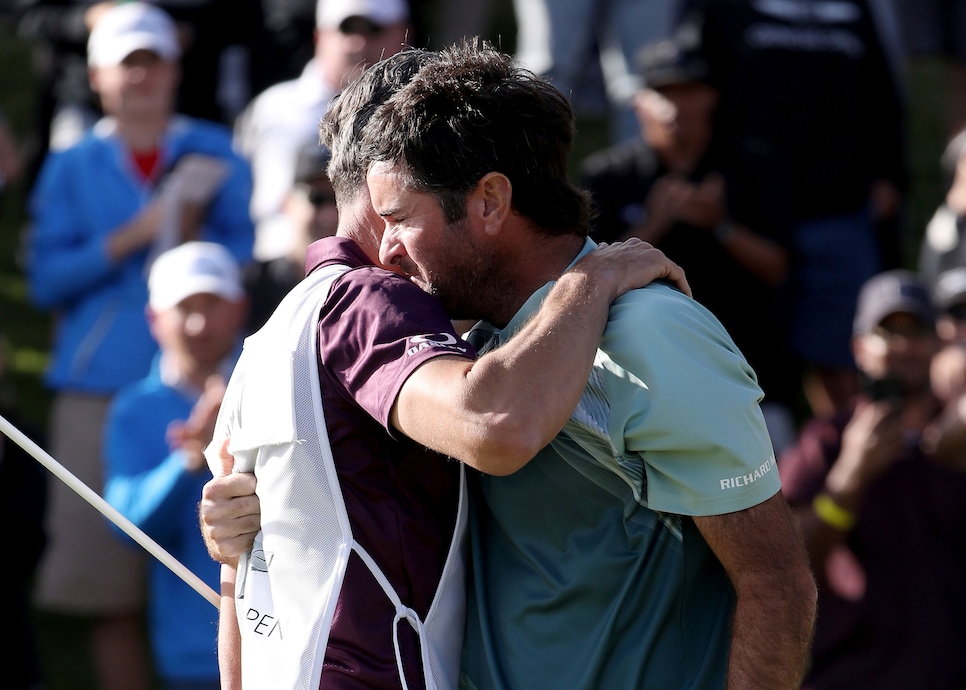 And in addition to his victory at Riviera and his well-documented trip to the Staples Center, Bubba also bonded with the cast of The Big Bang Theory:
And hung out with Ellen DeGeneres:
What a week. Other than that swat. . . And this air ball . . .
But seriously, congrats, Bubba.
Phil Mickelson: On one hand, I'd love to see Mickelson finally win again. On the other, him competing on a weekly basis is entertaining enough. For a third consecutive week, Mickelson was in the mix on Sunday before coming up short. Still, it's pretty impressive for a 47-year-old. Also, shout-out to Phil for looking as fit as ever.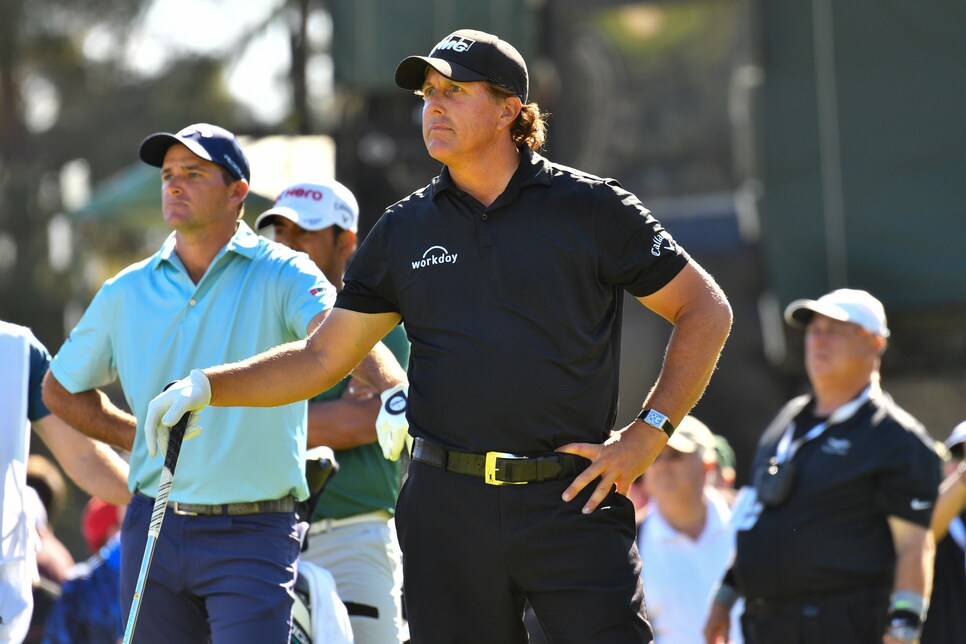 The Tiger effect: After playing two rounds at Riviera with Tiger Woods, Rory McIlroy said he believes excessive crowds cost Tiger about a half shot per round. I can buy it. I can also buy they hurt his playing partners even more. It was commendable for McIlroy to refrain from using the crowds as an excuse for his own play while sticking up for his buddy. That being said. . .
Tiger Woods: I'm as positive as anyone, including Rory, when it comes to Woods' comeback, but let's be honest, it was a rough week for the 14-time major champ. After hitting just nine fairways in his last three rounds at Torrey Pines, Tiger wasn't much better off the tee at Riviera, and his iron play (16 of 36 greens in regulation) was nearly as dismal. Yes, there have been flashes of brilliance in the short game department, and yes, it's just two events, but Woods is a ways away from being a serious threat on tour.
Bill Haas' car accident: What sad and shocking news to wake up to on Wednesday morning. While I'm relieved my Wake Forest classmate is expected to make a full recovery — along with the woman in the other car and Luke Wilson (Yes, that Luke Wilson) — my heart goes out to him for losing a friend while sitting just inches away.
Lydia Ko's Twitter excuse: The two-time major champ and former No. 1 said she deleted her Twitter account, in part, because it took up too much space on her phone. Again, this is a superstar golfer saying she deleted a single app from her phone because she was worried about storage. The same superstar golfer who began her season by announcing that she'd cleaned house in the caddie and coach departments for a second consecutive year. Hmm. . .
Mark Wahlberg's AirPods: Buddy, you're playing golf with Tiger freaking Woods (and two other people who paid a LOT of money to be in your group). Show a little respect and turn the music off for a minute.
Unless he was playing "Eye of the Tiger." Then, we'd respect that form of showing respect. But we all know he was listing to "Good Vibrations." (Side note: GREAT song) Also, Mark has a personal food cutter/preparer really?! And he couldn't go five hours without him?
And then there was this golf shirt (Although Tiger's was just as bad):
OK, I should probably stop picking on Mark considering he has biceps that make even Tiger jealous.
The PGA Tour heads to PGA National for the Honda Classic, AKA that event with THE BEAR TRAP that attracts many golfers (including Tiger Woods) because of its proximity to the tour's hot spot to live, Jupiter. Hashtag JupLife!
Random tournament fact: Weekend coverage will be on CBS this year instead of NBC since the Peacock is busy covering the Olympics. Sorry, golf fans. This means coverage of THE BEAR TRAP will be even more unBEARable than usual.
RANDOM PROP BETS OF THE WEEK
-- Tiger Woods will win the Honda Classic: 60-to-1 odds (Actual bet. Vegas already seems to be losing faith. . .)
-- Johnny Miller will show up at PGA National by mistake: 10-to-1 odds
-- Dan Hicks will see more carnage on the slopes of Pyeongchang: LOCK
How cool was this follow-through from Tiger Woods?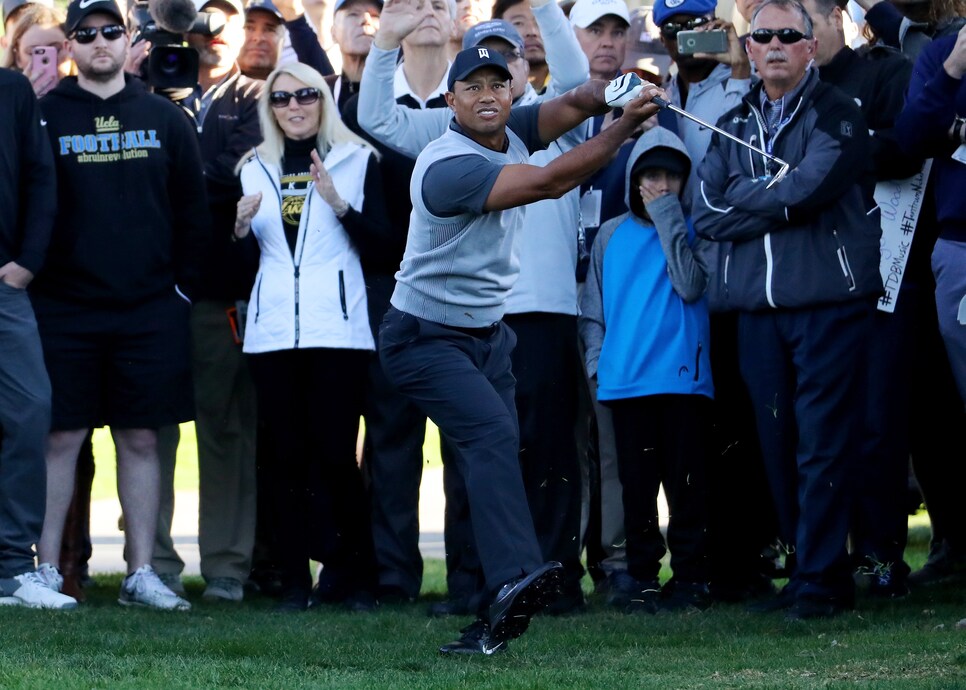 Even when TW is struggling, he's entertaining to watch, which is why we're happy he's playing again this week. And it's great news that his back feels up to back-to-back events, but Tiger entering the BEAR TRAP with his current game could turn out worse than Bubba challenging T-Mac at the rim.
VIRAL VIDEO(S) OF THE WEEK
Justin Thomas' mid-air comments are becoming the stuff of legend:
And then there was this man sinking a 120-foot putt to win $100,000! Incredible!
Great stuff, guys. But let's be honest, this was the real viral video of the week month year:
VIRAL VIDEO OF THE WEEK (TRICK SHOT DIVISION)
How about a perfectly timed curling trick shot?
Well done. Speaking of the Olympics. . .
THIS WEEK IN OLYMPIANS CHALLENGING JOHN DALY TO A DRINKING CHALLENG
We'd heard there was a U.S. athlete at the Winter Games with the name John Daly, but we certainly didn't expect this:
Yeah. . . You might want to slow down there, young fella.
"This day and age, to get 10 wins on the PGA TOUR, the greatest tour in the world, people from all over the world are trying to get on this tour, double digit wins? I don't know about you guys, but I am thrilled. I never thought I could get there. So you try to set something that you never think you can get to. And if I got to it, that's my Hall of Fame. If you all vote me in or don't vote me in, I could care less. That 5 Tee-Scripts.com doesn't matter to me, I got my 10 wins. Nobody thought that Bubba Watson from Bagdad, Florida, would ever get to 10 wins, let's be honest. Without lessons, head case, hooking the ball, slicing the ball, can't putt, you know? Somehow we're here making fun of it. So yes, I've got to set a new goal." -- Bubba Watson, 39, who previously said he'd retire if he got to 10 wins. Might we suggest trying to become the first golfer to win the green jacket playing a green golf ball? Whoops. Never mind.
THIS WEEK IN TOUR PROS LIVING THE LIFE
Luke Donald and his wife Diane attended Michael Jordan's 55th birthday party.
Very cool. And boy, did that cake look good. . .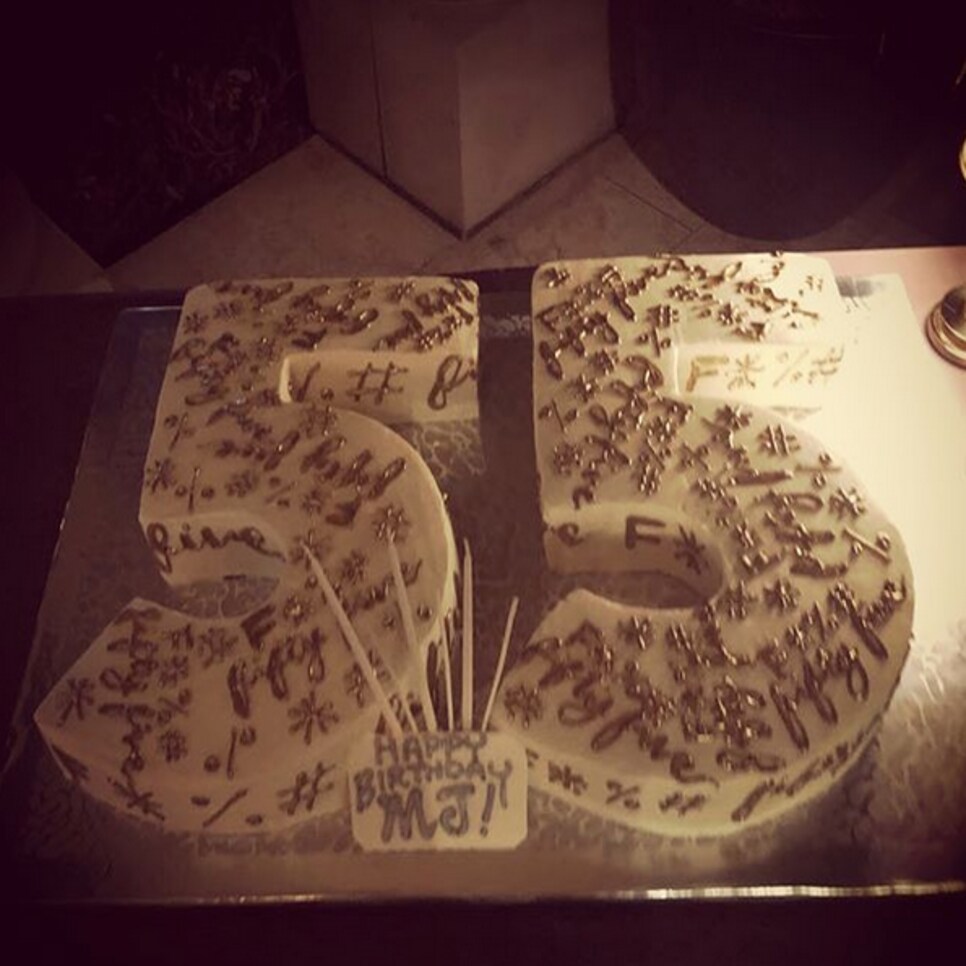 THIS WEEK IN OLD GUYS MAKING YOU FEEL PATHETIC WITH THEIR FITNESS
First, check out this video of young tour pros putting their fitness up against 82-year-old Gary Player:
And here's 63-year-old Greg Norman doing something Dustin Johnson might even struggle with:
Kidding. DJ does that stuff in his sleep, but he's also 30 years younger. The Shark is a total savage.
THIS AND THAT Jin Young Ko became just the second golfer to win her first start as a member of the LPGA Tour. It's unclear how much storage space this Ko has on her cell phone. . . . John Daly made a hole-in-one wearing American flag pants. Of course, if Daly makes a hole-in-one these days, there's about a one-in-three chance it happens while he's wearing American flag pants. . . . Billy Hurley III, despite the greatest campaign ad in history, still lost to Jordan Spieth for chairman of the PGA Tour Player Advisory Council. There is officially no justice in this world. . . . And finally, my wife gave me a GIANT kiss for Valentine's Day. And before your dirty minds start wandering, I mean an actual GIANT kiss: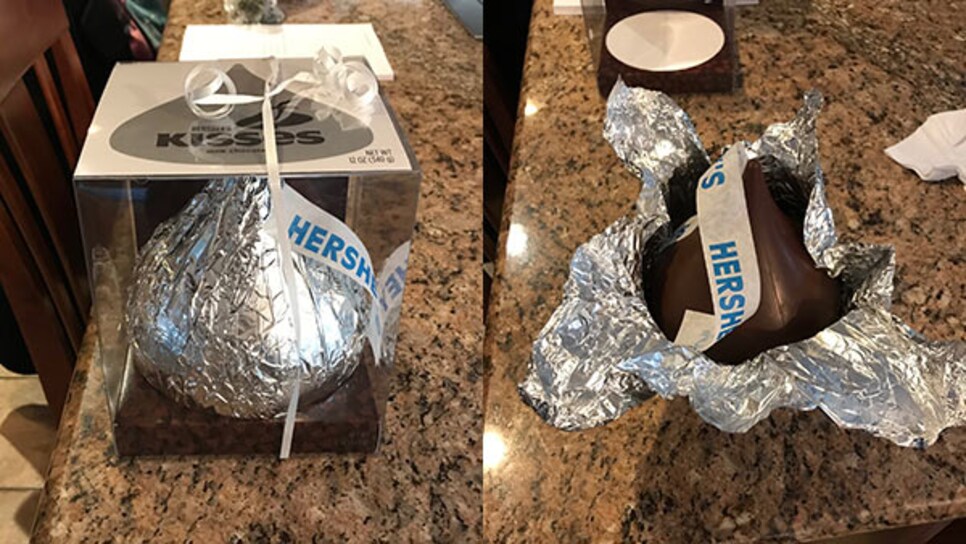 Remarkably, I showed some discipline and spaced out eating the three quarters of a pound of chocolate over three sittings.
RANDOM QUESTIONS TO PONDER
How many wins will Bubba Watson wind up with?
What did Luke Donald get Michael Jordan for his birthday?
Is there a Chocaholics Anonymous?