The Loop
Bryson DeChambeau's bizarre "hockey" injury, an even stranger cheating scandal, and the end of the Holly Sonders Era (sort of)
Welcome to another edition of The Grind, where we urge people to vote when given the chance. Sadly, it's come to our attention over the past few years that guys like Dustin Johnson and Brooks Koepka have skipped the ballot box altogether — when it comes to voting for PGA Tour Player of the Year, that is. Both still won their respective races, but you never know, right? EVERY vote matters. Of course, you also really never know with the PGA Tour because they don't release the full results. That's not sketchy or anything. . . (** Cough ** Tampering? ** Cough **) Anyway, golfers need to make their voices heard on these important issues. Oh, yeah, and everyone should also go vote in the midterm elections. After you read the rest of The Grind, of course.
Bryson DeChambeau: Good luck finding anyone in Las Vegas on more of a heater than this guy. DeChambeau made the Shriners Hospitals for Children Open his fourth win in his past 11 starts. That means the 25-year-old now has collected more PGA Tour titles in the past five months than Rickie Fowler has in his entire career.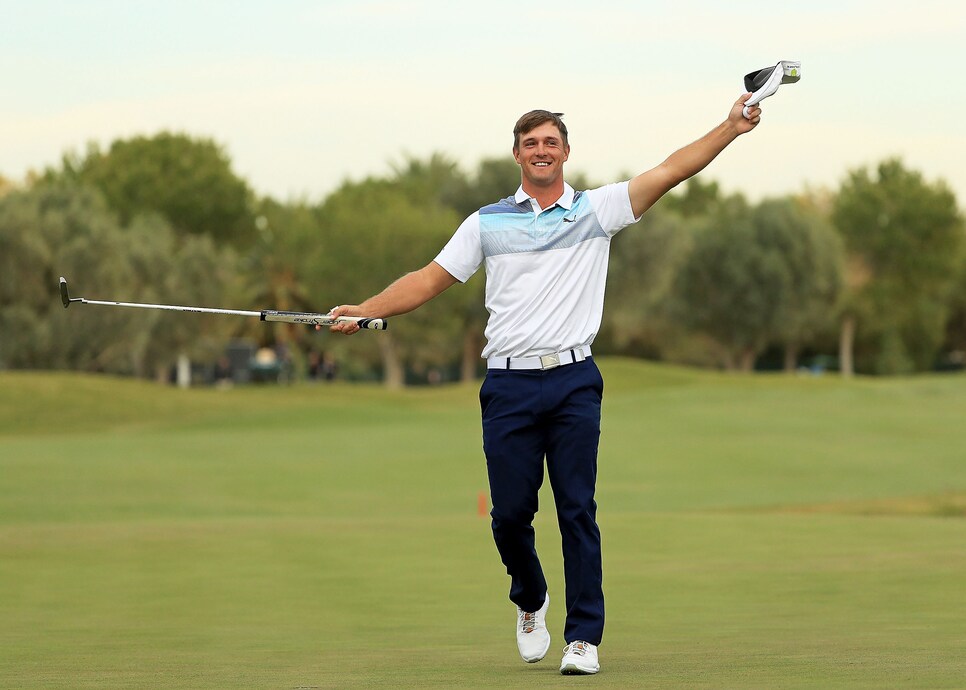 Mike Ehrmann/Getty Images
(P.S. Sorry, Rickie, but you've become the default guy to compare win totals too. Use it as motivation like you did when that players' poll called you the most overrated!) And with Bryson's penchant for numbers, we're guessing he could take that $1.2 million jackpot and do some serious damage at the blackjack tables.
Bryson DeChambeau's beautiful mind: Speaking of gaining an edge on the house, it came out that Bryson plans to take advantage of golf's new rule beginning in January that players can leave the pin in on putts. At least, when the "coefficient of restitution of the flagstick" is in DeChambeau's favor. While so many young golfers today are focused on their core, Bryson is more worried about COR. Love it. Also, talk about mind over matter, the guy overcame a hockey injury on Saturday night to win. A bizarre "hockey" injury he suffered while attending a hockey game. Seriously.
"I ripped part my hand off, which is nice," DeChambeau said. A rare miscalculation by the Mad Scientist.
Justin Rose: In the words of Brian McKnight, the Brit is "back at one," and this time, he did it with a playoff victory instead of a playoff loss. Rose has been on a remarkable run since the start of 2017, amassing more worldwide wins (five) than non-top 10s (seven). Between him and rising star Cameron Champ (INSERT CAMERON CHAMP PODCAST PLUG), Sean Foley's stable is suddenly pretty healthy again.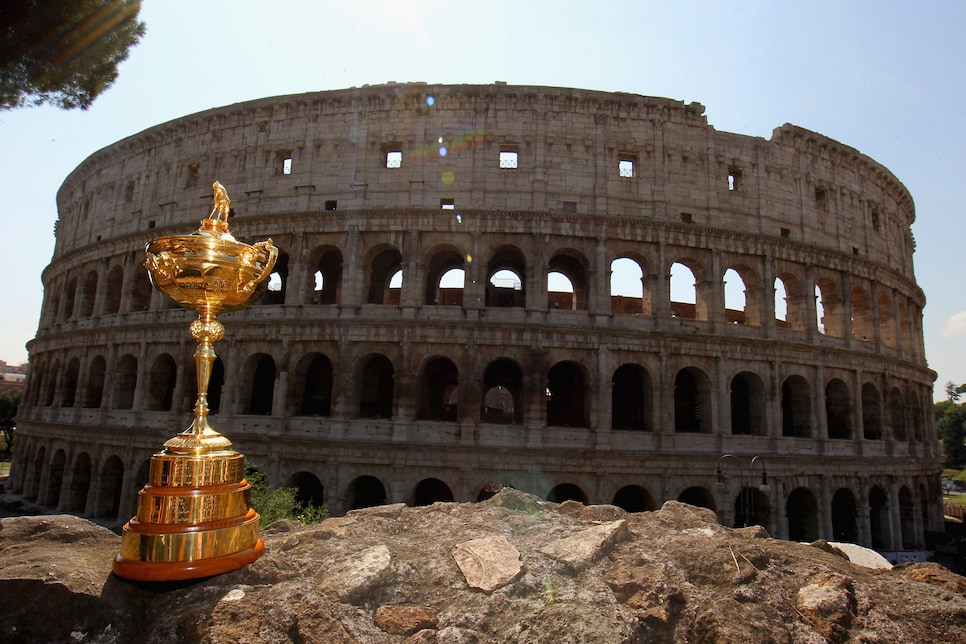 That would be pretty cool, although, the setting will inevitably lead to cheesy Ryder Cup-Gladiator comparisons. While they're at it, they should unleash a few lions to speed up the proceedings. In any event, good luck competing with that in 2020, Kohler, Wisconsin!
Ghastly three-putts: We saw one from Haotong Li in Turkey when he somehow turned a 10-foot birdie putt for the win into a heartbreaking bogey to lose. And then we saw an even more cringeworthy stab late on Sunday from Lucas Glover, who didn't hit the hole on back-to-back attempts from inside four feet. I've decided not to show clips of either because it's much more horrifying than anything you saw this Halloween.
Parents cheating: A wacky/ugly story out of LPGA Q-Series involved a former NCAA champ, a golf ball that was moved from out of bounds, and her mom. Doris Chen denied any wrongdoing after being disqualified, but her caddie disputed her account of what happened on the hole, and this quote from Chen wasn't too convincing. "She told me that she didn't and she doesn't know. And if she did, it may be by accident and she wasn't aware." Just a hunch here, but Chen and her mom probably won't be very welcomed if they ever get to the LPGA Tour.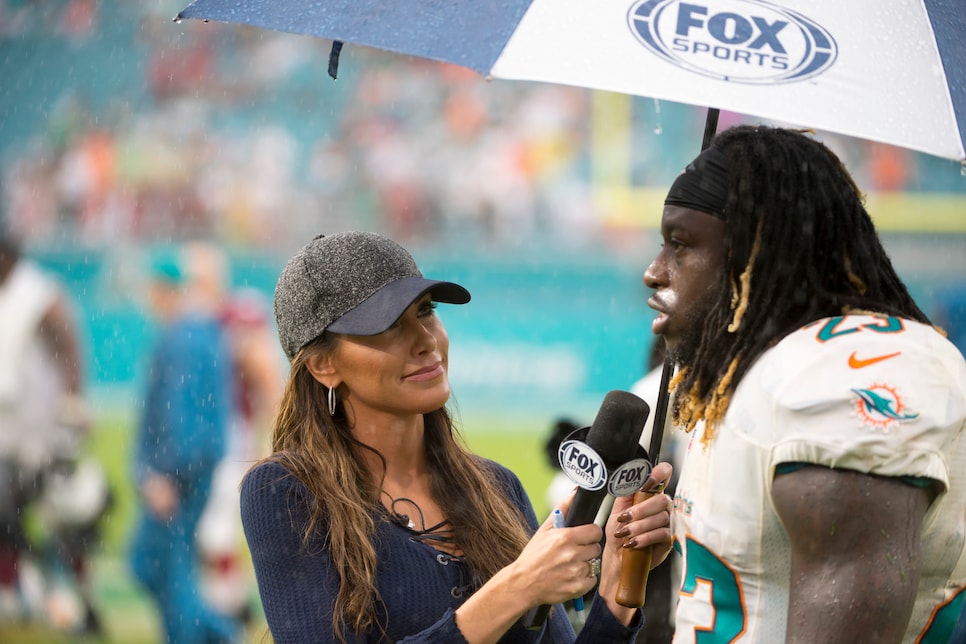 I'm sad to see the former Golf Digest cover girl go, but it's probably for the best. Walking around on the TV platforms they set up at golf tournaments in the platform heels she wears was getting dangerous.
The PGA Tour heads to Mexico for the Mayakoba Golf Classic, AKA that tournament where they have a plaque honoring the first shot Jon Rahm took in a PGA Tour event. Seriously.
Random tournament fact: Jon Rahm is NOT in the field. And neither is Bryson DeChambeau, which is good news for everyone who made the trip to Playa del Carmen.
RANDOM PROP BETS OF THE WEEK
— This week's winner will use the phrases "coefficient of restitution" and "neurologically comfortable": 1 MILLION-to-1 odds
— Bryson DeChambeau will win the 2019 Masters: 20-to-1 odds (Down from 60/1 in August)
— Bryson DeChambeau will be more careful at his next hockey game: LOCK
Golf gave a great effort on Halloween this year, but the clear winners were. . . drumroll please. . . Justin Thomas in the adult male category:
Michelle Wie in the adult female category:
Michael Greller's son Barrett in the kids category:
And in the team category, Golf Digest's Nicole Rae and Hally Leadbetter for this ingenious recreation of Moliwood:
THIS WEEK IN CELEBRITY GOLFERS
Stephen Curry seems genuinely more excited about touching the U.S. Open trophy than hoisting another NBA title.
It's probably too late for Steph to ever hold that bad boy for real, but the U.S. Senior Open trophy?
UCF punter Mac Loudermilk is our new favorite college football player:
Just give the Knights another disputed national title now.
THIS WEEK IN DUSTIN JOHNSON-PAULINA GRETZKY PUBLIC DISPLAYS OF AFFECTION
Hey, it's Paulina's first posted pic with DJ since before the Ryder Cup!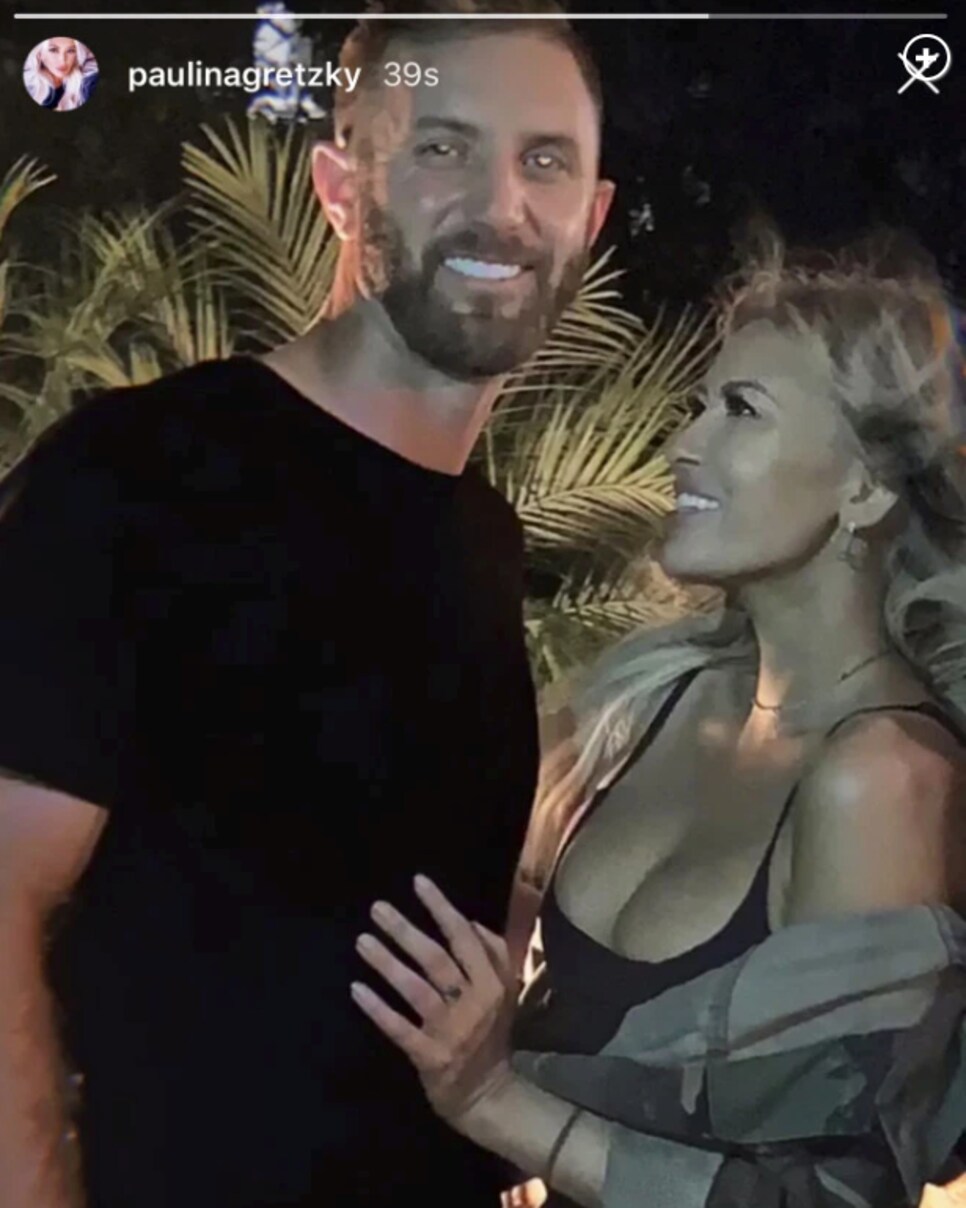 OK, so it was just part of her Instagram story, but still, baby steps.
Pick a Bryson quote, any Bryson quote. Seriously, this guy's press conferences are must-watch TV. Here's a sampling:
Bryson, you beautiful golf nerd, you.
Less than a year after starting his latest comeback, Tiger Woods is now ahead of Jordan Spieth in the Official World Golf Ranking. Imagine what kind of odds you could have gotten on that 11 months ago? . . . Speaking of former World No. 1s, Martin Kaymer finished T-5 in Turkey. He's back! No, seriously, I miss that guy. . . . As I mentioned earlier, we were excited to have Cameron Champ on the Golf Digest Podcast this week. I know I'm really going out on a limb here, but he's going to have a decent career. . . . And finally, the leaves at my house turning are beautiful (see below), but the leaves falling at my house are a nightmare (Also, see below):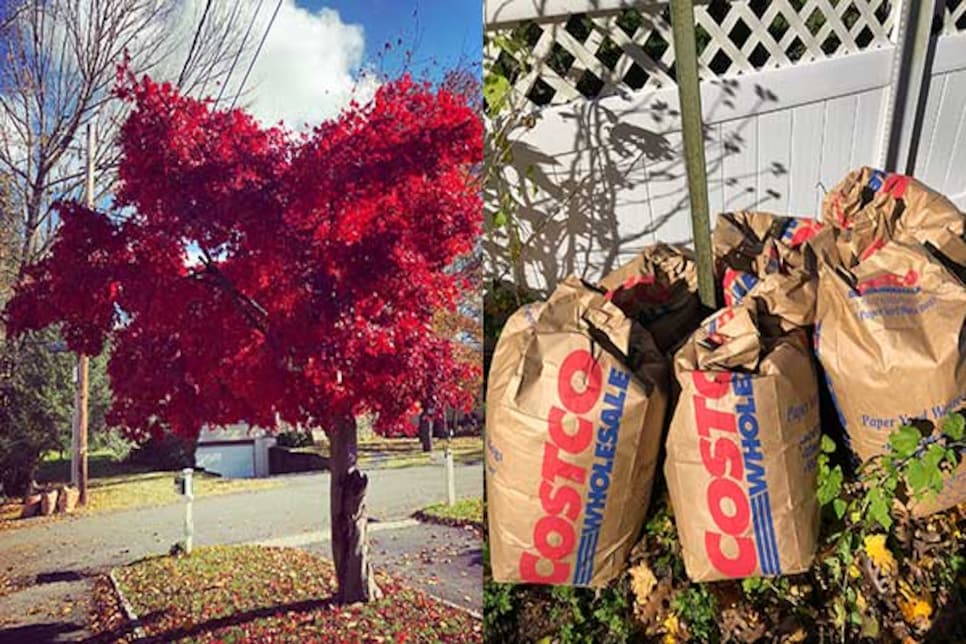 Until next year week. Sigh.
RANDOM QUESTIONS TO PONDER
When will Bryson DeChambeau get to No. 1 in the world?
Can Does How well Bryson DeChambeau count cards?
Should I have eaten the Halloween candy I found in the leaves?